Hope for a Little Girl
$13,685
of $24,600 goal
Raised by
50
people in 22 months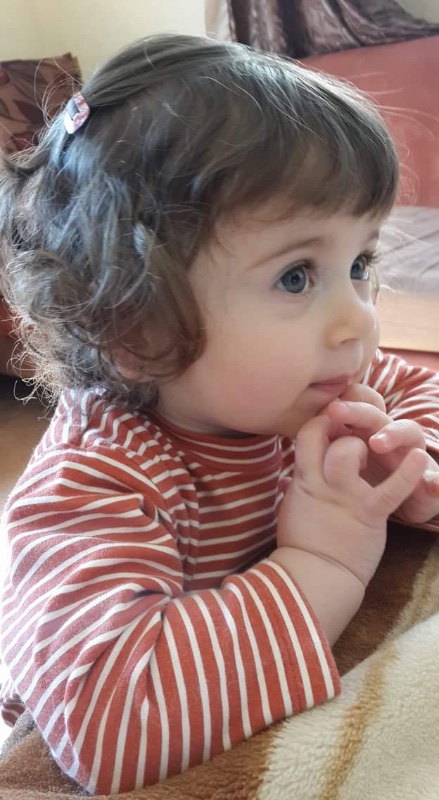 Hope for a Little Girl
We all care deeply for children. We know what we would do to keep our own kids safe, healthy and happy. Now it is
time to help another deserving child
. 
This story starts years ago. A young couple had a seemingly normal life in Lattakia, a beautiful coastal town in Syria.
She was teaching kids, he was working in sales
– planning a family, dreaming of same things as any young couple does.
 That was until the horror of Syrian war forced him to flee to Jordan to avoid serving in military and fighting against his own people. Before
a very dramatic story made a young woman run after him, barely alive. 
 That was over three years ago. For three long years, they've struggled to survive and thrive in Amman, Jordan. The little blue-eyed girl in the photo was born as a refugee. With no extended family, no friends and no toys to grow up with. 
 This beautiful family is registered with UNHCR but their case was not moving anywhere, as is the case with so many others. The young dad works 12 hours a day for an amount of money that can barely cover food and basic needs. 
 Mom stays at home with her little girl who gives her only comfort and strength to go on.
Their status is unsafe and the country simply will not offer them a future.
Syrians are treated as second class citizens in Jordan, neglected and shunned. 
 It's time we gave them a second chance
. Through social media, this lovely family has made contact with a number of ordinary Canadians who have been active in helping Syrian refugees. Leading the effort is Vania Davidovic, who has helped many others through her group, Canadian Sponsors. Other volunteers include Atousa, Zac, Umbreen, Sana and Nadia who together have agreed to share the sponsorship of this family. 
What's holding us back?  Financing. The amount of $23,000
is the EXACT amount required by the Canadian government to settle a family of three for one year in this country. Additional $1,600 is added to this amount to cover the gofundme campaign fees.
Your donation will contribute to the family's budget for the first year including:
Food     $ 6,000
Rent   $ 12,000
Startup costs $ 2,300
Other necessities of life $ 2,700 
We are also counting on in-kind donations and
hoping to find a generous Canadian to offer them a furnished basement to live in for a start.
If that happens the amount that we need to raise is significantly reduced.
Update:  To date we don't have a confirmed place for this family to stay upon arrival so we need to continue raising the funds.
We did submit all necessary documentation and forms along with bank account opened in their name, to the Canada immigration office. We are doing this under the strict guidelines of the private refugee sponsorship program that our country offers. The family file is currently in process. We will continue raising the money as we look forward to welcome this lovely small family to Canada during the next year.
Should you wish to join us in this effort, we would remain forever thankful.
Thank you for your generosity,
 Help spread the word!
+ Read More
Vania Davidovic
22 months ago
Offline donation: 2,120 dollars Efforts of Umbreen
+ Read More
An offer to host this small family for a first year in Canada .... a small rent-free apartment or a finished basement, could reduce amount needed to be rasied by about 10K... If anyone is in a position and willing to do this, it would bring us so much closer to the goal! Thank you....
+ Read More