Honor Tennessee's Suffragists
$8,031
of $10,000 goal
Raised by
51
people in 47 months
Making of a Monument
·      Tennessee Was the 36th State Needed to Ratify the 19th Amendment (the last of the then 48 states, so Tennessee was named "The Perfect 36")
·      The 19th Amendment Enfranchised Half the American Population
·      4 Generations of Women Fought to Win the Vote
·      Only 8% of Public Statues in the United States are of Women

History will be made in Nashville again when a monumental bronze sculpture by public artist Alan LeQuire will be donated to Centennial Park, featuring five women who instrumental in the final battle for the right to vote the summer of 1920.  All American women vote today thanks to Tennessee.

Donate to the Completion

"This is what I want to do with the rest of my career, memorialize these women." – Alan LeQuire

Be a part of history with your donation to the Tennessee Woman Suffrage Monument. The monument was unveiled in its temporary setting at Centennial Park on Friday, Aug. 26, 2016. (Livestream available to watch at www.tnwomansuffrageheritagetrail.com)  It will be moved to a permanent location once park renovations are complete.  If you want to donate to help with moving expenses for the permanent location, you may do so on this page.  We appreciate your support!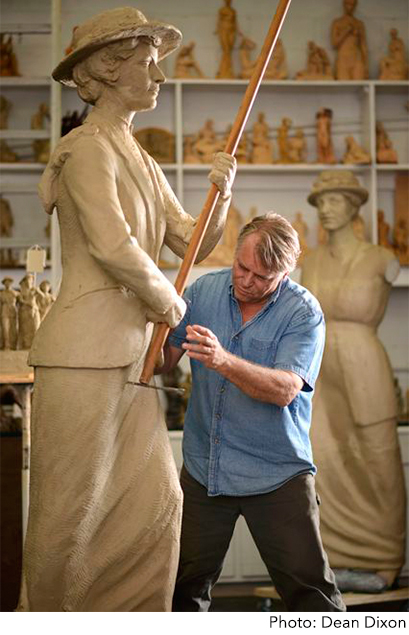 Visit Lequire Gallery -
Hours: Tuesday – Saturday from 10am – 3pm.
LeQuire Gallery
4304 Charlotte Ave.
Nashville, TN 37209
615-298-4611
www.lequiregallery.com
www.alanlequire.com 

Who Were These Women?

Leaders. Visionaries. Mothers. Ordinary people who did extraordinary things.

Five historic women are honored in monumental bronze, who were present during the final ratification battle in 1920: 

·      Anne Dallas Dudley of Nashville;
·      Abby Crawford Milton of Chattanooga;
·      J. Frankie Pierce of Nashville;
·      Sue Shelton White of Jackson; and
·      Carrie Chapman Catt, national suffrage leader who came to TN to direct the pro-suffrage forces.

Three contemporary women who broke barriers in their public service to Tennessee will be featured in bronze plaques on the wall surrounding the monument:

·      The late Rep. Lois DeBerry, first female speaker pro tempore and longest serving House member at her death in 2013;
·      The late Hon. Jane Eskind, first woman elected statewide in 1980 which was 60 years after ratification; and
·      Rep. Beth Harwell, first woman to be elected House Speaker in 2011.  

Find out more about these remarkable women and this remarkable story at www.facebook.com/tnsuffragemonument  and www.tnsuffragemonument.org. 
All contributions are tax-deductible.
+ Read More
Be the first to leave a comment on this campaign.