Save Himalayan Dogs & Wildlife
$4,850
of $5,000 goal
Raised by
42
people in 11 months
ABOUT THIS CAMPAIGN
Our fund raising campaigns in 2014 and 2015 raised $19,278 and was absolutely critical to bringing much needed aid to the people and animals in the Himalaya. The funds helped facilitate two, two-week long expeditions into Nepal's Manang District where we neutered over 200 dogs in 2014 alone. Our program has proven effective - dog neutering has reduced the number of dogs culled from 250 in 2013 to just 10 in 2014. Our beneficiaries would like us to continue these efforts as they are witnessing and realising the long term benefits of dog neutering and anti-rabies vaccinations. Help us continue our much needed work. Please consider supporting me on this journey!
BEGINNINGS
In Dec 2013, I made a visit to the Himalayas with naturalist and friend, Mukhiya Godame, who lived and grew up in Nepal's Himalaya. During our search for Himalayan wildlife, we learned from locals that ground foraging birds, and mammals like red panda, and musk deer have been frequently attacked and killed by dogs that live within the Conservation Area. For years, locals have also complained of dogs attacking and killing their livestock. (Below: Goat with a broken leg from a dog attack)
Desperate villagers who have had their livestock taken by the dogs, have taken to culling the dogs by feeding them a toxic pesticide, usually used to kill rodents and small birds. The dogs die a slow and painful death, and their carcasses are left along hillsides to be consumed by wild scavengers like vultures. This creates another problem, as the birds ingest the poison in turn, and have been observed unable to fly after feeding on the carcasses.
OUR PLAN
Sterilisations and vaccinations. It's that simple. And we want to keep it that way, because we believe that makes our project sustainable, and our targets achievable. We are working with existing animal welfare organisations, based in Nepal, with the skills and equipment needed to get this work done. Partnerships help us save on huge costs that can otherwise be directed towards themassive costs of transporting a team into the rugged Himalaya. We want to create access to basic veterinary services, so that locals in the Himalaya will have an effective and humane alternative to managing their community dog population, what won't cause further harm to wildlife, the environment, and themselves.
WHY STERILISE AND VACCINATE?
Sterilisation can help:
1) Reduce aggression toward other dogs, wildlife, and people
2) Reduce in urine marking, hence reducing the inconvenience dogs have on the community
3) Reduce roaming behaviour, hence reducing interaction between dogs and wildlife, curbing the potential for disease spread
4) Reduce injuries from dog fights, hence preventing infections or even death from wounds left untreated as many villages have no access to basic health or veterinary care. (Below: Dog receives treatment after its eyelid was torn open in a dog fight)
WHY NOT HELP PEOPLE?
Our project may concern working with dogs, but the beneficiaries are people. While the dogs may be dying a painful death, they aren't the ones struggling to cope with the processes, the people are. There are many good organisations dedicated to address human-centred issues, but delivering anti-rabies vaccinations and controlling dog populations is often overlooked until it becomes too late.
It is much more effective to prevent a rabies outbreak, than attempt to contain it. Especially in the rugged and dispersed villages of the Himalaya. Animal Birth Control and Anti-Rabies Vaccination Programmes are
WHO recommended programmes
 for humane control of stray dogs and rabies transmission to humans.
 (Above: Dog with a torn eyelid from a dogfight undergoes surgery at our camp)
HOW THE FUNDS WILL BE USED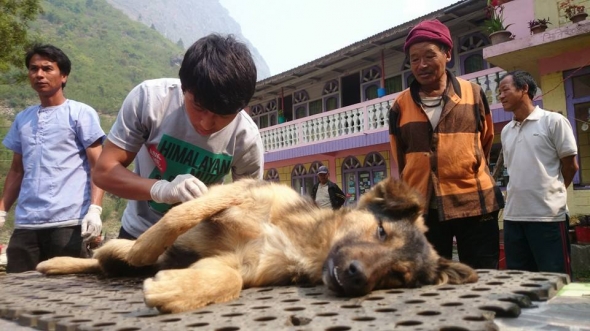 Total costs from our pilot project in May 2014 amounted to US$13,400. But it was really tight, and because we didn't manage to raise sufficient funds the within the short 4-month window, I had to contribute about US$3,000 from my personal funds. In 2015 we raised $11,578 via Pozible, over $2000 was raised by students from the National University of Singapore, and an additional $2000 was raised by volunteers. These funds are critical for this years 2-week long expedition. Here is our cost breakdown:
Transport (4x4, including 2 drivers) $5700
Food & Accomodation (11 pax) $ 4840
Salary for 2 staff $3000
Medical supplies (vaccines, surgical supplies, etc) $2000
Expense Total $15540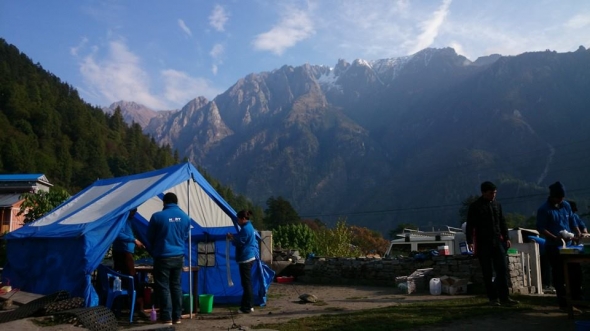 SUCCESSFUL PILOT
Within a mere four months of developing this idea, we launched our pilot project into the Himalaya in May 2014. It does take a little crazy to do something like that! But it also requires a hell lot of resourcefulness and discipline! Together with our partner NGO (HART), we visited nine villages in the Himalayan District of Manang, and successfully vaccinated and neutered 158 dogs, and delivered vaccinations-only to an additional 43 that could not be neutered at this time. Locals were a little afraid of the idea initially, as surgery for dogs was unheard of. After observing how simple the procedure was, and watching dogs up on their feet soon after surgery, helped to boost their confidence in trusting what we were doing. Locals from other districts who encountered our camp encouraged us to visit their districts as well, as they too are struggling to manage their dog population.
Some of my other work
Since 2008, I have worked in Nepal as a photojournalist, reporting social and environmental news. But this isn't just work for me, it is my life! I have been working with animal welfare NGOs since 1992, participating in and leading public education and outreach activities. In 1999, I began research into environmental crimes throughout the Asian region, studying the illegal trade of ivory, bear and tiger products, as well as illegal timber. I have worked with the TRAFFIC, IUCN, World Society for the Protection of Animals (WSPA) and the Environmental Investigation Agency (EIA). In 2002, I co-founded of one of Singapore's most established animal welfare organizations, ACRES. I left the committee to develop a response to other fields that I believed needed attention, and in 2003, I founded the marine protection organisation, Hantu Blog.
My work has been featured in Singapore's National English Daily The Straits Times, The New Paper, on radio, and on television, as well as countless magazines throughout the years. Learn more about some of my work
here
. Or better yet,
read about what the media has reported about our efforts in Nepal
!
My work focusses on community development and empowerment, through education. The idea is to ensure long term changes through persistent and sustainable approaches. To me, this means we need to engage and develop capacity within the community, so that they trust the work, recognise how it benefits them, and believe that they can be a part of our efforts.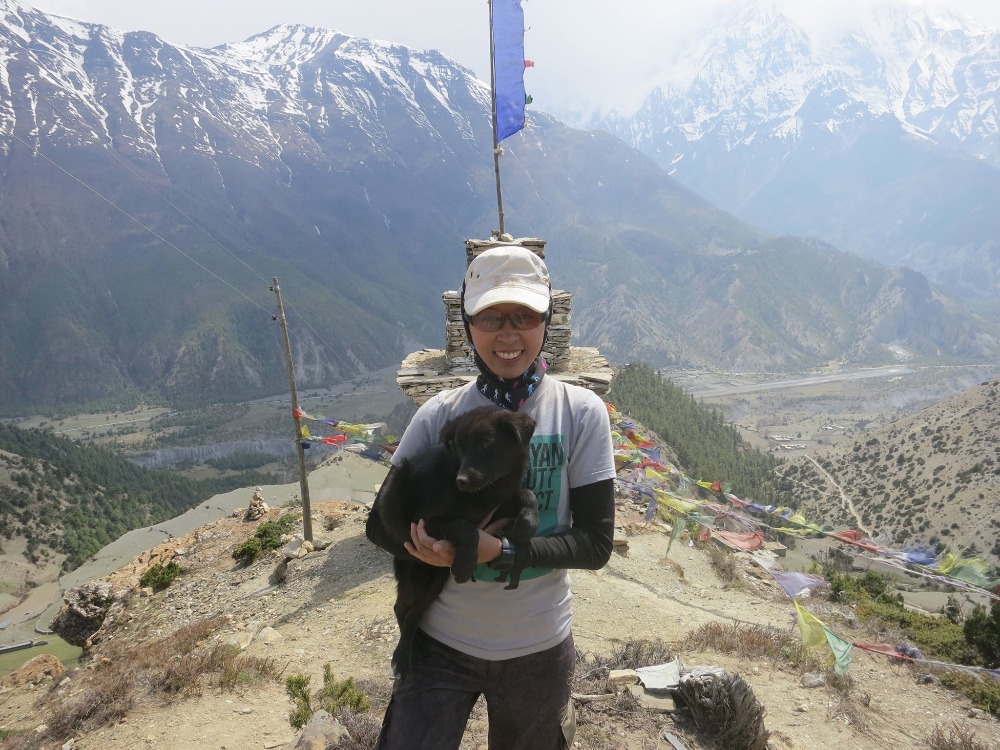 None of my work would be possible without the shared vision, support, and labor of countless of dedicated volunteers, donors, journalists, and community leaders! Their contributions are silent but powerful. Through the confidence and belief of my supporters, we have been able to do this work that needs doing! Learn more about me at debbyng.net. If you have a LinkedIn account, you can also check out some of my photo stories and writing.
Challenges
WAIT? WHY HASN'T THIS BEEN DONE BEFORE?
Because it's tedious. We chose Manang district as a pilot because of all the Himalayan districts, it is the "easiest to access". Check us out on the back of this tractor! We also commuted on motorbike, 4x4, and foot! Traversing rugged terrain with surgical equipment, and going to work the next day, is not easy. And it's not cheap. Transportation costs are huge, but when we consider future savings from rabies prevention and environmental degradation, these costs are well jus
+ Read More
Update 1
Posted by Debby Ng
1 month ago
Share
Thank you for supporting my efforts to make a difference for people, wildlife, and dogs in the Himalaya! Your encouragement is absolutely essential to keep our work alive. I'm writing to let you know that our efforts to raise awareness about dogs as a conservation issue gained a new level of attention yesterday! Together with Joel Berger, Senior Conservation Scientist with the Wildlife Conservation Society, I authored a paper that was published in the Washington Post! The Pulitzer Prize Winning newspaper has a readership in the millions, and we hope that our story resonated with their audiences, and the people who matter - like YOU. Please continue to share about our work. You never know what the profound difference the smallest of actions might make. Read the story here:
https://www.washingtonpost.com/opinions/dogs-are-mans-best-friend--but-one-of-wildlifes-worst-foes/2017/03/24/2d2c9232-ed7f-11e6-9973-c5efb7ccfb0d_story.html?utm_term=.86e86d0b1666
On behalf of the dogs, people, wildlife, and my team in Nepal, Thank you! Sincerely.
Debby
+ Read More
Be the first to leave a comment on this campaign.