246
7
Hilfe nach Dachstuhlbrand
€17,417
of €20,000 goal
Raised by
251
people in 2 months
english version below
***Bitte beachten: das 2. Feld beim Spendenvorgang ist die Spende für GoFundMe - dort dürft ihr eintragen, was Ihr möchtet, auch 0 € - 15% sind nicht vorgeschrieben.***
*** Please note: the second box shown in the donation process is your donation for GoFundMe - you can put in as much as you like, even zero - the 15% are not a force. ***
Am 11. Juli 2018 verbrannte der Dachstuhl des Hauses der Familie Liebmann auf der Palmstraße des Chemnitzer Sonnenberges. Laut Freie Presse waren fast 70 Feuerwehrleute mit 10 Löschfahrzeugen im Einsatz. Glücklicherweise konnten Sie den Brand schnell unter Kontrolle bringen. Und glücklicherweise wurde niemand verletzt.
Das Schadensausmaß aber ist verheerend.
(Foto: Eckhart Roßberg - vielen Dank)
Mich hat der Zeitungsartikel sehr betroffen gemacht. Als Sonnenberger kennt und schätzt man den Laden an der Palmstraße als bunten Farbtupfer, fast wie aus einer anderen Zeit. Ein Platz, wo man nicht nur kauft, sondern auch einfach mal auf einen Schwatz herein-schaut. Ein Ort, an dem man das Herzblut und die Freude am Handwerk spüren kann.
(Foto: Andreas Ettlich)
Sonnenberg-Chemnitz.de hat den Laden und das Ehepaar Liebmann 2012 in einem schönen Artikel vorgestellt:
http://sonnenberg-chemnitz.de/2862/unser-unternehmen-des-monats-%E2%80%93-liebmann-keramik/
Ich wollte helfen, aber ich wusste nicht so recht wie - also habe ich die Liebmanns besucht. Kennengelernt habe ich wundervolle und warmherzige Menschen, die nicht aufgeben möchten, auch wenn es keine Versicherung gibt, die einspringen kann. Für Liebmanns ist das Haus nicht nur Wohn- sondern auch Arbeitsort. Die Familie hatte den schönen Altbau 2005 erworben und seither in kleinen Schritten saniert und ausgebaut. Im Erdgeschoss befindet sich die Keramikwerkstatt mit einem liebevoll gestalteten Ladengeschäft, im ersten Obergeschoss wohnt die Familie, darüber gibt es eine Ferienwohnung.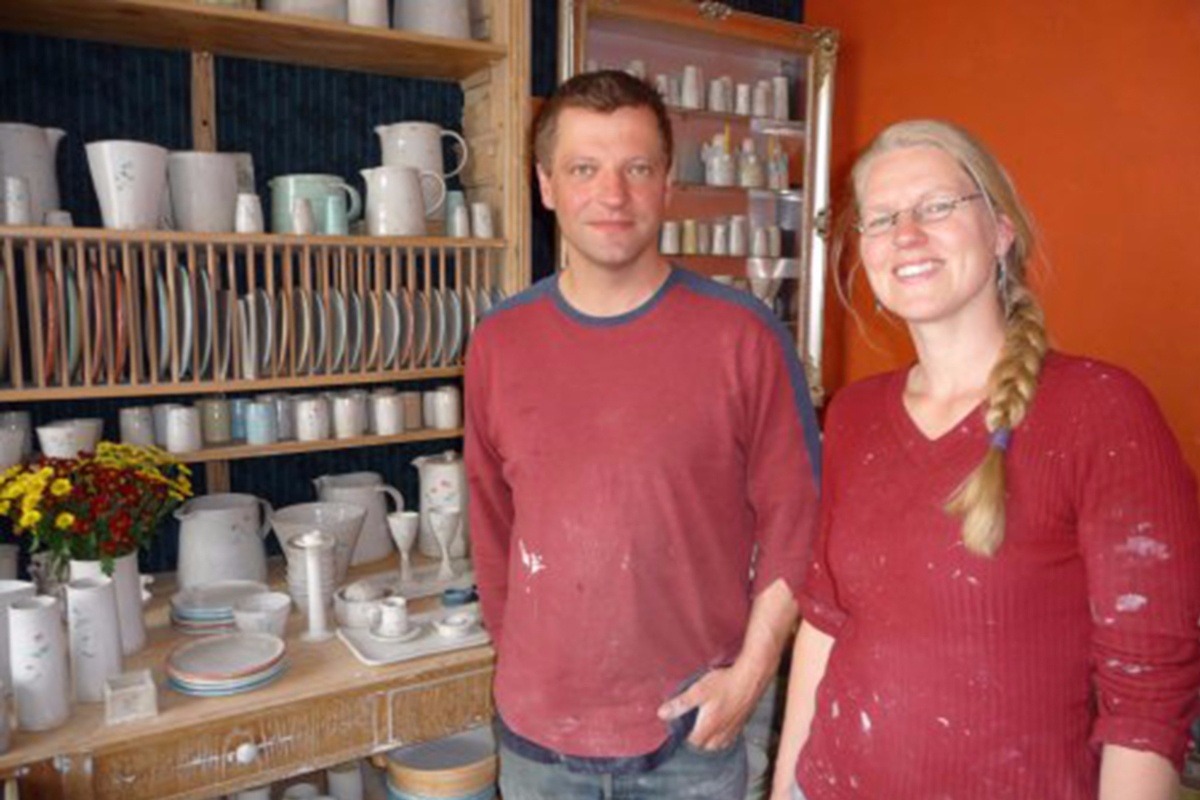 (Foto: Andreas Ettlich)
Durch das Feuer wurden große Teile des Daches zerstört. Es ist derzeit an vielen Stellen offen und kann ohne Gerüst nicht gefahrlos demontiert werden. Für den Wiederaufbau braucht es Material und eine Statik-Neuberechnung.
Die riesigen Mengen an Löschwasser, die in Strömen die Wände hinabflossen, haben zudem das Mauerwerk und alle Zwischendecken durchweicht. Vater Jan Liebmann und seine Kinder schaufeln täglich den Lehm aus dem Boden des Dachgeschosses und legen ihn zum Trocknen aus. Mutter Eva Liebmann fährt weiter auf Märkte und stellt Keramiken her - denn das Ladengeschäft sorgt für das Familieneinkommen.
Bis das Haus wiederhergestellt ist, ist noch viel Arbeit notwendig. Und der Herbst ist nicht mehr weit.
Mit all diesen Schäden vor Augen scheint ein Crowdfunding die sinnvollste Hilfe zu sein. Wofür das Geld genau gebraucht wird: 
- Stellen eines Gerüstes um das zerstörte Dach abzutragen 
- Container zur Schuttberäumung
- Material zum provisorischen Aufbau des Dachs (Wetterschutz)
- Fortsetzen des Trockenlegens von Wänden und Decken
- Aufräumarbeiten
Ich stehe mit Liebmanns in Kontakt - gemeinsam werden wir Updates posten und alle Spender über die Fortschritte auf dem Laufenden halten. Es ist der Familie ein wichtiges Anliegen, den Feuerwehrleuten für Ihren großartigen Einsatz zu danken. Besonderer Dank gilt auch allen Nachbarn und Freunden, die nach dem Brand tatkräftig Wasser und Schlamm aus den Räumen geschöpft haben, die Kuchen brachten und die mit aufmunternden Worten und Hilfsangeboten unterstützten.
Und auch im Rahmen dieser Spendenaktion gilt: ein herzliches Dankeschön an alle, die spenden, helfen und Anteil nehmen!Jeder einzelne Euro ist ein kleiner Schritt zurück zur Normalität und gibt Zuversicht. Und jedes Teilen der Spendenkampagne hilft dabei, mehr Menschen zu erreichen.Bitte teilt diesen Aufruf in Euren Netzwerken.
Vielen Dank. Verena Russell
Help after a rooftop fire in Chemnitz/ Sonnenberg
On Wednesday, 11th of July 2018 the roof of family Liebmanns house on Palmstreet/ Chemnitz burned down. Local newspapers told there where 10 fire engines and nearly 70 fire fighters helping to extinguish the fire. Thankfully they got it under control quickly and no-one was hurt. But the damage is devastating.
I was very touched by the newspaper article. Living in this quarter for many years, you know and love the pottery store on Palmstreet as a colourful dot, almost like from a different time. A place to not only buy something but check in for a neighbourhood chat. A place where you can feel the heart and soul put into the old craftsmanship.
Sonnenberg-Chemnitz.de introduced the store in this lovely interview from 2012:
http://sonnenberg-chemnitz.de/2862/unser-unternehmen-des-monats-%E2%80%93-liebmann-keramik/
I wanted to help - but did not know how. So I went to visit the Liebmanns. I got to know heartwarming and wonderful people, who do not want to give in, even if there is no insurance to cover the damage. For the family, the house is not only a home, but also their working place. They bought the beautiful old townhouse in 2005 and have renovated it in small steps ever since. In the ground floor there is the pottery studio with the fondly designed store, the living area is in the first floor, further up is a holiday flat.
The fire destroyed large parts of the roof. It is open on several spots and can`t be accessed and disassembled without scaffolding. For rebuilding it they need material and a new structural analysis. The huge amounts of water from the fire hoses soaked all walls and ceilings down to the cellar level. Father Jan Liebmann and his kids are digging out clay from the rooftop floor to spread and dry every day. Mother Eva Liebmann carries on with the pottery shop and the market sales - as they are the family income. It will take a long time untill the house is repaired - and the autumn is coming soon.
Facing all this damage a crowdfunding seems to be the best idea to help.
This is what the money is needed for: 
- putting up scaffolding to disassemble the damaged roof
- containers for clearing all the waste away
- material for building up a temporary roof as a weather protection
- continuing of drying the walls and ceilings
I am in contact with the family and we will update all donators about the progress made.
Liebmanns want to thank the fire fighters for their great commitment. Special thanks as well to all neighbours and friends who helped carrying out water and mud after the fire, who were bringing cake, supporting with loving words and helping offers.
And for this donation campaign as well: sincere thanks to everyone who is helping and caring.

Every little counts and helps bringing back normality and hope. And every share of the campaign helps us to reach more people.Please share in your networks.
Thank you. Verena Russell
+ Read More
Update 2
1 month ago
Share
Liebe Spender,
inzwischen ist einige Zeit vergangen und es gibt viel Positives zu vermelden. Das Gerüst, finanziert durch die hier gesammelten Spenden, steht seit knapp 2 Wochen. Nun ist es möglich, die verbrannten Teile des Daches zu entfernen und den Neuaufbau zu planen.
Ein großes Dankeschön geht an die Planungsgemeinschaft Bernecker & Ciesielski GbR vom Chemnitzer Sonnenberg, die die Bauplanung für den Wiederaufbau des Dachstuhls im Rahmen einer großzügigen Spende übernommen hat.
http://www.architect-bc.de/start/
Die Firma Becker Umweltdienste GmbH stellte außerdem kostenfreie Container zur Entsorgung von verbranntem Holz zur Verfügung - ein herzliches Dankeschön für dieses Engagement.
https://www.jakob-becker.de/standort/chemnitz-becker-umweltdienste/#accordion-4
Noch immer sind wir alle gerührt von der Anteilnahme so vieler Menschen aus Nah und Fern. Derzeit planen wir ein Nachbarschaftsfest, um uns hier vor Ort zu bedanken, und um für ein friedvolles Miteinander zu werben. Nähere Informationen dazu gibt es in Kürze.
+ Read More
Update 1
2 months ago
Share
*english below*
Ihr lieben wundervollen Spender, hier ein kurzes Update zum Stand der Dinge:

Viel hat sich getan im Haus der Liebmanns: der Boden des Dachgeschosses wurde überall geöffnet, um den nassen Lehm herauszunehmen. Dann wurde der Lehm getrocknet, neu eingefüllt, der Fussboden erneuert und mit Teerbahnen versiegelt - damit der nächste Gewitterregen nicht in die anderen Etagen durchläuft. Kommenden Montag soll, wenn alles klappt, das Gerüst gestellt werden, damit das verbrannte Dach abgetragen werden kann

Ein großes Dankeschön an alle Spender - Familie Liebmann konnte bereits die ersten Gelder in Empfang nehmen. Auch gab es spontanen Besuch von Bauhelfern und eine Spende für Transportcontainer für das verbrannte Holz.

Wir sind alle ergriffen von der Großzügigkeit und Anteilnahme, die wir im Rahmen der Spendenkampagne erfahren. Tausend Dank Euch allen.

To all you wonderful and caring donators, here is a short update:

There has been alot of progress in Liebmanns house: the floor of the rooftop has been opened, to take the wet clay out. After drying the clay got filled back in, the floor got renewed and sealed with tar to block the rain from running down to the other floors. Next monday they expect the scaffolding to arrive for taking the burned roof off.

A huge THANK YOU to all you donators, the first donations already reached the Liebmanns. There have been also spontaneous building helpers and an offer to donate transport containers for the burned wood.

We are touched by the generousity and the care we experience during this donation campaign. You are wonderful.
+ Read More
Read a Previous Update