Helft unserem Thomas zurück ins Leben
€14,539
of €20,000 goal
Raised by
171
people in 5 months
(FOR THE ENGLISH VERSION PLEASE SCROLL DOWN)Bitte helft unserem Thomas
Thomas (42 Jahre) ist der Mann meiner Schwester Stefanie (35 Jahre) und liebevoller Vater zweier Kinder (Sohn 8 Jahre, Tochter 13 Jahre).
Nach einer bereits lange bestehenden Beziehung feierten die beiden im Juni 2017 endlich ihre Hochzeit und alles war perfekt.
Doch dieses Jahr veränderte sich dann leider alles - nun ist er auf unsere Hilfe angewiesen.
Was ist passiert?
Der 8. April 2018, ein Sonntag, den unsere Familie und insbesondere meine Schwester Stefanie nie wieder vergessen wird – denn alles änderte sich von einer Minute auf die andere.
An besagtem Sonntag waren meine Schwester und ihr Mann schon sehr früh auf den Beinen und hatten um die Mittagszeit beschlossen, sich etwas zum Ausruhen ins Bett zu legen.
Meine Schwester wurde dann durch ein seltsames Röcheln von Thomas wach. Er lag zusammengekauert wie ein Embryo neben ihr, aus seinem Mund schäumte es und sein ganzer Körper krampfte. Er war zu diesem Zeitpunkt schon nicht mehr ansprechbar. Sofort verständigte sie den Notarzt.
Anschließend rief sie sofort mich an...
(Ich muss dazu sagen, dass unsere ganze Familie in Franken lebt und meine Schwester vor gut zwölf Jahren der Liebe wegen nach Sachsen zog, also etwa 350 km von uns entfernt.)
Am Telefon habe ich versucht, sie in diesen unbeschreiblich grausamen Minuten bestmöglich zu unterstützen. Ich habe ihr gesagt, sie solle nachschauen, dass er seine Zunge nicht "verschluckt" hat. Auf die Frage hin, ob er noch atme, sagte sie nur "er röchelt zwischendurch nur so komisch und jetzt ist da gerade gar nichts mehr"... Nichts mehr zu hören... Die verzweifelte Stimme meiner Schwester als sie ihn anschrie, dass er bitte "hierbleiben" soll, höre ich noch heute manchmal. Sie fing dann auch sofort mit der Reanimation an.
Die Verzweiflung in ihr wurde immer größer und größer. Jeder, der schon einmal reanimieren musste, weiß wie einem von Minute zu Minute die Kraft verlässt. Immer wieder schrie sie "Wann kommen die endlich?!" und ich konnte ihr immer wieder nur über das Telefon zurufen, dass es nicht mehr lange dauert und sie durchhalten soll.
Nach 15 Minuten war dann der Notarzt da. Sie schickten meine Schwester aus dem Raum und versuchten mehr als 30 Minuten lang meinen Schwager wieder ins Leben zurückzuholen.
Immer wieder war zu hören "Fehlgeschlagen"... "Fehlgeschlagen"... "Fehlgeschlagen"...
Der Schock, den der Defibrillator auslöste, zeigte lange keine Wirkung.
Nach etlichen Fehlversuchen zeigte sein Herz dann endlich wieder Lebenszeichen. Unter Reanimationsbereitschaft mit diesem Kasten auf der Brust wurde er ins Krankenhaus gefahren.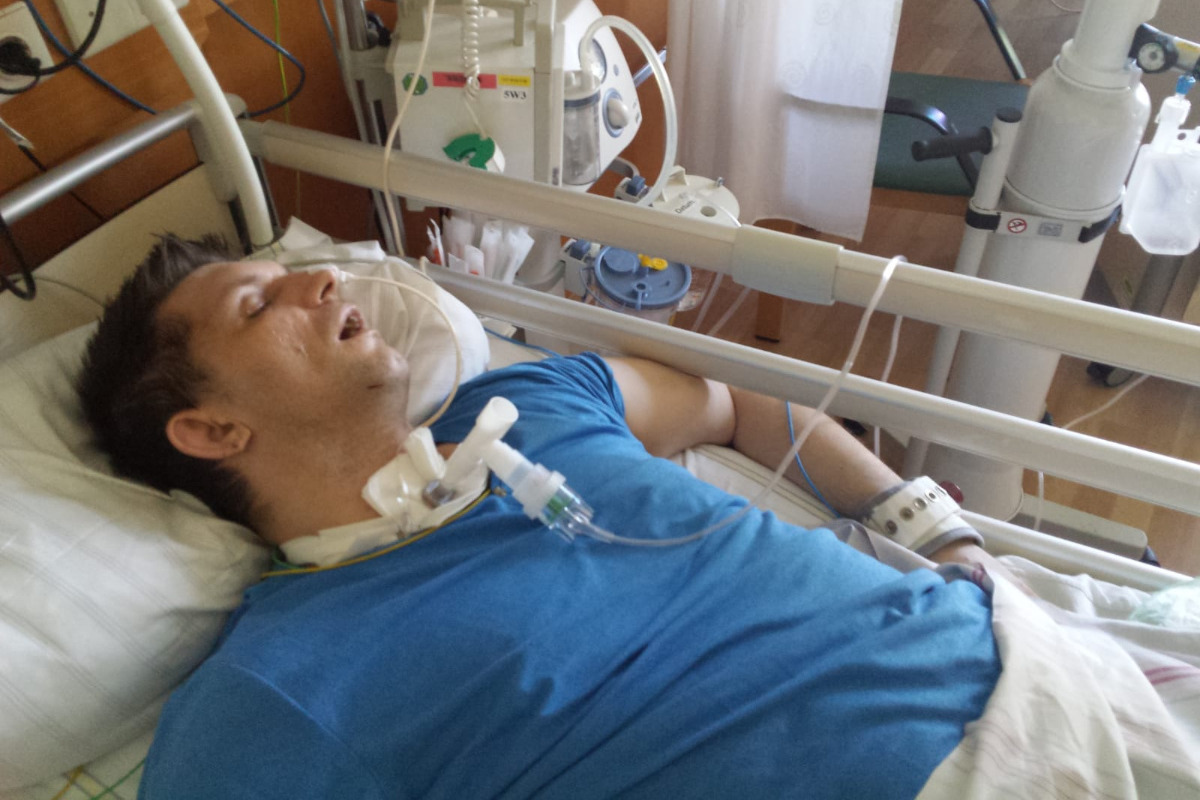 Mein Bruder und ich machten uns sofort auf den Weg zu ihnen nach Sachsen.
Im Krankenhaus wurde Thomas ins künstliche Koma versetzt und seine Körpertemperatur wurde heruntergefahren.
Überall Schläuche, die Beatmungsmaschine, die ganzen Geräusche... ein Anblick den ich nie vergessen werde.
Die Ärzte machten uns von Anfang an wenig Hoffnung auf Besserung. Der lange Sauerstoffmangel während der Reanimation und etliche weitere Komplikationen während des künstlichen Komas ließen wenig positive Gedanken zu.
Auch wenn uns gesagt wurde, dass Thomas womöglich nie wieder aufwachen würde und wenn doch, dass mit schweren Hirnschäden zu rechnen sei, zählte für uns in diesem Augenblick nur, dass er am Leben ist!
Wir fuhren jeden Tag in die Klinik, um ihn nicht alleine zu lassen, in der Hoffnung, dass er uns doch irgendwie wahrnehmen kann und den Kampf um sein Leben nicht aufgibt.
Mehr als zwei Wochen haben wir damit gewartet, bis wir den Kindern die Wahrheit sagen konnten. Wir wussten einfach nicht, wie man ihnen erklären sollte, dass sie ihren Vater eventuell nie wieder sehen können. Auch wenn keine Besserung zu erwarten war, die Lüge gegenüber den Kindern, ihr Vater musste spontan zu einer Fortbildung fahren, war nicht länger aufrecht zu halten.
Die Tage vergingen und nach einigen Wochen hatten wir immer öfter das Gefühl, dass Thomas es irgendwie spürt, wenn meine Schwester bei ihm am Bett saß. Der Puls wurde ruhiger, sein Gesichtsausdruck wirkte entspannter.
Meine Schwester wich nicht von seiner Seite. Jeden Tag hatte sie etwa drei Stunden Fahrtweg, da sie keinen Führerschein hat und auf öffentliche Verkehrsmittel angewiesen ist.
Sie nahm seine Lieblingsmusik und Sprachnachrichten der Kinder auf und spielte es ihm vor.
An die Zimmerwände klebte sie selbstgemalte Bilder von den Kindern, in der Hoffnung, dass er sie bald selbst wieder wird sehen können.
Wochen zwischen Hoffnung und Verzweiflung vergingen bis wir mehr und mehr das Gefühl bekamen, dass er langsam wieder den Weg zurück zu uns findet.
Die Medikamente, die ihn ins künstliche Koma versetzten, wurden nach und nach abgesetzt, er fing an selbstständig zu atmen.
Es kam der Tag, an dem seine Tochter das erste Mal zu ihm durfte.
Ein sehr emotionaler Moment, den man mit Worten kaum beschreiben kann.
Und dann kam der Tag, an dem Thomas die Augen öffnete...
Ein Augenblick, der für meine Schwester unbeschreiblich schön war, denn an seinem Blick konnte sie sehen, dass er erkannte, wer da neben ihm saß!
Es gäbe so viele Momente und unzählige Worte, die den ganzen Weg bis heute noch viel näher beschreiben würden – jedoch würde der Text dann wohl viel zu lang werden. Deshalb versuche ich das Ganze abzukürzen.
Nach Intensivstation, "normaler" Station und vielen Wochen auf Reha haben es die Ärzte und meine Schwester mit Thomas geschafft, dass er inzwischen wieder gehen kann – zwar noch etwas "wackelig", aber er kann gehen.
Auch kann er sich schon etwas artikulieren und manchmal kommen schon kleine  Sätze aus seinem Mund.
Viele Erinnerungen fehlen (noch), etliche Fähigkeiten sind noch nicht wieder vorhanden oder stark eingeschränkt.
Doch Thomas lebt und kämpft sich seitdem jeden Tag ein Stückchen mehr zurück ins Leben...
Die Diagnose lautet "Hypoxischer Hirnschaden durch Sauerstoffmangel nach Herzstillstand".
Ihm wurde inzwischen ein Defibrillator implantiert, falls sein Herz noch einmal aussetzen sollte.
Mittlerweile ist Thomas wieder zuhause. Meine Schwester kümmert sich rund um die Uhr um ihn, er kann nicht unbeaufsichtigt gelassen werden.
Sie kann seit dem Vorfall nicht mehr arbeiten, weil Thomas in dieser Lebenslage einfach auf sie angewiesen ist und ein Heim nicht infrage kommt. Dieses würde nämlich mit großer Wahrscheinlichkeit bedeuten, dass viele seiner Fortschritte wieder zurückgehen würden und weitere positive Entwicklungen nicht zu erwarten wären.
Insbesondere für meine Schwester ist das alles sehr schwer. Aber zuhause ist Thomas dabei, wieder aufzublühen. Vor der Leistung meiner Schwester kann ich nur sagen "Hut ab!".
Thomas hat mittlerweile Pflegegrad 3 bekommen.
Das Pflegegeld und die Erwerbsminderungsrente reichen aber bei weitem für viele nahezu notwendigen Dinge nicht aus und stellen meine Schwester vor ein finanzielles Problem.
Es gibt Therapiemethoden, die die weitere Entwicklung von Thomas zusätzlich fördern würden und ihn irgendwann vielleicht wieder im "normalen Leben" ankommen lassen könnten. Für diese fehlt aber leider das notwendige Geld und die Krankenkassen übernehmen sie nicht.
Außerdem braucht meine Schwester dringend einen Führerschein und ein geeignetes Auto um Thomas unabhängig versorgen zu können. Auch einige Hilfsmittel, die nur bis zu einem bestimmten Teil von der Krankenkasse übernommen werden, würden eine große Erleichterung bringen. Diese sind aber auch mit hohen Kosten verbunden.
Diesen Schritt hier zu gehen und um Hilfe zu bitten ist alles andere als leicht...
Wir halten als Familie stark zusammen und versuchen zu helfen, wo es uns nur möglich ist. Nur das finanzielle Loch, in das meine Schwester und Ihr Mann nun fallen, um alles daran zu setzen, sein Leben zurückzubekommen, das können wir leider nicht alleine kompensieren.
In manchen Situationen muss man wohl über seinen Schatten springen und andere Menschen um Hilfe bitten.
Zuletzt möchte ich mich noch bei all denjenigen bedanken, die das hier bis zum Ende gelesen haben und vielleicht nachfühlen können wie es ist, wenn das Leben von einem Moment auf den anderen völlig auf den Kopf gestellt wird.
Bitte teilt diesen Beitrag, damit er so viele Menschen wie möglich erreicht.Vielen vielen Dank!Please help our Thomas
Thomas (42 years old) is the husband of my sister Stefanie (35 years old) and the devoted father of two children (a son, 8 years old, and a daughter, 13 years old).
After sharing a long, happy relationship, the two of them tied the knot in June 2017 and everything seemed perfect. But this year, everything changed – now he is completely dependent on our help.
What had happened?
April 8, 2018, a Sunday, a day my family and especially my sister Stefanie will never forget – because everything changed from one moment to the next.
That Sunday my sister and her husband had gotten an early start and decided to take a break around noon and to rest in bed.
My sister was awakened by Thomas' wheezing breath. He lay there, curled up in a fetal position, foam coming from his mouth and his entire body was having convulsions. He was not responsive at this point. Stefanie immediately called for emergency services.
Next, she called me (I should add that our complete family lives in Franconia and my sister moved to Saxony 12 years ago to be with the love of her life, so she was about 350km away from us).
Over the phone I tried to help her through these excruciating minutes the best I could. I asked her to check, if Thomas had "swallowed" his tongue. When I asked her whether he was still breathing, she said: "He only wheezes from time to time and right now, there's nothing…" He wasn't breathing… My sisters desperate voice, as I heard her screaming at him, begging him to stay with her, I can still hear it now. She immediately tried to resuscitate him.
Her desperation grew larger and larger. Everyone who has had to resuscitate someone, knows that feeling of becoming weaker every minute, that feeling of losing hope. Again and again I heard her screaming: "Where are they? When will they get here?" and all I could do was to encourage her to hold on, to keep going. 15 minutes later an ambulance finally arrived. They sent my sister out of the room and spent 30 minutes fighting for her husband's life. Over and over we heard them utter "Failed" … "Failed" … "Failed"
The shock of the defibrillator had no impact. After several failed attempts his heart finally reacted. He was rushed to the hospital under the close watch of the emergency physicians.
My brother and I immediately got on the way to Saxony to be with them.
In hospital, Thomas was put in an artificial coma and his body temperature was lowered. There were tubes everywhere, a breathing apparatus, so many machines whirring… I will never forget seeing him like this.
The doctors did not raise our hopes regarding his recovery. He had been without oxygen for so long during his resuscitation and there were many complications while he was in coma, we all felt rather pessimistic.
Even though they told us that Thomas may never regain consciousness, that severe brain damage was likely, all that mattered to us was, that he was alive! We went to the hospital every day, so he wouldn't be alone, hoping he would somehow sense our presence and keep fighting.
We waited two weeks until we told the children the truth. We just didn't know how to tell them, that maybe, they would never see their father again. Although improvement could not be expected, we could not continue lying to them that he had spontaneously decided to participate in an advanced training.
The days passed and after a few weeks, we got the impression that Thomas noticed when his wife sat next to his bed. His pulse became calm, his features relaxed. My sister did not leave his side. It took her three hours every day to get to him because she relied on public transportation. She does not have a driver's license. She recorded his favorite music and messages from the children and played them for him. She hung pictures the children had drawn on the walls of his room, hoping one day, he'd be able to see them himself.
Weeks passed in which we were caught between hope and despair, but we became more and more sure, that he was trying to find his way back to us. The medicine that maintained the coma was discontinued bit by bit and he began breathing autonomously. The day his daughter visited him for the first time was so touching, I can hardly put it into words.
And then the day came, when Thomas opened his eyes. That moment was indescribable for my sister, because she could see recognition in his eyes!
There were so many special moments, I could say so much more about the days that followed, but I do want to keep this short.
After the intense care unit, a "normal" hospital stay and many weeks in a rehabilitation facility, the doctors effected a miracle with Thomas and my sister – he learned to walk again. He may be a bit shaky, but he can walk. He can articulate certain things and every now and then, he says short, but complete, sentences.
Many of his memories are still missing, a few of his skills have not returned or only in a limited way. But Thomas is alive, and he is fighting for his life day by day.
The official diagnosis was "hypoxic brain damage due to oxygen deprivation after cardiac arrest".
A defibrillator has been implanted in his chest in case his heart stops again.
Meanwhile, Thomas is back at home. My sister takes care of him twenty-four-seven, he cannot be unsupervised. She can't work since the incident because Thomas depends on her and a care home is simply out of the question because many of his impressive advances would probably recede in such an environment and further progress would be thwarted.
Everything that has happened has been very hard on Stefanie. But since Thomas has come home, his condition has constantly improved. I raise my hat to my sister's efforts.
Thomas' level of care is three now. Attendance allowance and reduced earning capacity pension however do not cover all the family's expenses and have put my sister in a difficult position.
There are therapeutic measures that could further improve Thomas' condition to a level that one could consider a "normal" life. Unfortunately, we do not have enough money to pay for these procedures and our health insurance will not cover them either. Furthermore, my sister badly needs a driver's license and a suitable car to be able to care for her husband freely.
It is not easy for us to take this step and to ask for help. We stick together as a family and try to help in any way possible. But we cannot compensate this financial hole my sister and her husband are falling into in order to continue his treatment. I guess, when push comes to shove, you must swallow your pride and ask for help.
Finally, I want to thank all of you, who have read on to the end and can empathize with suddenly finding your life turned upside down.
Please share this fundraiser, so it can reach as many people as possible.Thank you all very much!
+ Read More
Update 1
4 months ago
Share
Hallo! Ich möchte mich hier kurz melden, um mich ganz herzlich bei allen zu bedanken, die uns bis jetzt schon geholfen haben, auch für die vielen netten Worte. Der jetzige Stand ist, daß der Führerschein für meine Schwester schon abgedeckt ist durch Eure Hilfe! Vielen vielen Dank!
+ Read More