REPAIR FUND FOR GYPSY
$139
of $1,700 goal
Raised by
6
people in 47 months
Hey everyone! Until recently we were homeless and staying with a friend. But we are truly blessed because recently somebody gifted us a used RV! Now we need help paying for repairs to make her roadworthy so we can start our permaculture adventure!!! :)

NOTE:
GoFundMe won't let me change the campaign link, so I am using  my original link from my cob housing campaign:

http://www.gofundme.com/hepperlecobhouse



About Gypsy, the RV Miracle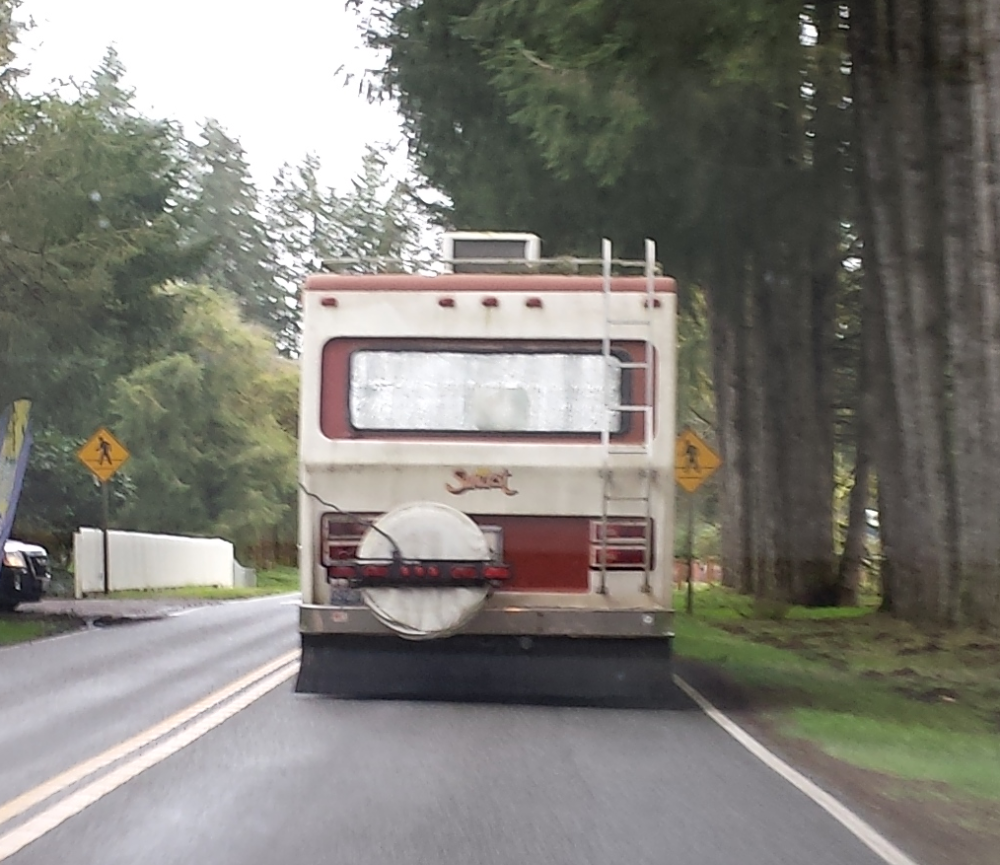 (This is Gypsy being towed to the repair shop a few weeks ago. This is the only photo I have of her so far. The one I used in the campaign pic above is from Google search)

I and my partner Izabel are permaculture enthusiasts who are planning to travel the United States visiting various permaculture teachers and locations, and doing an interview show about our adventures. A friend of ours gifted us an RV, but it needs some work to get it roadworthy. The RV is a 1984 Suncrest, 31ft, and we have named her "Gypsy". Gypsy needs a bunch of repair work including fixing the brakes, new starter, new battery, new cable, flushing transmission, doing a tuneup, flushing the coolant, and who knows what else. We need your help in helping us pay for the repair bill, which currently is around $2500.

How are we surviving and making ends meet now?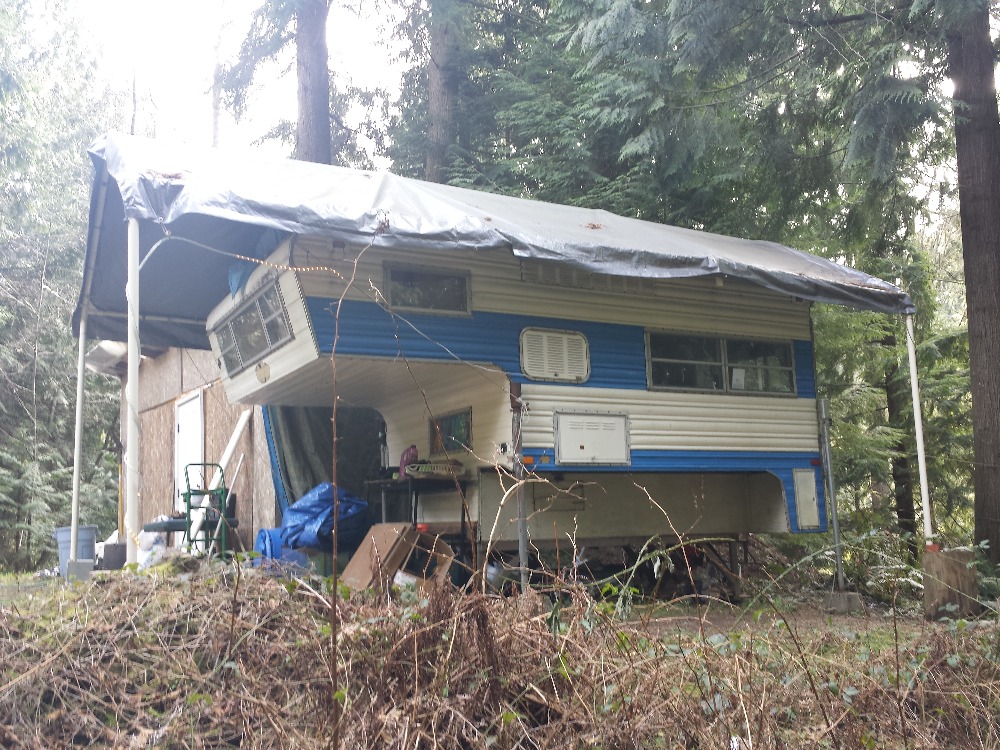 (This is the truck camper we are currently living in)

We are presently staying at a permaculture-based artist retreat that is still in its infant stages, known as "Dreamseed Collective". This is the first stop on our journey. We have become friends with the proprietor, Jodi, who has been kind enough to let us stay in a truck camper she has on the property. It is small, but warm at night and gives us at least a little bit of privacy. The camper has electric but we often we go inside the house and enjoy a meal and some lively conversation about spirutual, nature, and permaculture topics.

Exchanging farm-work for a warm place to stay



(Izabel helping Jodi dig the trench for laying cable to the Mothership)

We know that there has been extra expense that Jodi is incurring by us being here and we since we believe in energy-exchange-for-value, we have been trading sweat equity for our stay. This includes trimming thornbushes,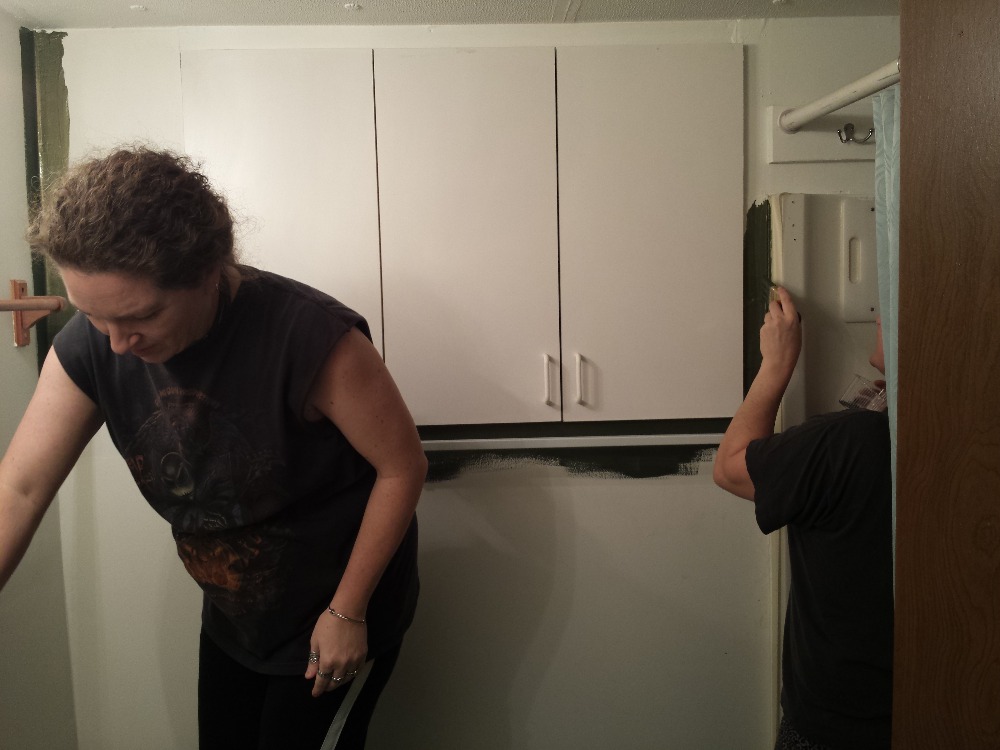 (I forgot to mention painting ;) Here is Izabel helping Jodi paint the bathroom in the main house)

dismantling and sorting large piles of wood and branches, digging trenches, gathering firewood, sweeping floors, washing dishes, turning compost, disposing of the trash, processing the recycling, hauling, carrying, fetching, and other general labor tasks. In addition, I have personally designed many artistic and creative solutions for the property based on permaculture and upcycle principles including:

* Removable wall as a divider for a small artist studio that bolts in for easy install or removal.
* Deepening the small creek that runs out back to allow easier gathering of water.
* Firewood shelter for keeping firewood dry outdoors on a budget, using garbage bags, duct tape, and some fallen cedar branches.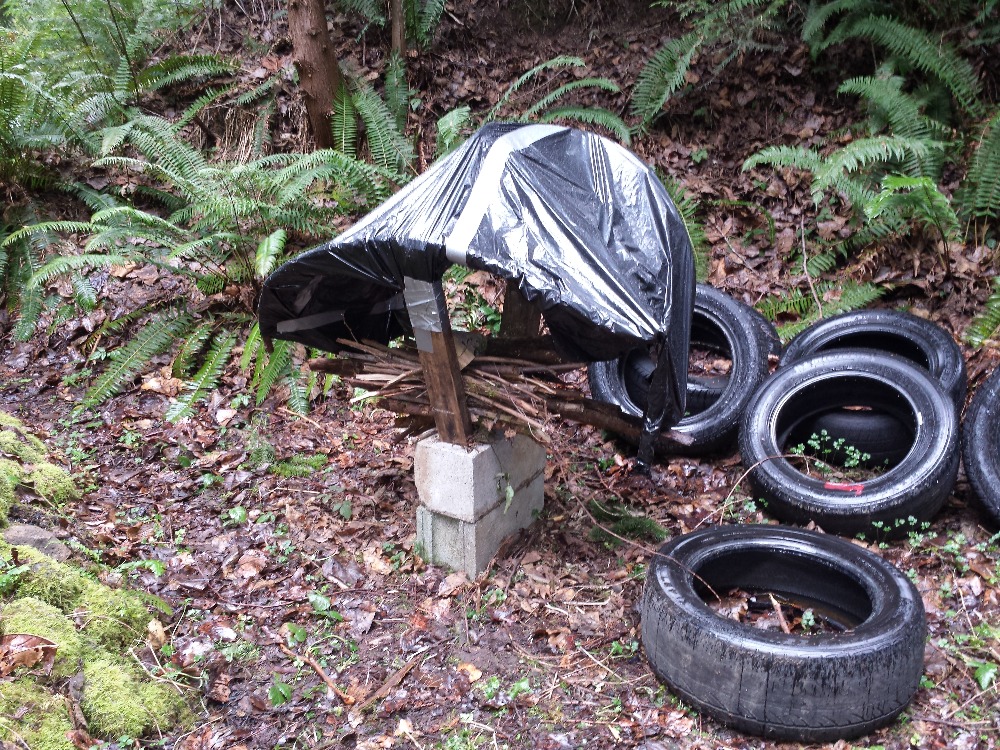 (Here's the firewood drying shelter I built. Now there can always be dry firewood by the firepit!)

Helping Jodi realize her dream for "Dreamseed"
To show our appreciation for her hospitality and to help grow her dream of seeing Dreamseed Collective blossom, we will be giving Jodi a small portion of the proceeds.



(Jodi welcoming us to Dreamseed Collective. This project has so much potential for greatness!)

Miss Kitty and Zany also need your help

There are many spirits -- animal, plant, mineral and otherwise -- which reside out on the property. But the two we see the most, are Izabel's cat "Miss Kitty" and Jodi's cat "Zany". They can be friendly, but also have that classic independent streak of "cat-titude" ;) They appreciate all your help and support also, as a portion of your contributions will also be going to cat food also.

[photos forthcoming]

The beginning a of a beautiful Permaculture Adventure

We hope you have enjoyed reading our story. If you want to know more, follow my blog at:

ehepperle.com/kbd

Thanks again for visiting our GoFundMe campaign. Please donate as much as you can and help us spread the word about the sustainability, practicality, spirituality and love that is permaculture!!! :)

Love and Blessings,
Eric & Izabel ... & Miss Kitty ... & Gypsy ;)


+ Read More
Be the first to leave a comment on this campaign.