Help start a pig sanctuary!
$2,444
of $15,000 goal
Raised by
68
people in 39 months
Hi! My name is Carey Webb and I'm a pig mom. I live in Maryville, TN with my husband and 2 boys.My goal is to start a pig sanctuary and rescue pigs in bad situations. We live in a subdivision with a very small yard. This is preventing us from being able to save these wonderful animals and give them a loving home. It all started with Kookie, my 300 pound "minipig". When we went to pick her up she was only about 1 pound and could hardly drink milk yet. Today she is not so "mini". Since having her I have been able to experience what intelligent and loving creatures pigs are. All pigs deserve to live happy healthy lives and be loved. No pig deserves to be caged meat. Size doesn't matter. Market pig or minipig. So many people hear the term "minipig" and go out and buy one thinking it's going to stay small. Then they get big and are cast out like trash. Currently we have 3 pigs and are on our way to rescue a 4th tomorrow. We were browsing craigslist one night and ran across an ad for "meat pig". I couldn't stand the thought of this baby getting caged up and treated like nothing more than a slab of meat and one day being hauled off to a slaughter house. I would love to be able to save so many more pigs from their terrible lives but I simply do not have the space. There are so many pigs in our area that need help and I would love to be their savior and rescue than and treat them all How they deserve to be treated. I would appreciate any help anyone can give to help me achieve this dream. Thank you and God Bless! You can see my family of pigs on Instagram @kookieandkipper_minipigs
+ Read More
We have a quick update for everyone, but first we wanted to give a sincere thank you to everyone who has donated and joined our cause. we have made the first steps towards purchasing a plot of land with a barn and 4 acres!! We are extremely excited about what this new land might bring. We will finally be able to really begin what we set out to do after getting our first "minipig" Kookie. we will be sure to post updates as the process moves forward and have lots of pictures for everyone to see the piggies in their new homes!! once again thank you to everyone who has joined this campaign and if anyone would like to reach us directly by email, our email address is "kookiepig@yahoo.com" feel free to email us anytime with any questions or suggestions you may have. we will respond as quickly as possible. Til next time...
+ Read More
Yesterday we went to pick up a new family member. He's a little dirty in the picture but he'll clean up nice and be ready to mingle with the other pigs in no time. Within an hour of him being home he was already using a litter box and hangin with our kids in the house. We will post updates of this little guys progress soon. Thank you to all who have contributed so far! Hopefully we will be able to rescue more soon.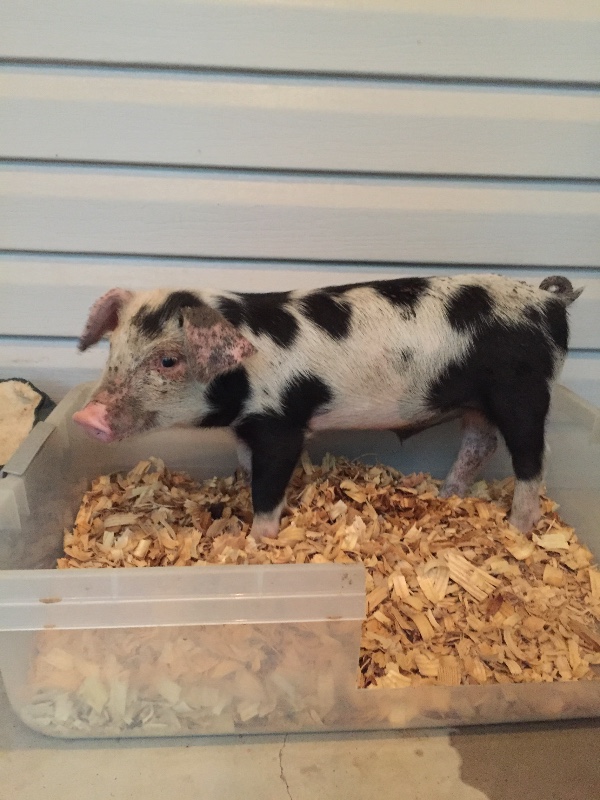 + Read More
Read a Previous Update