KIMBERLY KAYE DOESN'T FIGHT ALONE
$90,926
of $100,000 goal
Raised by
857
people in 31 months
My name is Michael Cerveris. I'm a Broadway, television and film actor and most importantly, a friend of Kimberly Ann Kaye.  After years successfully fighting autoimmune disease, Kimberly was hit hard by a drug resistant kidney infection this summer and now needs help healing the traumatic organ damage left behind. Kim has heroically fought back against the odds for years. This the first time I've known her or Ray, her husband/caretaker, to so seriously need help to heal and survive.
HONEYMOON FROM HELL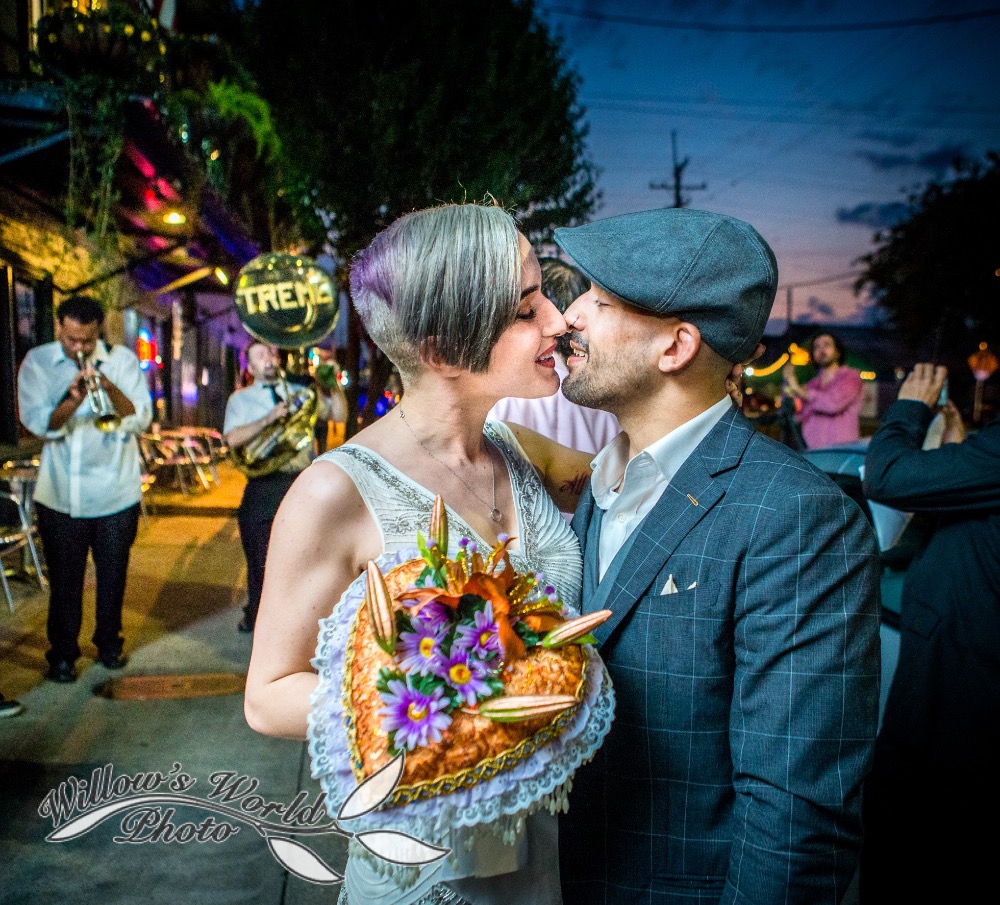 In May 2016, Kim and Ray had a legendary wedding at Kajuns Pub in New Orleans. It was the joyous, delayed party for their tearful legal wedding in 2013 when Ray carried Kim, fully disabled by a severe
Crohn's Disease
"flare" plus a life-changing
shingles
infection, into City Hall to prove how serious he was about the
"in sickness and in health"
part of partnering.
In June 2016, before the honeymoon for the real wedding could finally be had, a misdiagnosis of a simple UTI landed Kimberly in serious decline with a drug-resistant kidney infection.

This preventable infection did permanent, traumatic damage to the tissues of Kimberly's bladder and pelvis, partially paralyzingly her bladder and leaving her with an agonizing, incurable condition called
Interstitial Cystitis (IC)
 . Kim's IC is defined by bleeding in the bladder walls, inability to urinate without medical intervention, constant urgent need to urinate, disabling pain, and incompatibility with the Crohn's Disease already attacking Kim's colon and small intestine.
The combination of Crohn's and IC has left Kim (formerly a competitive jiu-jitsu blue belt and volunteer women's self defense instructor) now 20lbs lighter, infertile, and totally bedridden in a handful of weeks. Instead of a honeymoon, Kim and Ray began a
still-continuing
 odyssey of invasive tests, hospital visits, weekly bladder injections, weekly surgical procedures, physical therapy, malnutrition, and pain management interventions. As they exhaust their health insurance through Leg One of treatment, they approach the obstacle of Leg Two of treatment--the $10K price tag attached to
Hyperbaric Oxygen Therapy (HBOT)
, the ONLY available treatment in the United States that can put both IC and Crohn's Disease into remission at the same time. Without HBOT therapy, Kimberly's clinical prognosis for recovery is just 30%. With HBOT therapy, she could see a reversal of some organ damage and attain full remission in just 7 weeks.
If you keep reading, you'll understand why Kimberly both needs and deserves to get her life back as a patient advocate, mixed martial arts educator, and scrappy creator.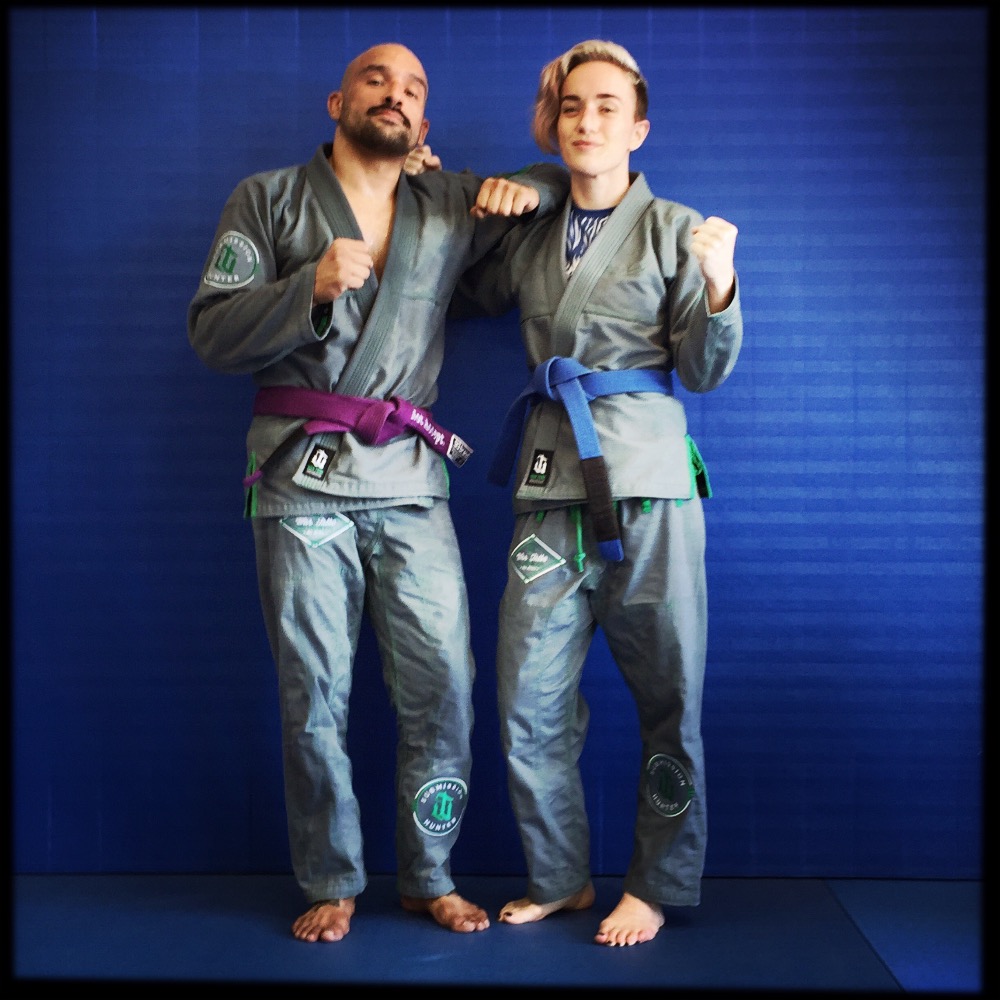 MEET A REAL FIGHTER
I first met Kim in 2008. She was a rising star reporter for Broadway.com. Over the next year or so, I watched her catch the attention of highly respected journalists like David Carr and Terry Teachout, both of whom recognized her fierce talent and encouraged her desire to speak for those who cannot. I watched her work appear in national publications like The Economist and NY Observer, and blossom in her own writing
(The Trouble With Poet)
 and playwrighting--while still managing to climb the arts journalism ladder to Creative Director of Editorial for Theatermania.com at 29. At the same time, she found her voice (literally) as co-lead singer in 
Loose Cattle
, the country band we began as a lark and have since taken from friends' living rooms to stages at Lincoln Center, New Orleans' Jazz Fest, Mountain Stage in West Virginia, and clubs all over New York and Louisiana. In all those years, Kim was a dynamo of energy and productivity, able to write through the night and work a full day at the office, attend a play and rehearse with us deep into the night again. You'd have thought she was unstoppable.
But even then, Kim was fighting a covert battle.
In her teens, she was diagnosed with 
Fibromyalgia
 and
Immune Dysfunction
. With specialist medical help and, crucially, good health insurance, she was able to go into remission not long before we met. She was ready to take on the world and she was already making her mark, big time.
Then in 2013, her illness woke with a vengeance
, landing her in the hospital with a severe kidney infection, shingles and Chron's complications all at once. Her recovery took a year with the effects so debilitating  she could no longer work, becoming "Legally Disabled"   --a classification she was determined to unqualify herself for as fast as she could get back on her feet. She drastically modified her diet, took up jiu jitsu in lieu of physical therapy (under the guidance of husband and professional coach Ray), and sought help from every traditional and non-traditional therapy she could find and afford. 
Once again, she seemed to be beating the illnesses
attacking her diminutive frame. She married Ray, and they moved to the city she had years earlier fallen in love with, New Orleans. It was a much deserved (and hard fought for) chance at a fresh start in the city they both loved.
Kimberly had already dedicated herself to NOLA through years of work on "Nine Lives," a vibrant and moving musical that songwriter and friend Paul Sanchez had enlisted her to write using his songs. She and Ray threw themselves into their new life, Kim writing the wonderfully demented 
A Christmassacre Story
, recording and making 
videos
 with our band, joining the Theatre at St. Claude Players, acting in the highly praised  
Killing Of A Lesbian Bookie
, and, with Ray, putting their MMA training to generous use through their 
Wülfpack MMA and Tactical Self Defense
 'donation only' community training sessions, open to all, but especially the most vulnerable citizens of New Orleans. To all appearances, she was a tiny Wonder Woman.
Secretly, though, Kimberly was powering through a  drastic reversal of her progress against disease.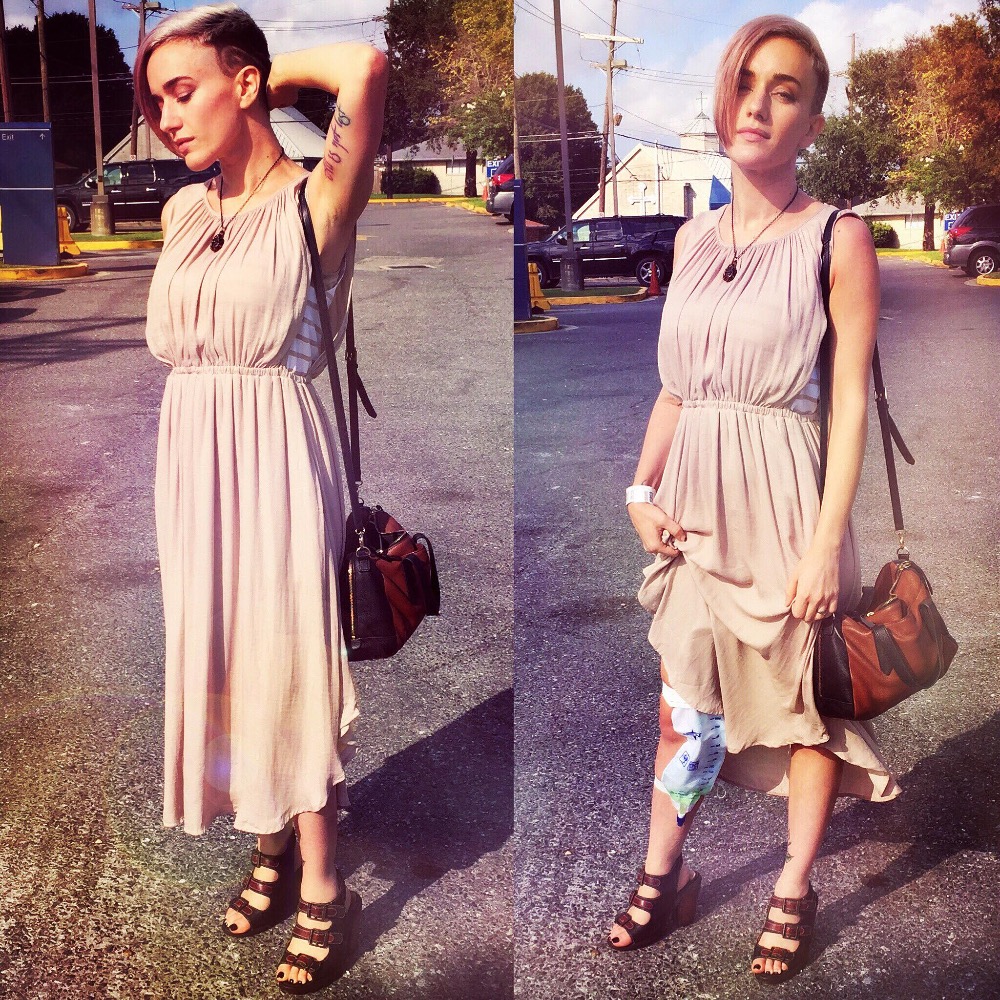 A drug resistant kidney infection and new 
Interstitial Cystitis (IC)
 stole her mobility and strength. As she began treatment for IC, four undiscovered
ovarian cysts
ruptured inside her little pelvis, reversing progress from her earlier treatments. The Crohn's Disease combined with IC mean both her colon AND bladder are not functioning correctly, requiring medical interventions so painful her doctors have been forced to utilize opiates, narcotics, cannabinoids, and nerve blocks just to quiet her nervous system enough to give the treatments a chance to work. Despite the fact that she now has a team of some of New Orleans most extraordinary doctors on her case, she is in great pain, becoming dangerously malnourished and making only sporadic progress. 
Of course, Kim insists on facing even her agonizing nerve block sessions with a sense of humor and a message to her doctors on the day of surgery:

And then, of course, there's the bill.
Three months into the treatments that have been the only thing keeping Kim from sliding into a truly dire state, their insurance and live savings are maxing out. Ray has been providing round the clock care at home, catheterizing her bladder when it cannot drain, managing pills and doctors appointments, driving Kim to specialists and hospitals, unable to apply for full-time employment. Because they are fighters and survivors, they have done all they can do, but it's not seeming to be enough. 
But there's hope.
Kim's doctors explain that 
Hyperbaric Oxygen Therapy
 has shown dramatic results stopping, and even reversing tissue damage from both IC and Chron's and a host of other previously untreatable ailments. Fortunately, New Orleans is home to a
hyperbaric chamber
on the West Bank. Unfortunately, Kim's insurance, for whatever reasons they have invented, won't cover the treatment. 
This is where I'm hoping you can help. 
Along with a host of Kim's friends, relatives, colleagues and admirers, I am trying to raise money for this treatment. Ideally, we could raise more to supplement all the costs that have exceeded their resources so far, and give them a chance to get ahead and stand on their own as they have meant to all along. Kim continues to fight using a dark sense of humor and a tube of liquid liner--as followers of her
Instagram Account
 know. But first Kim has to get well, and this hyperbaric therapy seems the best bet she has at the moment.
Kim and Ray are hard working people, with so much to offer New Orleans and all the people they encounter. They've already demonstrated their desire to contribute to their community and to extend lifelines to others, others who have had their lives changed by Kim's deep well of empathy and her ability to cut through to say things that need saying. They are young and so full of life and possibility.  And they are proud and want so much to be self sufficient, so asking for help is very hard. And that's why I'm asking if you might be able to help them in a profoundly meaningful way by donating to this campaign, and by sharing it with everyone you know who might have the ability and the generous heart to help my dear, dear friend.
Kim's gifted team of doctors, led by
Dr. Carin Sanchez
 , have encouraged her to write a book for other chronically ill patients and their families, saying her "wild sense of humor, creativity, and resilience in the face of bad news is a model for patients of any kind."
We want to make sure she gets the chance to write that book someday.

Thank you sincerely for anything you can do.
Michael Cerveris
+ Read More