121
3
Helping Darina from Siberia
£4,650
of £3,000 goal
Raised by
113
people in 21 months
Fighting stigma: parents of girl born with half a face tell of their battle to help her

When Darina was born 3 years ago without lips and a chin, her mother lost consciousness from shock, and soon her family disowned the child.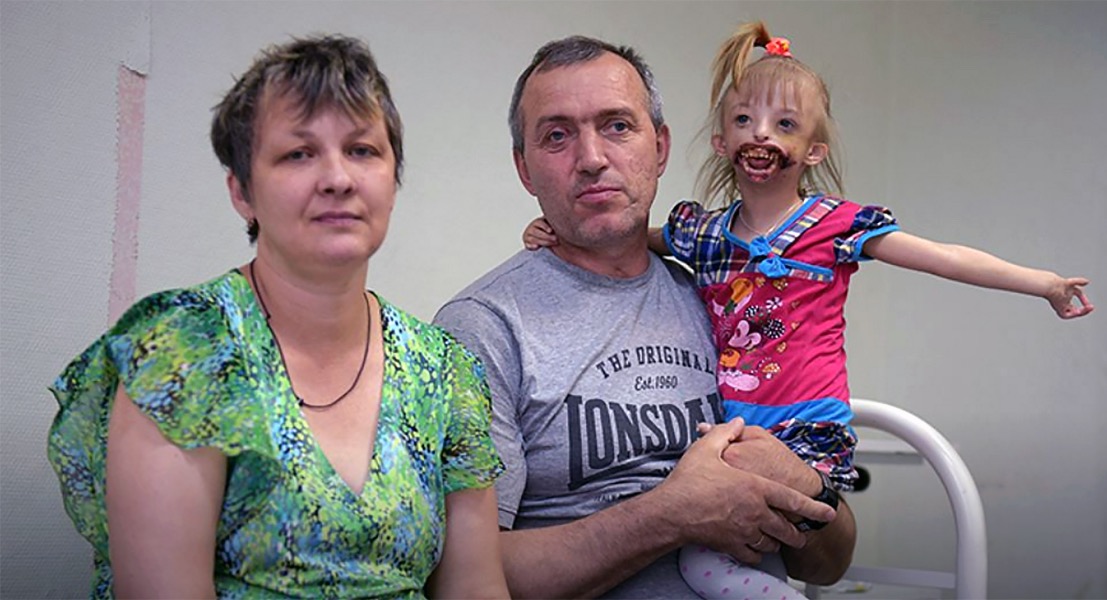 Now mother Elena Shpengler, 46, is fighting back against the prejudice faced by her infant daughter, as doctors begin the slow process to rebuild her face.
This page was set up by The Siberian Times online newspaper's team to support Darina and her family
+ Read More
Update 2
1 month ago
Share
Dear all,
We want to update you on results of Help Darina campaign, and say what's been done since we started.
Darina Shpengler is due to have her first major surgery in London this spring (2019) which - all being well - will become a life-changing moment and will set her on to a long road of recovery.
This was only possible thanks to your support, which helped our team to bring Darina to Moscow, to get her through a series of medical tests, to find Russian experts who thoroughly studied the opportunities for Darina's surgery in Russia - and concluded that she had to be operated abroad.
Russian surgeons require a minimum of 13kg weight to allow a child recover from a blood loss after a major surgery.
Darina's weight balances between 10,2kg and 10,8kg, and grows up painfully slow due to complications with eating and frequent illnesses.
The Russian medical professionals suggested Great Ormond Street Hospital in London as one of the best clinics for Darina's surgery.
Since the trip abroad was impossible at this stage, The Siberian Times provided an hour long video of Darina in addition to her medical documents, which were kindly reviewed by the hospital's team.
Preliminary agreement to operate was received from the head of the hospital's world famous craniofacial unit Professor David Dunaway; the surgical bill came to approximate £67,400.
Next The Siberian Times spent several months working with Darina's medical documents to get her case accepted for whole-Russian fundraising program of RusFond, one of Russia's largest charity funds.
At the end of January 2019 Darina's story was aired by Russian morning TV show.
Within 24 hours RusFond gathered almost six million roubles donated via text messages by people from all around Russia.
The amount should cover Darina's surgery and return tickets from Siberia to the UK.
Yelena, Darina's mother will be paying for translation of all their medical documents from Russian into English; the family will also have to cover basic expenses like transport and meals in London.
Accommodation will be paid by the RusFond.
Please see more details in our story, and please accept the most heartfelt thank you from Darina's parents Yelena and Yuri. This is never going to be easy for the family, but thanks to your kindness and generosity they know that they are not alone.
Thank you.
Yours,
Team The Siberian Times
https://siberiantimes.com/other/others/features/millions-of-people-donate-to-give-5-year-old-darina-a-chance-to-smile/
+ Read More
Update 1
20 months ago
Share
Dear all,

We are well on the way to finish our campaign soon with £2,115 gathered by 48 people around the globe.

You are incredible, thank you so so much.

Back in touch soon,

Team The Siberian Times
+ Read More
Read a Previous Update