Helping the Horse Nation
$17,964
of $18.5k goal
Raised by
311
people in 5 months
In a few days I will leave my home and drive my vet truck 900 miles to Standing Rock, North Dakota. Some of the horses involved in the Standing Rock pipeline protest have been injured. A few have even died. They need veterinary help and have none.

Yes, the people are protesting an oil pipeline going under the Missouri River, with its potential to contaminate the water for 17 million people (pipeline leaks are the norm, extraordinarily common, and vastly under reported). But there is a much bigger picture here. They are protesting/protecting rights. The rights of all races. The rights of the earth. And, most importantly, the rights of humans (and animals) who are yet to be born. These things...all of them...cut me to the core.

This protest has become a movement that is international and historical in scope. Never in the history of this country have so many tribes gathered together. Marches and gatherings of support have sprung up in all corners of the globe: Mongolia. Ireland. Belgium. Norway. New Zealand. Australia. Packistan. Even Salt Lake City, Utah.

The horses on site are very important for morale and for healing of the humans. Helping the horses is the very best thing I can do to throw myself into this wave of change.

Please help me buy medications and equipment broken down below if you can. I'm not very good at asking for money unless I have worked for it. But the scope of this is too big for me to handle alone.

~ Charmian Wright, DVM
I carry the spirit of so many with me.
Breakdown of funds I am trying to raise:
•Medications and equipment to get started: $7,500
Includes antibiotics, colic treatment medications, electrolytes, bandaging materials, wound care supplies, intravenous fluids and catheters, and individual equine first aid kits for owners and human first responders to have on hand

•Ongoing medication needs: $2,000
Additional medications and equipment to replace supplies as they are used up

•Hoof care: $500
Hoof care supplies and funds to use for emergency outside farrier care

•Fuel: $550
For transportation of fully equipped veterinary truck

•Semi-permanent shelter: $3,000
A "sheep camp" for housing medications, supplies, and equine tack 
•Fees: $1,000+
Fees associated with a GoFundMe account and credit card processing

•Additional donations:
Will be used for a fund to support emergency care if any horses needs to be treated at an outside veterinary hospital
+ Read More
Update 2
Posted by A. Wright
5 months ago
Share
Updates from Dr. Charmian Wright

November 10th:
I worked hard all day training the Crow Creek Spirit Riders at Standing Rock about emergency equine veterinary medicine. During the night the camp horse clown, "Beans," smelled grain in the wagon and ripped the canvas trying to get to it (the horses roam freely throughout the camp). So I had the students practice their suturing technique by repairing the canvas "laceration!"
Our classroom is a canvas canopy and the students sit on saddles perched on saddle stands. There are around 15 owners and 25 horses. One horse is a mustang rescued from the meat market who is most likely pregnant; we will preg check her tomorrow.

Today the students learned the basic principles behind an in depth physical exam and we discussed various medications. We then evaluated and treated 3 different horses for injuries and/or infections. I also have several "specialists" learning about nutrition, dentistry, tack, laceration repair, and recycling. We squeeze in our specialist meetings between regular class times, like during lunch.

A single horse may teach many lessons. "Prophesy," a gorgeous Appaloosa, has an old wound on his hind leg that healed poorly. So tomorrow in treating him the students will learn how to sedate using dormosedan gel, restraint to prevent kicking, infiltration of local anesthetic, how to trim back an old skin flap, and bandaging. And more bandaging. And more bandaging...until the wound heals correctly.

Dan Sullivan, a farrier, arrived today after traveling all the way from West Virginia. It is wonderful that he can train some horseshoeing techniques so I don't have to!
These students are naturally talented and very fast learners. They are truly gifted horsemen. And brave enough to be involved on the front lines, then continue to work and ride with ribs broken from rubber bullets. They are an inspiration.
After hours I visited the drum circle, open to everyone. But now I am resting, and listening to the sounds of the camp. There is drumming and chanting in the distance. Nearby, a horse whinnies. Laughter is carried by the night and someone is playing a guitar. The smell of wood smoke drifts through the air. My lanterns hiss, putting out both light and heat, making the wagon cozy and warm. I am tired but content.
~ Charmian Wright, DVM


Update November 12th, written by Redhawk at Standing Rock
Every day there are a thousand stories that come out of camp. Often, many of those stories begin even before the water protectors leave on their journey to Standing Rock.
Last night I had the honor of meeting Dr. Charmian Wright of Mountain Horse Medical. Dr. Wright drove 22 hours straight from Park City, Utah after being touched by my photo "Defend The Sacred". The photo features a female Spirit Rider mounted on a horse, staring down a line of militarized police. Dr. Wright was concerned that the horse wasn't doing its best. When she arrived, she was excited to see the horse was happy and healthy.
Charmian came full equipped to Oceti Sakowin Camp to provide workshops for the Spirit Riders to ensure that the horses are at their best shape for the coming winter months. She has been teaching the Spirit Riders how to sew proper sutures, how to check for body grades, and how to give proper IV's when needed among many other medical procedures. The mustang photographed here was rescued on its way to a Canadian kill house. The mustang arrived at Standing Rock, and the Spirit Riders are currently getting it to full health and helping break her in.
Dr. Wright will be heading back to Utah next week, but will be a consistent presence at camp even after her departure, as she will be only a phone call away whenever the Spirit Riders need her advice or opinions on any upcoming situations. She has dedicated herself to supporting the horse community here at Standing Rock, and it was quite a humbling experience to witness her passion.
The world is banding together to make a positive change for our future generations.
RISE WITH US.
-Redhawk

November 13th
Foretek, a human medic at Standing Rock, learned how to put intravenous catheters in horses today. She was a very willing, quick and proficient learner. If a horse needs intravenous fluid therapy, the medics can help. I am leaving them with 40 liters of fluids, lots of catheters, and multiple IV setups.
~ Charmian Wright, DVM

November 14th
It was my honor to get to know the Crow Creek Spirit Riders and their horses. Their level of bravery in coming forth to protect the earth is something we should all try to aspire to. We look to them as leaders in this fight that affects us all.
~ Charmian Wright, DVM

November 14th
At Standing Rock, people from very distant places will randomly stop by with moving vans full of treasures. Saddles. Horse feed. Tipi poles. Saddle blankets. Barrels for making wood stoves. Dog food. Water troughs. It is truly extraordinary to be in the midst of such generosity.
Oh, and Daryl Hannah stopped by. I showed her my solar panels when she asked what else the riders needed. She and her beau Neil Young are sending more heavy winter horse blankets. I described to Neil's manager Steve precisely what the horses needed. He had already dropped off some fence panels for a round pen.
~ Charmian Wright, DVM

November 14th
At Standing Rock, there's dogs in the camp too. I was so busy with the horses, I was hoping for some help with the small animals. And she appeared! On a big white horse, no less!
Tracy Hsu lives an hour away from Standing Rock. She comes here every weekend. When helping her with her mare Ashley, it became apparent how competent Tracy was. Some puppies showed up and I asked Tracy to help me with them. She jumped right in. Ha! In some sleight of hand I didn't even know I possessed, I had Tracy agreeing to care for some of the camp dogs' needs after I'm gone. I am confident she will do an outstanding job, and I equipped her with some supplies. I'm looking forward to working with Tracy in the future to help meet the needs of the puppies of Standing Rock.
~ Charmian Wright, DVM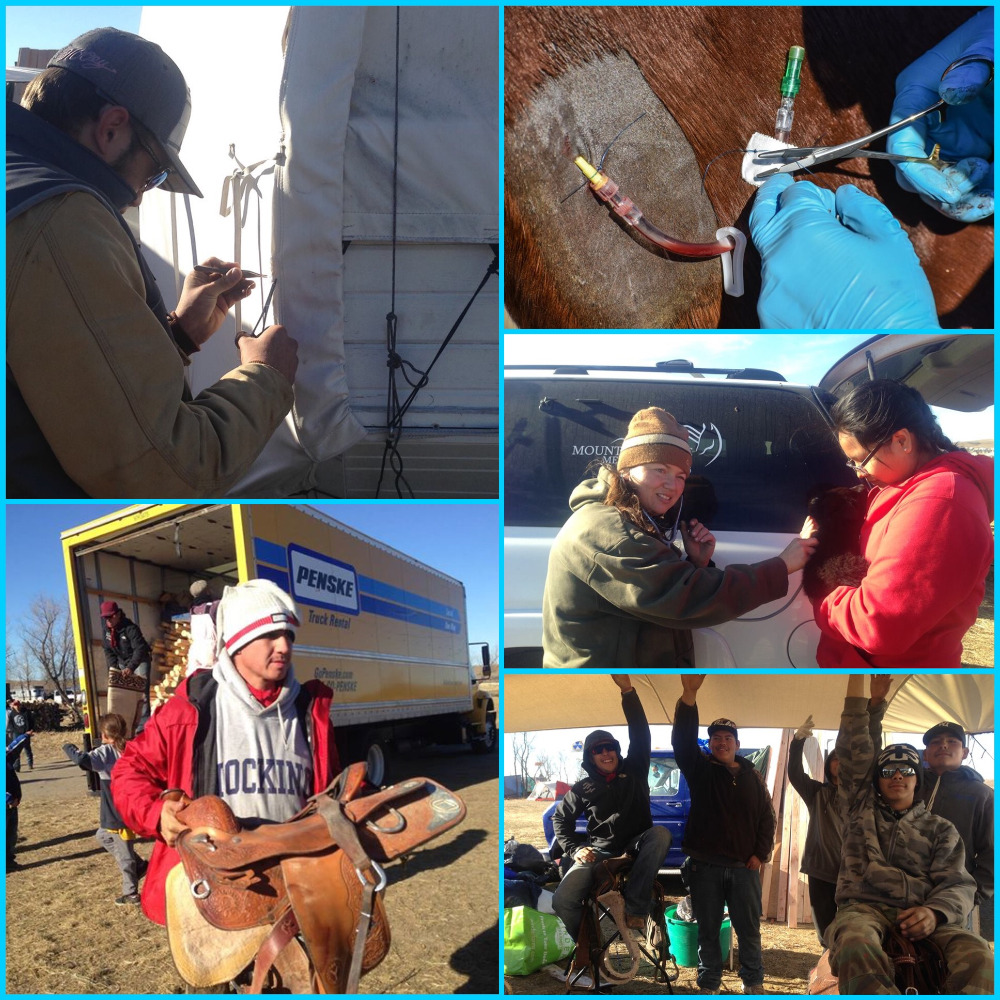 + Read More
Update 1
Posted by A. Wright
5 months ago
Share
Dr. Wright is on her way to Standing Rock with a lot of vet supplies! My name is Ariana, I am Charm's niece and I have been helping her with the fundraising. We are thrilled and grateful for the donations that have come in. Thank you very much.

Here is a statement from Dr. Wright:

"We stand together in our love of the horse nation. The horses themselves are the true healers.
My heart sings with gratitude. Words aren't enough to say how much. I thank you from the deepest part of my soul."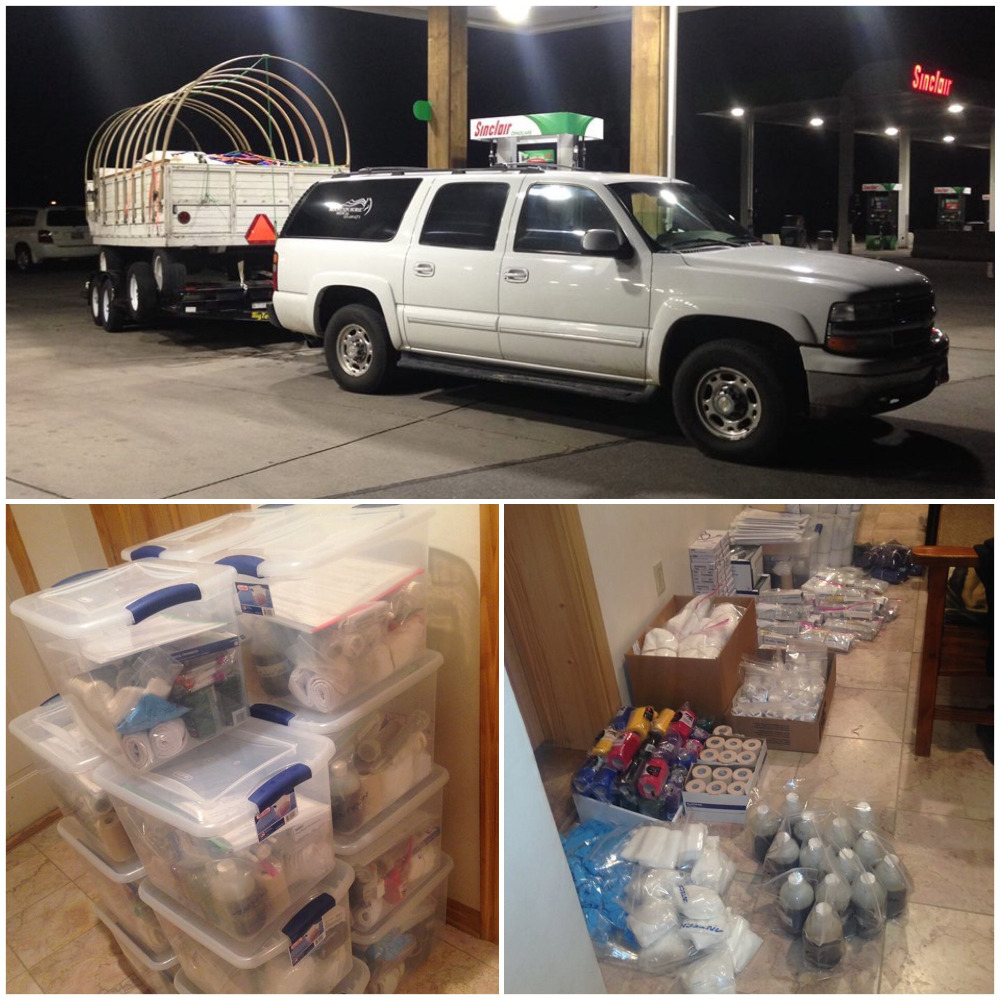 + Read More
Read a Previous Update