325
17
Help David Go to Switzerland
$20,956
of $15,000 goal
Raised by
376
people in 7 months
On the eve of his 104th birthday on 4 April, Exit International's oldest Member,
Emeritus Professor David Goodall
 (Wikipedia), announced his intention to attend the Life Circle service in Basel, Switzerland for an assisted death.
Professor David Goodall, Australia's Oldest Working Scientist
With an Exit Member number of #1848, David Goodall has been a member of Exit longer than most people.
Well organised to the end, he thought he had his plans in place. However, it seems that David's advanced age has finally caught up with him.
At work in the 1950s.
Very recently he has realised that things were not going to be as easy as he anticipated. He is now left with little alternative other than to travel to Switzerland.
With the cooperation of the good people at Life Circle in Basel, Exit has been able to organise a fast-track for David.
He will be accompanied by his long-time friend and Exit's West Australian Coordinator, Carol O'Neil.
Carol and David plan to leave Perth for Basel in early May.
Carol & David at an Exit workshop in 2016
A pathetic state of affairs? You bet!
Especially given West Australia is currently considering the introduction of a voluntary euthanasia law; a law which the
West Australian Premier Mark McGowan has said would not help a person like David Goodall who is not sick
.
Elder abuse? Quite possibly.
Age discrimination? Absolutely.
Who is David Goodall?
Born in London in 1914, Professor Goodall is an eminent botanist and ecologist. A graduate of Imperial College of Science and Technology  (University of London) where he received his PhD in 1941, David came to Australia in 1948 to take up a lecturing position at the University of Melbourne .
David was awarded a Doctor of Science from Melbourne University as well as an honorary doctorate from the Università degli Studí di Trieste  in Italy. He held a range of academic positions in the UK, US and Australia (CSIRO ) before retiring in 1979.
After his retirement, he edited the 30 volume series of Ecosystems of the World with over 500 authors.
David with his edited series: Ecosystems of the World
At 103, David travelled by gyrocopter to the remote Kimberley station (Kachana) near to Kununurra to visit the eco sustained cattle station of Chris and Jacqueline Henggeler.
At Kachana, David was back 'in the field' courtesy of the station's tractor service.
David will be remembered for the burst of media in 2016 that followed the decision by Edith Cowan University  to take away his office.
See: ABC News 
The University argued the working scientist was a safety risk to himself and others.
In response to this unwelcome age discrimination, David went public and the University acquiesced, eventually providing him with an alternative, ground floor office closer to home.
See: BBC News  & BBC World Service  (audio)WHAT NEXT FOR DAVID?
Having celebrated his 104th birthday in early April, David has decided wow is the time to go. Indeed, if his plans had gone accordingly, this birthday would not have happened and he would not be in the dilemma he now finds himself.
David on his 104th Birthday (4 April 2018, in Perth). His birthday cake was a cheesecake, his favourite.
It is just crazy that at the very time the West Australian Parliament has a committee inquiry to determine if their State should pass a voluntary euthanasia/ assisted suicide law, that one of its oldest and prominent citizens should be forced to travel to the other side of the world to die with dignity.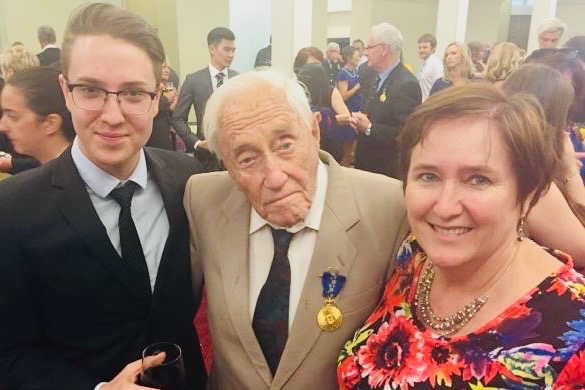 David receiving his Order of Australia in 2016
As if to add insult to injury, the West Australian Premier Mark McGowan has now pre-empted the Committee's findings  stating that the WA Parliament will only consider a law for the terminally ill.
Of course the Premier has added that he feels 'sympathy' for David's plight.
The calculated politics of the Mr McGowan's remarks are breath-taking, although hardly surprising since Mr McGowan's reported mentor is Kim Beazley.
Kim Beazley is well remembered for banding together with then Prime Minister John Howard, to overturn the Northern Territory's Rights of the Terminally Ill Act in 1997
.
Be that as it may, rarely in living memory can one recall a senior citizen being treated with such disdain and even contempt by a Premier of the day.
The situation of Professor Goodall drives home the absolute limited value of an end of life law that is based solely upon a person's health status.
As Dr Philip Nitschke argued in his presentation to the WA Parliamentary Committee in April, it is totally unacceptable for a law to discriminate between the sick and everyone else.
All rational adults deserve a peaceful death at a time of their choosing.
Forcing the 'well' elderly to travel overseas is exporting a problem, rather than addressing a growing social need. Shame!
David Goodall is a life-long economy class flier.
To do otherwise offends his egalitarian sensibility.
On this occasion, Dr Philip Nitschke has convinced David to upgrade.
It is a very
long way
from Perth Australia to Basel Switzerland at any age, especially104!
Philip says he doesn't want the stress of the flight to kill him.
Exit will be reporting on David's journey to Switzerland in the coming days and weeks.
Thank you in advance for your support.
+ Read More
Update 2
6 months ago
Share
It is now almost a week since Professor David Goodall died. And what an amazing former week it was.
From the moment that David arrived in Basel it was a frantic time for everyone involved. The international media grew by the hour with my phone going flat several times a day. It seems the world wanted to talk to David Goodall.
While some crazies who did not know David called and emailed, wanting their chance to talk him out of his decision, mostly people wanted to wish him well, to thank him for his stand and for speaking out.
The world's media sensed a unique man of clear mind and articulate thought. They also were aware that David wanted to be heard.
Far from the frail old man he may have seemed (at least visually) to some, David Goodall was determined and opinionated as well as being incredibly patient and good-willed.
No interview request was too much for him. According to his daughter, Karen, he quite enjoyed the attention.
And so that was my experience with him in Basel in his final days.
On arriving in Basel, David still needed the Life Circle 'green light'.
To this end he had to undergo 2 further medical consultations. The first was with a generalist doctor, Dr Christian Weber. The second was with a psychiatrist to ensure that he knew what he was doing and the consequences of his actions. David passed both assessments with flying colours.
In between and surrounding these private visits were the media engagements as well as meals and walks with his family (his grandchildren). This was precious time which he clearly enjoyed.
It was always a balance between allowing the media access to David and ensuring his final hours and days were spent as he wished, with those people who meant most to him.
As the days of the week progressed, however, the international press interest also grew. Journalists flew in from all corners of the world, such was David Goodall's magnetism.
In light of this intense attention, it seemed a press conference would be the only feasible way to handle all the inquiries.
There were simply not enough hours in David's day for each individual news outlet to talk to him one-on-one. Besides, no one wants to spend their last week purely on public display no matter how politically committed to a cause and to social change they might be.
That said, a few important private interviews were granted, these being Associated Press (wire service) and CNN as two of the most important.
See:
http://bit.ly/cnndavidgoodall
You just need to Google David's name now to read and watch what he said and how he said it.
For Australians, much of David's trip and experience of dying in Switzerland will be shown in July on the ABC program 'Foreign Correspondent'.
The ABC were forever present in Basel. It is interesting, when I was first approached to help David, it was the ABC program 4 Corners who I thought would be most suitable.
Unfortunately, on this occasion, the timelines were too short for Australia's premier investigative current affairs program to be involved.
We will all need to watch reporter Charlotte Hamlyn on Foreign Correspondent to see how the story is treated. Her reporting to date on David has been thorough and detailed.
While there is much more to say about David Goodall's final week in Basel, it is to the amazing and tireless work of the good folk at Life Circle that most thanks must go.
Ruedi is an incredibly devoted advocate of a person's right to end their life at a time and place of their choosing. He was a pleasure to work with.
Who would have thought from our Christmas day spent together only last December in the Swiss countryside to 2018 Ascension Day in Basel, that we would travel so far together, towards our common goal of end of life rights.
The other source of thanks must go to Exit's Perth Chapter Coordinator Carol O'Neil who travelled with David from Perth and who was with him until the end.
Carol was well known to David over the years as he attended many Exit meeetings. It was very appropriate, therefore, for the two to become such a team in David final weeks.
On behalf of everyone at Exit, thank you Carol for putting your own life on hold to help David end his with peace and determination, just as he wished.
I will provide further thoughts in this space in the coming week or two.
To be hones, I am still recovering from the stress of the week on many different levels.
As I write, I am en route home to Amsterdam, slowing regaining focus and regrouping.
More to come.
As you will all see from the note posted below, David Goodall was extremely grateful for your generous support. The note is from him alone.
Kind regards
Philip Nitschke
+ Read More
Update 1
6 months ago
Share
It was terrific to greet David Goodall and Exit nurse Carol O'Neil at Basel Airport yesterday. This has been a very long journey for them both and David is holding up remarkably well.

On both of their behalf, Exit would like to thank you all for your generous support and good will.

In the coming days, David has 2 doctors appointments as the final steps in his process towards his final Exit appointment on Thursday morning.

He remains in remarkably good spirits and is very sanguine about his 104 year journey to this point.

David is a remarkable man; thoughtful, considered, strong in his opinions that deciding the time and place of this death is his fundamental human right.

This view is even more important when it comes to the fact that David is not sick. He is no one's patient, never has been.

Rather David is part of a growing wave of older people who want control over their end.

This makes perfect sense to Exit and is a stand point the organisation has campaigned on for over 20 years.

Exit sincerely thanks all at Life Circle/ Eternal Spirit for creating end of life choice for David.

We will post further updates in the coming days to keep you all informed of activities here in Basel.

Philip Nitschke
Exit International Founder & Director
Basel, 8 May 2018

+ Read More
Read a Previous Update