Help My Dad Rise Above Cancer
$10,450
of $10k goal
Raised by
259
people in 12 months
I'd like to think most people are fortunate enough to have a great relationship with their parents; if not with both, at least one of them. I would like to think that a lot of people still have their parents around, but I know people lose their parents.
How do you feel about your dad? Is he a hero to you? Is he someone you've looked up to? Is he flawed, but you accept that, and him, because you love him so much? My dad is all of these things and he has been the sole provider for our family for many, many years. If you've met my dad, you know how hard working he is. You know he is the king of the dad jokes and one of the funniest dads you will ever meet. If you haven't, god, you're missing out.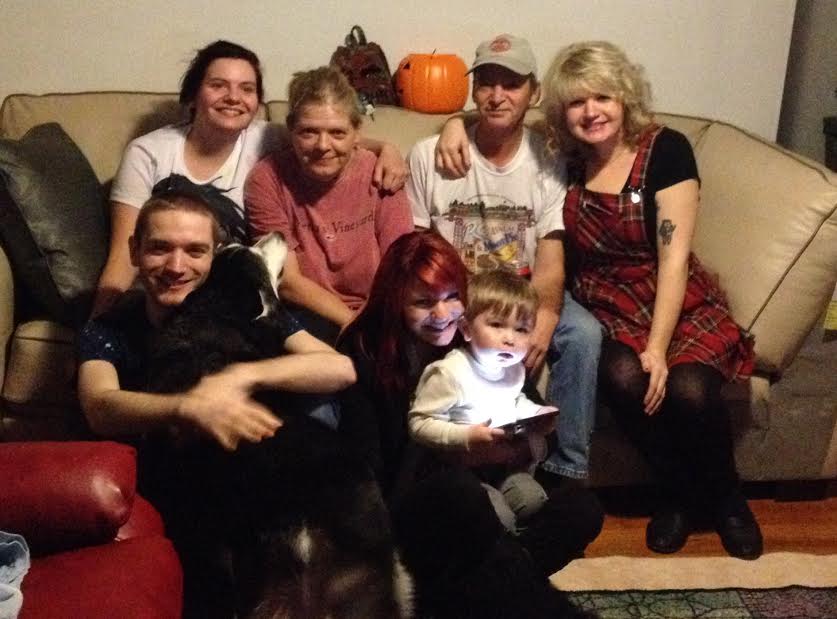 I'm going to say this in a short way and a long way.
 The short: my dad, Charles Phelps, has pancreatic cancer, one of the most painful cancers to have, and he is dying. He needs help.
 I hate that I typed that out because that makes it so real. I will get into the long way, but before I do, I want you to consider helping.
If you read nothing more, know that my dad begged me to do this in an effort to take some of the stress off of what is left of his life
. I want nothing more than to make the time that he has left memorable, happy, and stress-free.
 Here's the long end of it: My dad has worked odd jobs most of his life. He recently got back into selling used cars, but that wasn't making a ton of money. Nothing he has ever done has made much money. My parents have been living paycheck to paycheck as long as I can remember and when the recession hit back when I was in high school, it hit us hard.
 Over time, my dad's health and quality of life has been on the decline, but having not had health insurance in I can't tell you how long, he never did anything about it. Looking back now, he realizes he really started to feel bad about a year ago, but he just assumed it was from getting old and fatigued from being overworked. My parents couldn't even afford to eat some days. They've sacrificed a lot and here we are.
 My dad is only 58 years old and he is currently jaundiced. His eyes are as yellow as can be and his skin is as well. He said he had a horrible stomachache and went to the hospital on Wednesday, April 6th. They did a cat scan and when the doctor walked in, my dad asked if it was bad news, the doctor said it was. They found spots on his pancreas, stomach, and liver. They had to move him to a different hospital because the facilities he was at couldn't help him.
 My family has also been struggling with a custody battle (some of you know this, and hopefully this will be resolved soon). My younger sister, Shelby, has a 3 ½ year old son named Dalton. Dalton is the light of my father's life. You'd think he was a kid again when he sees him. We were fortunate enough that Dalton was brought up to the hospital while we were there on Thursday, April 7th. My dad started crying when he said he wanted to stay as long as he could to get as much time in with Dalton as possible. Dalton believes my dad has a stomachache and has said my dad is his best friend, his favorite person ever, and loves "pa" more than anything.
My dad wanted to go home. He was sick of the constant needles and blood taking. My dad is scared. He won't say it, but I know he is. He asked to be discharged from the hospital and they let him go on Saturday, April 9th. I went with my friend, Matt, to pick him up. He was weak. He shouldn't have left, but being home has been good because he has been sleeping better and his dog, Blue, missed him greatly.
 On Thursday, April 14, 2016, my dad has to go in because they are sending a scope down his throat to get a final grasp on the situation. They are also going to put a stent in his pancreas because the bile duct is blocked by the masses growing. Once they put the stent in, he should stop being yellow, we hope. He just had a biopsy done on his liver. We haven't heard what's going on completely regarding time or treatment, but we do know he has malignant neoplasms in his body. His mother died from pancreatic cancer. Did you know it's so rare that only 53,000 people in the US have had it this year? It seems like a big number, but when you think about the amount of people in this world, it doesn't seem so big then.
 Before we wheeled him out of the hospital, my dad sat looking outside for a while before he said that he has to find work when he gets out. Matt and I were aghast. I asked him how he could even think about work and he said that he was feeling such stress and guilt from being in the hospital and that the bills weren't going to stop just because he had. It made me feel so hopeless and hurt.
 I don't know how long my dad has left on this planet, but I hope that if you're fortunate enough to still have one or both of your parents, you see them, hug them, and tell them how much you love them. My dad's time left is finite and I know everyone has a finite amount of time, but now that clock is really ticking and I have never felt such sadness in my entire life. My heart hurts; it actually hurts. To think that the strongest man I have ever known is slowly dying, is killing me. We all think the inevitable things in life won't happen to us until they blindside us and make us realize that they can't be stopped.
 Money. Money is what is standing in the way of so much: bills (house payment, propane, water, electric), medicine, FOOD. I can't believe something as simple as FOOD is something we are struggling to give him. I cannot even provide a decent meal for my dad because of money. He also wants to be cremated. My mom said that costs $800. My parents have nothing saved; not a single penny. I hate that they have spent so much of my life, and theirs, struggling to survive. You know, my dad owns next to nothing? He has two pairs of jeans, a bag of socks, and a few shirts with holes in them. These are the belongings my dad has to his name. He loves Detroit sports. He loves to laugh and lighten the mood. He cares. A lot. A lot more than he shows and he has a big heart.
 I know people don't care about other people the way you do when something is happening to you, but maybe you've been in this boat. Maybe you know me or someone in my family and you want to show some love and support. Maybe you know my dad and he has made you smile with a joke or made you one of his hamburgers or some chicken on the grill. Or maybe you're a total stranger that can deeply empathize with what is happening to a family that is trying so hard to not fall apart.
 For those of you that don't know me, I am an artist. I'm offering those services if you want something out of this. I would be more than happy to make art, prints, or be commissioned to help make my dad's life a little easier. Please, contact me through gofundme or view my blog:
Chelsea Kirchoff Illustration
.
 We're never ready for these moments. I know I'm not and I know my family isn't either. I know that I can't sleep and that I cry a lot, but I know that I can rest a little easier if I can rally enough people and funds together to help make these days the best days of his life.
The pancreatic cancer website's motto is: You can hope or you can help. Will you please help us?
I hope so.
 I'll be posting updates as they happen. This money would be going to providing for Charles while he is going through this process so he doesn't have to work while struggling to live with this cancer. To my friends and family, I know you will all be learning about this for the first time and I'm sorry we haven't told anyone. We are trying to deal with this one day at a time and I am just trying to function on a day-to-day basis. I asked my dad what he wants to do with the time that he has left and he said he wants to just be with his family. I asked him if he would enjoy some quality cooking and a Tigers game as well. He smiled and said yes.
+ Read More