169
10
Help veteran Mikey fight ALS
$28,590
of $250,000 goal
Raised by
194
people in 11 months
In October 1994, while training with the Marines as a Navy medic, Mike was
critically injured in a major explosion
  during a training exercise. Two Marines — Mike's buddies —
were killed instantly
. Mike had been right next to them at ground zero when the blast occurred.
With second- and third-degree burns over 40% of his body, Mike ignored his own injuries to attend to the other 11 Marines who were wounded, upholding the "
finest traditions of the Navy, Navy medicine, and the hospital corps
."
Medevacked from the blast site by helicopter, Mike began a long and painful recovery — it took two years and left him with extensive scars (exterior and interior), severe tinnitus, and lifelong disabilities.
Mike was being Mike. Ever since he was 16, he has wanted to help others and save lives, working first as a lifeguard, then training as an EMT, combat medic, and surgical assistant in the Navy.
After he recovered from the blast and obtained his degree in Integrative Biology from UC Berkeley, he worked in the medical field. And through his volunteer work, he has helped adults learn to read, assisted people living with blindness, and provided comfort to hospice patients and their families.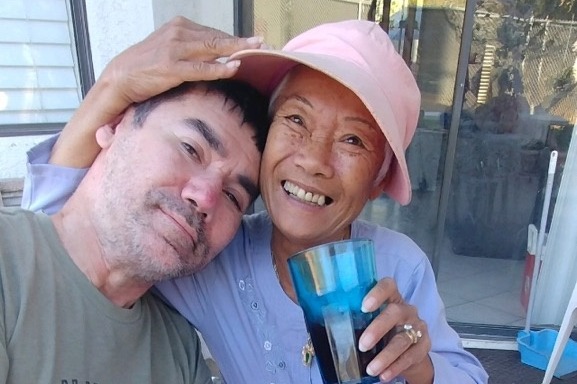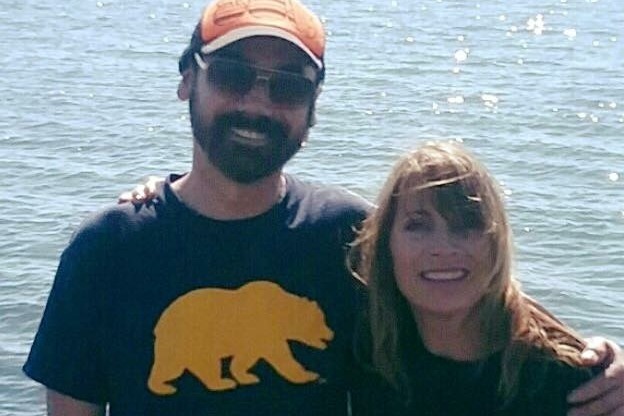 On top of all that, Mike has been there again and again to support his family and friends, often going without so that others can be more comfortable.  
This is who Mike Thomson is.
Now Mikey, who has given so much to others, is in a fight for his own life.
The worst diagnosis
In the fall of 2017, Mike started noticing weakness in his arms and shoulders. First he had trouble picking up heavy objects. Then he found that his arms didn't brace him when he tripped and fell at home. Soon, he couldn't even lift a glass of milk. 
He visited the ER at the VA a couple of times, but they sent him home with an arm sling and referred him to orthopedics. He knew something else was going on, and he couldn't wait three more weeks for his ortho appointment, so he showed up at physical therapy asking if someone could take a look. After a quick assessment out in the hallway, the PT told him, "You need to go to neurology immediately."
After three more months of tests and agonizing bureaucratic delays, Mike was diagnosed in March 2018 with amyotrophic lateral sclerosis — ALS.
What is ALS?
Also known as Lou Gehrig's disease, ALS is a progressive neurodegenerative disease that originates in the brain and spinal cord. It attacks the nerve cells that control all voluntary muscles throughout a person's body, causing muscle wasting and paralysis.
When you have ALS, you gradually lose your ability to move, swallow, speak, and, eventually, breathe.
When you go through the battery of tests needed to diagnose ALS, you find yourself hoping that it's cancer, hoping that it's MS. You hope that it's pretty much anything but ALS.
Veterans are twice as likely to get ALS.
ALS is nearly always fatal. Most people who receive this diagnosis have two to five years to live, but many have a year or less. 
Stephen Hawking famously lived for 50 years after his diagnosis, but that's extremely rare. He made the most of his life despite being complete paralyzed, but most of us wouldn't choose to live that way for long.
Does ALS have a cure?
There is no cure for ALS and no treatment currently on the market that does much. Two drugs are available, but they barely slow the progression of the disease, and they only work for some people. 
But some experimental therapies being studied now indicate some hope is on the horizon (read on for more).
Mike's current condition
As we write this in August 2018:
- Mike has lost all use of his upper arms.
It's difficult to impossible for him to bathe, dress, feed himself, turn in bed or pull up the covers, or do many everyday tasks without assistance.
- His chewing and swallowing are deteriorating.
It's getting harder to eat, yet it's critical that he avoid further weight loss (even while he continues to lose muscle and burn far more calories just getting through the day).
- Breathing is starting to get difficult.
As the muscles in his diaphragm and chest start to weaken, he often finds himself short of breath, sometimes even when sitting still.
- His legs are weakening.
He's still walking but we don't know for how long, and at this stage trips and falls are a constant and serious concern (he already had one scary fall that required a 911 call--see below*).
- He can no longer drive, surf, play guitar, paint, run, dive, or do any of the things he used to do.

The promise of stem cells
Some very promising research is happening in the area of stem cell therapy and regenerative medicine, especially for "fast progressors" like Mike. 
NurOwn  (BrainStorm Cell Therapeutics): 
- Currently in a phase 3 clinical trial, NurOwn involves treating the patient's own stem cells with special growth factors, then injecting them back into his spinal cord fluid.
- A single injection of stem cells treated with NurOwn in phase 2 caused participants' rate of decline to slow significantly, stop, or reverse — unheard of in the ALS world.
- BrainStorm is now studying the effect of three injections over six months to see if the positive results hold for longer.
- Mike is trying to get into this trial but a manufacturing delay has put him on hold, and there's a 50% chance he'll get placebo and not actual stem cells.
NurOwn likely won't be available on the market for two or three years
.
Neuronata-R  (Corestem):
- This is a similar stem cell therapy available now in Seoul, South Korea, at the same time it's being studied in a phase 3 trial there.
- After receiving two doses of stem cell injections, many ALS patients saw on average a 50% reduced rate of decline over six months.
- In 2017, around 20 foreigners traveled to Korea to receive this treatment — it's the only stem cell therapy in the world that's available for ALS patients now.
We are hoping to get Mikey this treatment as soon as possible.
Other similar studies and experimental treatments are in the works in other countries.
Getting stem cell treatment now can keep Mike going
The VA will only pay for FDA-approved treatment, and it could be three years before NurOwn sees the light of day in the U.S. To slow down his ALS and keep living, Mike needs stem cell treatment now.
One gentleman we talked to recently went to Korea for Neuronata-R stem cell therapy, which virtually halted ALS in its tracks for six months. He's going back in October for another round.
How your donation can help
Whether Mike can get stem cell therapy through the NurOwn trial or not, he'll need additional rounds of treatment to carry him until FDA approval, when the VA would pick up the tab.
One round of stem cell treatment at Hanyang University Medical School in Seoul over two months will cost between $90,000 and $100,000 (that doesn't include travel back and forth). Any similar therapy that becomes available will carry a similar price tag.
We know that the goal we've set is a lot to ask for, but Mike is worth millions to us. We're hoping you can help us reach a lot of people, those who know Mike as well as people who have a heart for veterans and other people suffering from ALS. Stem cells are our only hope to keep Mike with us until someone finds a better treatment, or a cure.
Please help Mike and help us get the word out
We are desperate to save Mikey and keep him in our lives as long as possible. He's a gifted, giving, unselfish man and a beautiful soul. He has sacrificed so much to his country, his family, all his honorary families, his friends, and everyone he has served in his volunteer work.
Please help us keep Mikey going and help ease his suffering along the way. If you can't give much, that's okay — if you could please share this it would really help.
Thank you so much for taking the time to read this and for anything you can do to help our Mikey!
~Sheila Thomson & Holly Cooper
*Mike suffered a bad fall
on the sidewalk on August 8, requiring an ambulance and a night in the ER. He couldn't break his fall and landed on his face, causing a fracture to his cheekbone, multiple cuts and scrapes, a black eye that's swollen shut, and severe swelling on the entire left side of his face. He was in constant pain, and his appetite and energy level — already very low — took a further downturn. It feels like time is running short — please consider donating what you can and offering him some encouragement. Thank you!
+ Read More