23
5
Help Us Reopen Ten Women Gallery!
$1,545
of $5,000 goal
Raised by
24
people in 7 months
We Need Your Help to Re-Open Ten Women Gallery
After 25 years at 2651 Main Street in Santa Monica, California Ten Women Gallery on Main Street has closed. We hope to re-open soon and continue 25 more years as an all-female artist co-op fostering, empowering, and promoting local women artists. To do so we need your help!
History of Ten Women Gallery:
In 1993 a group of 10 women artists organized an exhibit of their work in a small storefront on Main Street in Santa Monica. The show was a success and they decided to form an artists co-op and gift shop for local female artists; creating a space where they could showcase and sell their art and handmade creations.
Why we need your help:
On February 14th we had a surprise visit from City inspectors. They informed us our building was rife with structural and electrical problems and that the building had to be shut down immediately. We had to lock our doors and leave the shop that afternoon along with the other tenants in the building. We were given just two weeks to remove all of our art, and fixtures, from the shop. Suddenly, and without warning, we were without a home. After 25 years on Main Street you can imagine what a shock it was to all of us. We are committed to re-opening and are on the hunt for a new space, but we need your help.
The Opportunity to Grow:
Instead of being discouraged, we see this as an opportunity to grow and expand Ten Women Gallery. With a new and larger space we can continue with our mission to empower and encourage local women artists, accommodate more artists, offer classes and demonstrations led by our members, and have an independent exhibit space. In a new and larger space we can reach out and become an even greater part of our community. We want to build Ten Women Gallery into something so much more than an artisan gift shop, and with your help, we can do just that!
How Can I Help Ten Women Gallery Re-Open?
Great question, we were not aware of any of the troubles and dangers with our old space and were caught off-guard; having received no advanced notice.  Unfortunately, we do not have the funds to re-open the shop. We are hoping with your help, and support, we will be able to raise enough money to re-open. All proceeds raised will go towards reopening our new gallery space, including funds to cover the new lease, as well as renovation and relocation costs.
Why Should I Help?
In the last 25 years, Ten Women Gallery has become an important part of our community. We are a go-to shop for beautiful artisan handmade gifts and goods. We participate in local events and support numerous local charities. We are a space where female artists from different disciplines can come together and not only sell our handmade work but support and empower each other. It is important for our community that shops like ours exist and thrive.
Whatever amount you contribute, your name will be listed on our website as a thank you for your support.
As a Thank You we are offering a 10% discount at the shop pending reopening for anyone donating under $100. For over $100 to $500, a 20% discount at the new shop, and for over $500 a 25% discount. (All discounts are active for the first month of reopening only.) Any funds raised via this campaign will be donated to a women's charity if the gallery is unable to re-open for whatever reason. 
Some Frequently Asked Questions:
I'm an artist- Can I become a member of Ten Women Gallery?
We are actively looking for new co-op members and associate members. Please visit our website for more information on joining us:
Ten Women Gallery - Join Us!
Is Ten Women a gallery, or a gift shop? I'm confused.

Well, it's both. Ten Women Gallery is a co-op collective of women artists, started 25 years ago. We each pay a monthly rent, and in return have a space to display and sell our work, we also receive 100% when our work sells. (We have a sister shop on Montana that operates the same way.) Our artists range from fine art painters to jewelry designers to ceramists, photographers and illustrators, glass designers, wearable art, and even needlefelted monsters! Many of our members have been with Ten Women for 20+ years, and the gallery is a huge part of our lives as full time artists; losing it has been absolutely devastating.
Please consider helping- every little bit helps towards our goal of 10K! Thank you from all of us at Ten Women, and we hope to see you very soon!
+ Read More
Great news! We have a new space on Main Street, and we'll be opening this month, just in time for the holidays. Hooray! Come visit us next weekend, and say hi to our artists, both old and a ton of new faces!

In our photos, you can see our logo for the new shop, as well as some refurbishing photos, and a finished space (Lane's work is all set up from Bob & Weave Company.)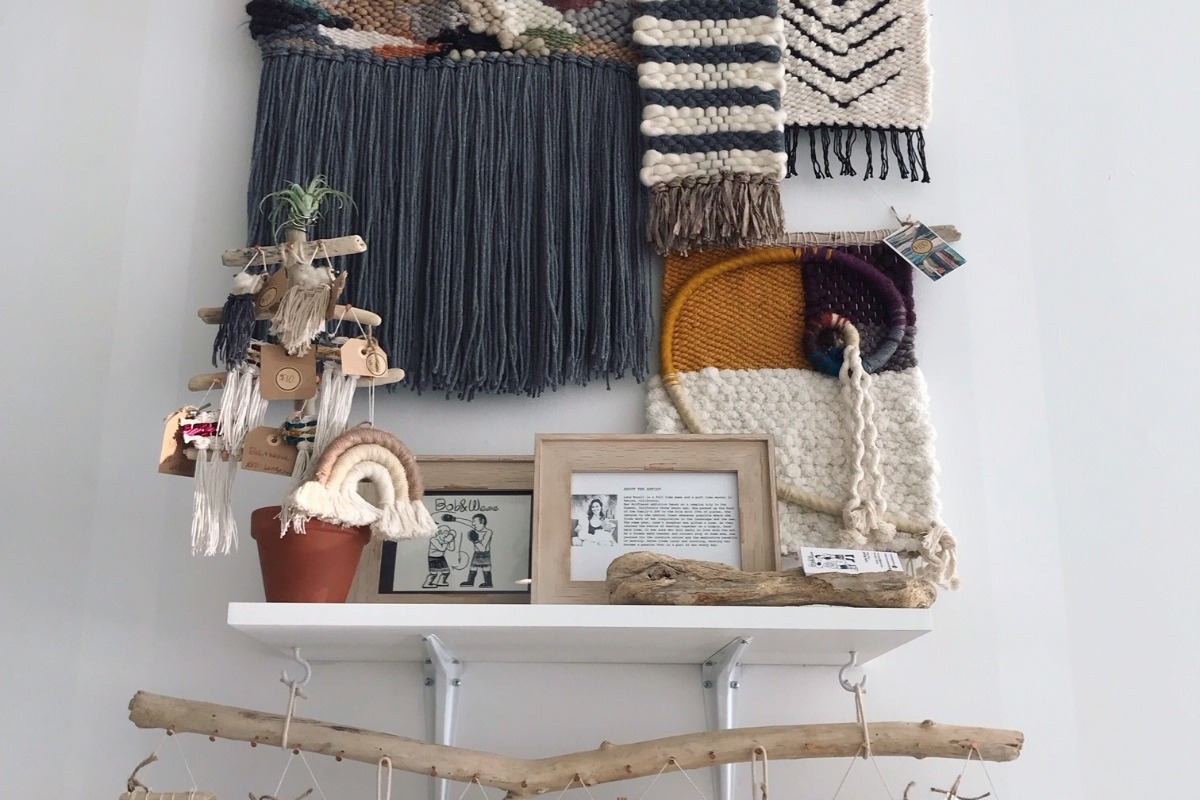 + Read More
A picture of our beloved Main Street shop- help us find a great new space to reopen on the Los Angeles Westside!
+ Read More
Read a Previous Update