Help us rebuild our stolen cafe
$1,420
of $9,000 goal
Raised by
21
people in 10 months
My name is Ellie Gleeson, and together with my co-investor Ed Weinberg I lost the business I started in Cambodia in 2013. I lost it by trusting our café's manager and my former friend, who systematically deceived us while preparing to sell our business. Two months ago, he received $30,000 in cash for our furniture, kitchen equipment and for facilitating a lease transfer on the home of
Ellie's café
, after which he fled Cambodia to points unknown. 
Before / After
Ellie's wasn't only the product of five years of hard work, it was also a community meeting spot that was valuable enough to have a permanent home on
TripAdvisor's first page of results for Kampot, Cambodia
 .
Its other value was more tangible—the proceeds from my part of its sale were going to pay for my Master's Degree in Psychology.
From there I plan to go on to do a doctorate in Neuroscience, because I want to help people who have lost the use of parts of their brain to learn how to compensate with another part of their brain. From the time I left England six years ago, burned out by my work in the non-profit sector, I've been working towards my next step, and losing this investment will set me back a great deal. For the past five years, I've put all of my energy into making Ellie's a success, and one unexpected crime is all it took to undo all of my hard work.
As our former manager was organizing this deception, he was also stringing us along—having agreed to buy Ellie's from us for a reduced price, he delayed the purchase by saying he would need six months to get the money together. During this time, I had returned to Europe to start my post-graduate program, which is where I was when I learned about this.
The money is gone, and without becoming involved in complicated detective work and legal wranglings across international borders it will stay that way. That's why we've set up this campaign—to ask for your help as we try to rescue the value we have left in Ellie's 4.5-star TripAdvisor rating, recipes, and a town's worth of goodwill.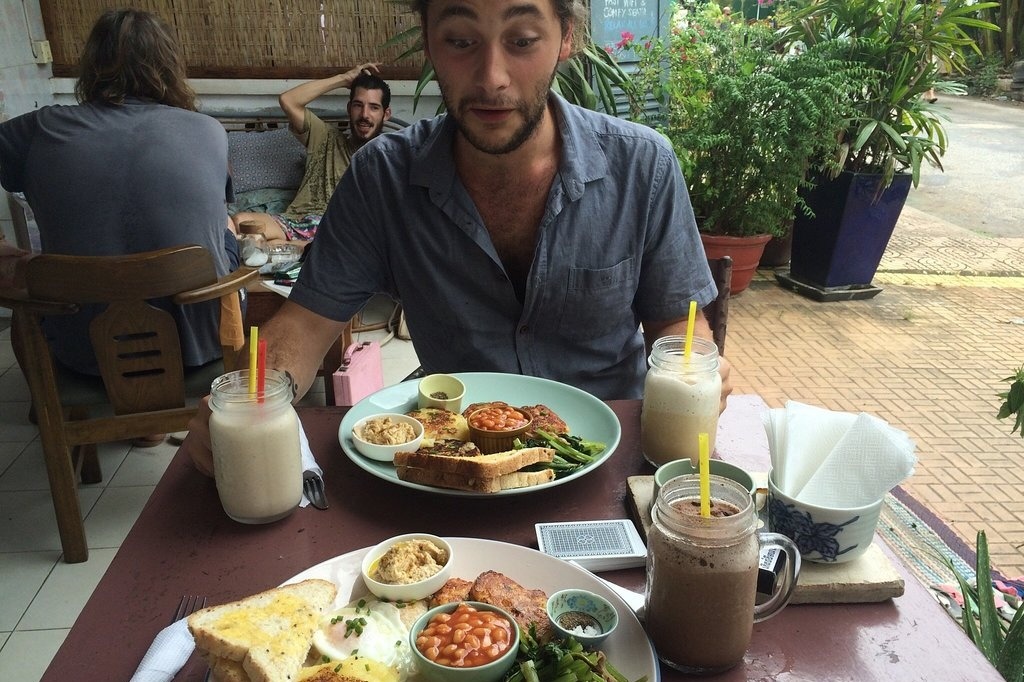 Our plan is to find a new premises for Ellie's, and set up again.
We don't want this to become a story of the damage that one bad actor can do to the people that have depended on him—for ourselves and for our community, we want to change the narrative to one of overcoming challenges and trusting people.
Ed was my silent partner, but he has agreed to travel along with me to Cambodia from his base in Vietnam to help set up Ellie's 2.0.
(This is Ed.)
Many people in Kampot who saw what happened to this beloved establishment have come together to help, and their support and intervention has gotten us to the point where we think it will be possible to restart Ellie's, as well as recover the assets that were sold off. We are grateful and energized by their help, and by the feeling that we would be letting down more people than just ourselves by letting Ellie's go.
We have been completely tapped out by what we lost, and by the money that we have spent trying to recover our assets and our cafe's home. What we're asking is just enough to help us set up again.
It breaks down to:
$2,300 for the first three month's rent on a new premises and any necessary customizations
$1,000 for start-up stock
$1,200 for the first two months of staff payment
$2,000 for the replacement of any unrecoverable kitchen equipment and furniture
$1,000 in compensation for the locals who have helped us to navigate the Cambodian legal system and partially recover our assets
$1,500 for transportation and accommodations for Ellie and Ed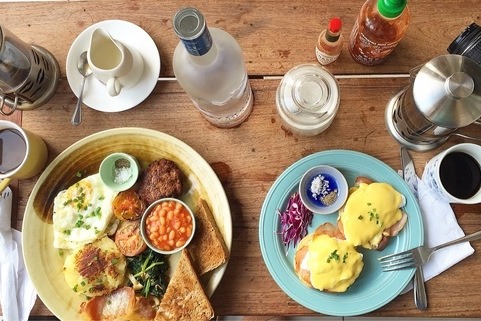 Why is Ellie's worth saving?We are a community café. 
We exhibited artwork by Cambodia-based artists, and donated $0.50 from each brownie sold to a charity working to regenerate Cambodian art. I brought mincemeat back in my luggage from England to make mince pies for British expats yearning for home over Christmas. We paid for our Cambodian chef to attend college, and donated a large sum to the family of a local tuk-tuk driver who died, so his children could still go to school. We made sure that every staff member had two days off per week, rather than the legal requirement of one day off every two weeks.
We sent the favorite breakfast of a dying regular to his home for free every day during his final months, and baked many birthday cakes for those in the local community. We provided a venue for the Kampot Readers and Writers Festival, and sold desserts at community events. We also sold secondhand clothes and homeware, providing a point of exchange for those who did not want to throw out their possessions and those who preferred not to purchase new ones.
Writers and other creatives did their work at Ellie's in between the breakfast and lunch crowds. Brunch became a staple for many people in our town, who came for the Eggs Benedict, vegan options, homemade pastries, and good coffee and smoothies, the kinds of offerings we made fresh every day. We housed classes in the Cambodian language, doing our best to encourage others to connect with a culture that had given us such a warm home through the years.
I am very proud of what I created at Ellie's. It's something I never felt I could do back in England, and I am grateful that I could come to a country halfway across the world and make one of my dreams into a reality. But the downside of doing something so far out of the box is that there is no safety net when things go wrong.
At the heart of this request is something I believe very deeply—that people should get a chance to do the things they really care about, and hopefully those around them will support them both in their challenges and successes.
It's amazing that sites like Gofundme exist, and give people the opportunity to do this in an effective manner. After what happened, I lost my savings and some of my confidence in people, and I am hoping that these things can be restored through the faith shown in me by others.
We hope you can help us with whatever amount seems right and comfortable for you, or by sharing our event with others. And thanks for considering us and reading this far, we appreciate it and will keep you posted and updated. 
And please stop in for a coffee when we open back up, on the house!
+ Read More