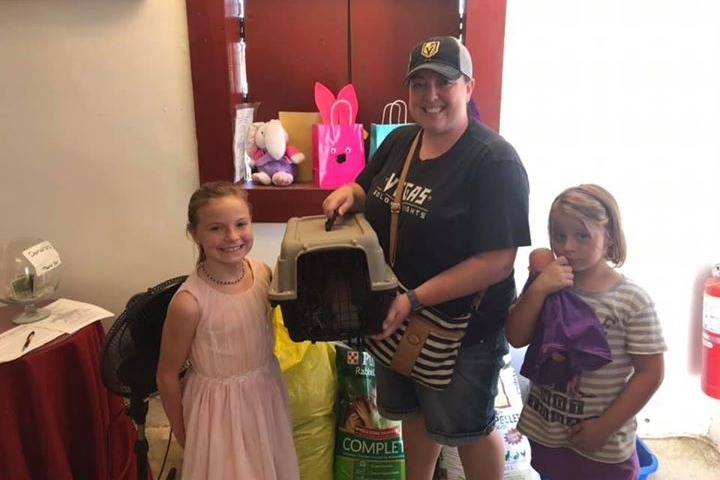 73
51
Help Us Save The Remaining Floyd Lamb Park Bunnies
$5,821
of $7,000 goal
Raised by
104
people in 6 months
UPDATE (8/18/2019) - Current Floyd Lamb Park Update - 60 bunnies total rescued (Includes 8 new dumped rabbits after original clearing of the park - 6 white ones, a brown one and a black one), 47 left to rehome (FLP bunny "Squirt" was adopted out yesterday), 17 left to spay and neuter (4 of 17 not old enough yet - starting to schedule the other 13 with Dr. B now (girls first) - our discounted price is $100 for males, $125 for females). $290 currently left in funds after expenses but we were in the red for a while so that is great to see (See excel spreadsheet). We spend at least $200 a month to feed and care for them right now while we find them homes (Hay, food pellets, fresh greens, litter pellets). Thank you to everyone for getting us this far, the hardest part of rescue is finding them forever homes but we are slowly but surely doing it. Anytime someone is interested in adopting, I can meet you after hours at the park, any day of the week. We also are always looking for more volunteers to help feed & clean, transport bunnies for spay and neuters and/or for helping on adoption days!!!
http://bunniesmatter.org/volunteers/
UPDATE (6/21/2019) -  We originally rescued 52 bunnies total at the park.  While we have found homes for about 10, we still have 49 as there have been 8 new dumps in the park (6 white bunnies and a black and a brown bunny) and  1 adult we finally caught (actually a homeowner caught).  Our adoption plan is working well but since it's now turned summer, we had to invest some money to keep the bunnies cool in our building, so our account was hit pretty hard this week.  Thank you everyone for your continued support!  We won't stop until we find everyone a home.
UPDATE (5/4/19) - The City is allowing us to use the staging building to house the bunnies for now so no rush to build a temporary shelter that would cost $1500 every 3 months and would be outside. We are incurring food and supply costs every week so those costs slowly eat into the donated funds (Probably about $200 a month).  We are currently trying to adopt out as many as we can.  We adopted out 1 adult bunny yesterday and a couple of weeks ago, Best Friends in Utah took 4 baby bunnies to rehome for us. There are still 2 bunnies onsite that we are trying to capture. I will put out some traps tonight and hopefully we will catch 1 or 2 by tomorrow morning. THANK YOU FOR YOUR SUPPORT! 
http://bunniesmatter.org/acs-monthly-donation-campaign/
  Please consider donating $5 A MONTH & help support All Creatures Santuary, who helps support the rescue and care of Vegas Dumpsite Bunnies!!!
UPDATE (3/25/19) - This morning we caught the last remaining bunny that was using the water tower as a home (they dug under the foundation of the water tower building). We had to move most of our rescue efforts to this spot a few days ago as concrete was scheduled to be poured today. I feel confident that we got them all because we did feed outside the traps to see who was left.  The construction crews also used cameras to search under the structure and they didn't see any. We just got 9 fixed bunnies back from the Animal Foundation yesterday and all seem to be doing well. We took 4 bunnies into Dr. Blakesley of Southern Hills Animal Hospital this morning to be fixed as well. Thank you Bunnies Matter In Vegas Too and Dr. B for sponsoring these 4 bunnies to get fixed!!!
UPDATE (3/23/19) - Sadly "Poppy" passed away a few days after surgery. Thank you, everyone, for your prayers for her.  It's very difficult to not be able to "save them all".  Poppy deserved a great life as a pet and unfortunately, humans failed her.  
UPDATE (3/18/19) -   After a couple of days of being spoiled, "Poppy", the bunny girl with the badly injured foot went to Centennial Hills Animal Hospital today to see Dr. Amgar. He is recommending amputation of the foot to give her the best quality of life. Melissa Summer Pena has generously volunteered to take this sweet girl in for rehab and then she will go to HRS Chicago for adoption. Thank you so much to both Melissa and Jan at HRS Chicago for their support of Poppy! ❤️ Thank you, everyone, for the prayers & donations for Poppy and all the Floyd Lamb Park buns.  
UPDATE (3/13/19) - The first night of the Floyd Lamb Park rescue went well.  We captured 10 adults and 2 young ones.  1 adult has a badly injured foot and 1 adult has some kind of eye irritation issue.  The cost of a radiograph for the injured bunny is around $125 and if amputation is required (likely), that is another $800 with meds.  I was told by Nancy that there is at least one other bunny onsite with a bad leg injury.  Currently, there is not a safe place to return these bunnies at the park, so these funds may also need to be used to help fund some kind of protective fencing. Anyone or any rescue interested in saving any of these buns, please message us.
Original Post:
Amazing bunny volunteers have been feeding the dumped Floyd Lamb Park bunnies for years.  The City of Las Vegas parks division started helping to help capture these bunnies and had the Animal Foundation spay and neuter and relocate them in another section of the park in late 2018 but that effort was stopped and we are now working with the City to help save the rest.   Any donations will be used to fund the rescue of the rest of the Floyd Lamb Park buns (equipment & medical costs), which we have counted about 50 currently.  Currently, the Animal Foundation is set to help with 50 of the spay and neuters that will be required.  Unless other rescued or people step up to help these bunnies, this will be a TNR (Trap-Neuter-Return) effort as we still have about 300 of 700 from the original Vegas mental health facility dumpsite rescue from last year.  You can see pictures & read our news stories from our efforts there to save over 700 rabbits at the original Vegas Bunny Dumpsite
www.bunniesmatter.org
+ Read More