447
17
Help save Maia's life
kr384,855
of kr590,000 goal
Raised by
492
people in 11 months
UPDATE!!   October 20th, 2018  ❤️❤️❤️❤️❤️
Dearest generous friends, family, strangers, anonymous GoFunders and all other do-good'ers, 
Thanks to YOU, your gracious & kind support, & more than generous donations, Maia has now successfully completed her first two rounds of immune therapy treatments with Doctor Thomas Nesselhut at his clinic  in Duderstadt, Germany, with good outcome already.
To be honest, there has been very tough days and Maia has at times been in excruciating pain. Immune therapy works similarily to getting a vaccination and in the beginning the patients can get symptoms that are hard on the body. 
At the clinic, though, we have met so many fellow patients, flying in from all around the world, all with great results to report (YAY!!). It has given us such hope & encouragement to hear all the positive feedback from their treatments .
Treatments & funding going forward:
The first time at the clinic, Maia's blood was analysed and an individual DNA mapping was done. The results then layed the ground for her personalized immune vaccinations. 
Besides this, Maia has been given extra white blood cells, ozone therapy (taking blood out, adding ozone and returning it), IV high dose vitamin-c and more which is decided upon based on the results of blood tests taken at each new treatment.
The personalized medicine makes a lot of sense to us, and it is very reassuring to know that the clinic has specialized in immune therapy since the 1990's, and with Dr. Nesselhut teaching his methods at world leading cancer hospitals (such as Sloan Kettering and MD Anderson) each month.  
Maia's next and third treatment will be on October 24th.
After 3 more rounds of immune therapy (each with 4-6 weeks interim) the clinic will analyze the results & coordinate Maia's treatments going forward. The expected total of treatments are 10-12.
This means we are still very much dependent on your continued support & more than kind donations.
Please help us by sharing this gofundme page, and, if you possible can, help us by donating.
From the bottom of our hearts & with enormous gratitude, THANK YOU!! 
 ❤️❤️❤️❤️❤️
*****
May 24th, 2018
Loving, bright and a true light in this world; this is our beloved Maia. One of the kindest and strongest women we have ever known. 
In February 2015 Maia was diagnosed with the agressive triple-negative, stage 4 breast cancer. A cancer difficult to treat with chemo and radiation, and so Maia has been fighting hard for her life ever since.
This is our outreach to everyone and their personal network, in our URGENT attempt to raise funds, to help Maia get immunology treatments especially designed, and with very good treatment records, for her specific cancer.
MAIA'S  STORY    
Triple-negative breast cancer is a particularly deadly type of cancer that metastasizes extensively and widely with sudden rapidity in the body. To make matters worse, chemo and radiation have close to no effect on this type of cancer, and therefore the chances of survival, if staying with conventional treatments, are quite poor.  
Maia was, nevertheless, enrolled in the Danish hospitals' standard cancer-protocol and went through six full rounds of the most toxic chemotherapy available. These treatments left Maia in a ruined state of health, and on top of that, while fighting hard to recover the dire damages from the chemo, Maia had yet to undergo 3 major operations due to metastatic spread. 17 lymph nodes and half of her left lung have been removed.  
Regrettably, all treatments have failed to halt the cancer, and the latest PET/CT scan April 19th 2018 revealed new metastatic spread to the lymph nodes in her chest and neck. Only this time it can't be surgically removed.
THE SITUATION IS URGENT 
Diagnosed with a continuously recurring, inoperable, stage 4, triple negative cancer, Maia's chances of beating the cancer through the Danish hospital system, is in reality, close to non-existent. 
Despite this latest devastating development, Maia, the fighter and optimist we all know, has not yet given up on a cure. She has researched for months and consulted with numerous doctors around the world and has found several reputable clinical trials for this specific type of cancer, both in Europe and in the US. Maia's doctors are now DNA-sequencing her cancer in order to match a trial so that the final treatment form can be matched with best possible outcome.
A stage four, triple-negative cancer is NOT to be taken lightly as it's known for it's unpredictability and sudden explosive growth, and due to daily spread WE NOW NEED TO ACT FAST. Therefore, the urgency of Maia's enrollment in treatments designed specifically for this viscious cancer, is paramount.
International patients at renowned clinics are required to provide the funds up front. However, treatments will come with quite a cost and the Danish healthcare insurance does not cover treatments abroad.
We are now raising funds for the first 4 of these treatments specialized for Maia. And for this, lowly estimated, including travel costs and accomodation, Maia will need $46.000 (DKR 292.000).
With the help from family and friends, Maia has managed to provide for and supplement herself with immune-strengthening  and natural protocols during her 3,5 year cancer period. However, funds are running low and the price of the immunological treatments are very high.
We are therefore URGENTLY reaching out to everyone and their network for their help by either sharing this gofundme-page or kindly donating. Even the smallest contribution will be received with immense gratitude. Whether big or small, you can help save Maia's life by giving her access to these treatments. 
Our warmest and most heartfelt thank you in advance.
Family & Friends of Maia ❤️❤️❤️


gofundme info:Can my international friends donate to my campaign?
Yes, they certainly can. Friends and family can donate to your campaign from all over the world using a major credit or debit card.
When they make their donation, they'll be given the option to select their country. This will generate the appropriate State/Country/etc. options for their credit card information.
Important:
 Your donations will always come to you in your campaign's currency. Your donor's bank will automatically convert their payment into the currency they use, and charge them the appropriate amount.
+ Read More
Update 1
6 months ago
Share
Dearest, generous, caring sponsors and friends: THANK YOU!!!
❤️❤️❤️❤️❤️❤️❤️❤️

First I apologize for my very late response.
Battling cancer is just extremely exhausting in all kinds of ways, and the process I have been through this summer, has been hard beyond words. First, a sudden and explosive spreading of the cancer throughout my body, the reason we had to act fast with fundraising, as you already know about, and then the effects from the immune therapy, both of which have generated intense pain in my body. This is why I haven't found the strength to communicate, until now.

Lately, though, good effects of the treatments have begun to show, pain is lessening, HURRAYYY! It is a very good sign, for good effects to take place this early in the process. Usually this doesn't happen until after the 3'rd or 4'th treatment. I'm now going for my 3'rd immune therapy in Germany next week.

I want you to know, I'M ENTIRELY AND DEEPLY GRATEFUL TO EVERY SINGLE ONE OF YOU: Every single share and every single donation, wether big or small, has made my treatments possible.
There are no words to explain my gratitude, - your generosity and care has given me SUCH strength deep in the core of my heart and mind and gives me endurance to fight on. I will keep every one of you in my heart forever onwards.

And please know, that NONE of it is taken for granted, ever.

Please keep supporting and sharing the GoFundMe, I am still completely dependent on your support in going forward with the treatments. It is now as importent as ever, so that I will be able to continue with the treatments onwards.

From the bottom of my heart: THANK YOU ❤️❤️❤️
Maia ❤️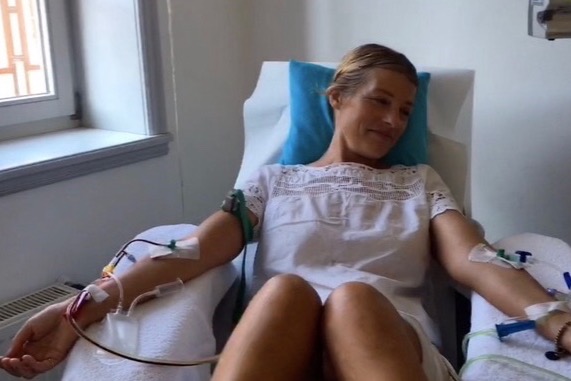 + Read More