792
3
Help Raphael Finish Law School!
£27,567
of £27,000 goal
Raised by
785
people in 7 months
Hi, My name is Raphael Chinwuko and I really need your help raising £27,000 to pay owed tuition so I can finish my last year of university.
In 2016, I was accepted at Durham University to study law. I had no way of funding this journey as an international student at the cost of over £14,000 per year. Upon receiving admission, I was offered a scholarship by a private organisation based on my academic performance, which grounded my decision to enrol for the program. Since then, I have done all to maintain my high academic attainment, with no resits. 
At the end of my first year, the university informed me that my fees had not been paid. It turned out that unfortunately, the private organisation had not been able to honour the scholarship due to unforeseen financial challenges. Consequently, the financial burden was transferred to me.  I immediately started working to pay down this debt while working hard at my studies. Just before my second year exams (May/June 2018), the university informed me that I would not be allowed to take my exams, and that as an international student, my visa would be cancelled on 21st July 2018, if the fees I owe are not paid in full. 
As an international student, I am only allowed to work a set number of hours. I work part-time at a pub during term time and holidays and save every penny to pay my tuition. I do this while maintaining a strong academic performance in law school, being actively involved in extracurricular activities and volunteering as a trainee adviser at the Citizens Advice Bureau. I have approached friends for help and they're all trying to help. I kept this problem away from my mother for as long as I could. I worked harder and applied for other scholarships, but none has come through. My father died in 2009, and my mum just cannot take on my debt with 3 other children to fend for on a petty trader's income. That notwithstanding, she has worked, and is still working ceaselessly to raise what she can to support me. 
If I cannot complete this course, it would actually be a cruel twist of fate because I chose to study law to defend the rights of the underserved, of which I am one. I've always believed that intellectual ability and not financial strength should be the key that unlocks opportunities for motivated people. The mere thought that I might not be able to realise my dream because of my financial setbacks is simply devastating. I am a year away from completing my degree in Law!
I'm losing hope that another scholarship will come through and I know I cannot possibly earn the necessary amount of money that will stay any further action from both the university and the Home Office by the July deadline. My situation is urgent as I have been withdrawn from the university and the Home Office will be repatriating me to my home country on the 21st of July, if the university does not receive its money. Your donation will do so much. I will be reinstated to the university, be able to sit my second-year exams in August for which I have still been studying all through this ordeal, and I will be able to start my third and final year at Durham. 
Any amount donated will help; pennies make a pound. I will also appreciate a scholarship if you have one to offer. If you cannot donate, kindly share my story as this is just as effective as donating. Finally, I would be grateful for your prayers. I almost always have a smile on my face and I'm famous for my positive vibe but I'm now worried my dream is slipping away. 
I have attached copy of my first-year result below. 
Thank you so much for reading! And may God bless you as you help.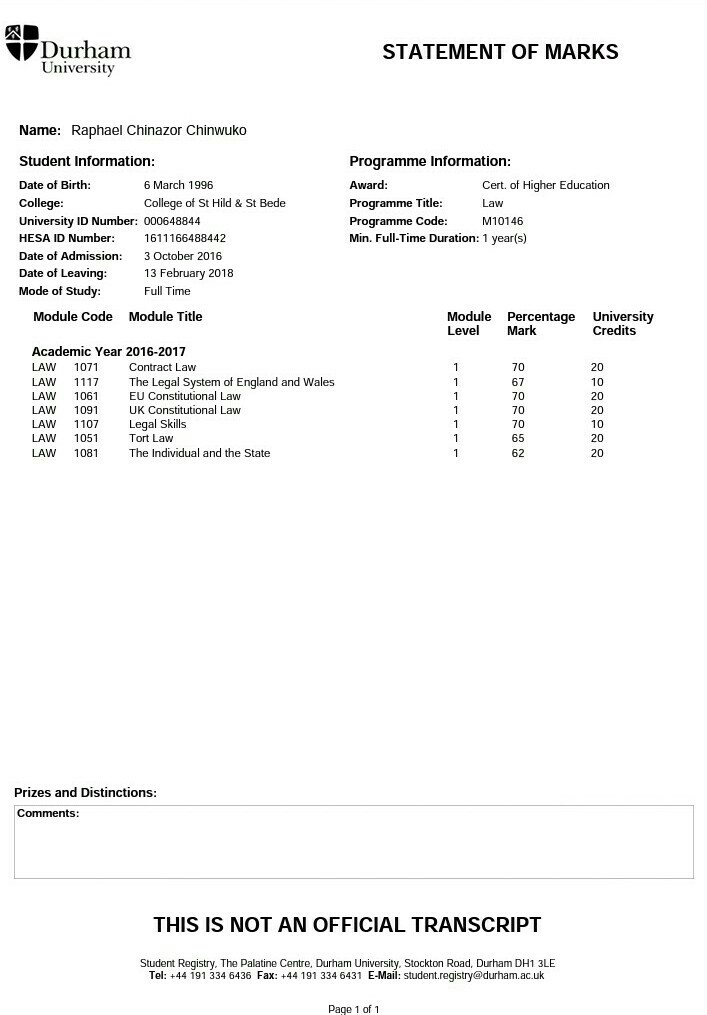 + Read More