Help me make the #7PS !
€2,280
of €6,000 goal
Raised by
60
people in 26 months
HELP ME MAKE THE 7" PORTABLE SCRATCHER DREAMS COME TRUE !INTRODUCTION
Hello, my name is Lauris Honore, and I'm an industrial and graphic designer living in Aix en Provence/Marseille, France. I've also been a DJ for the last 20 years, but this is now a relaxing pastime for me. 

Combining my lifelong creativity with DJing, I've wanted to design DJ equipment, in particular a turntable. And with the growing portablism scene, I have seen an opportunity for me to do just that.
WHAT IS PORTABLISM
?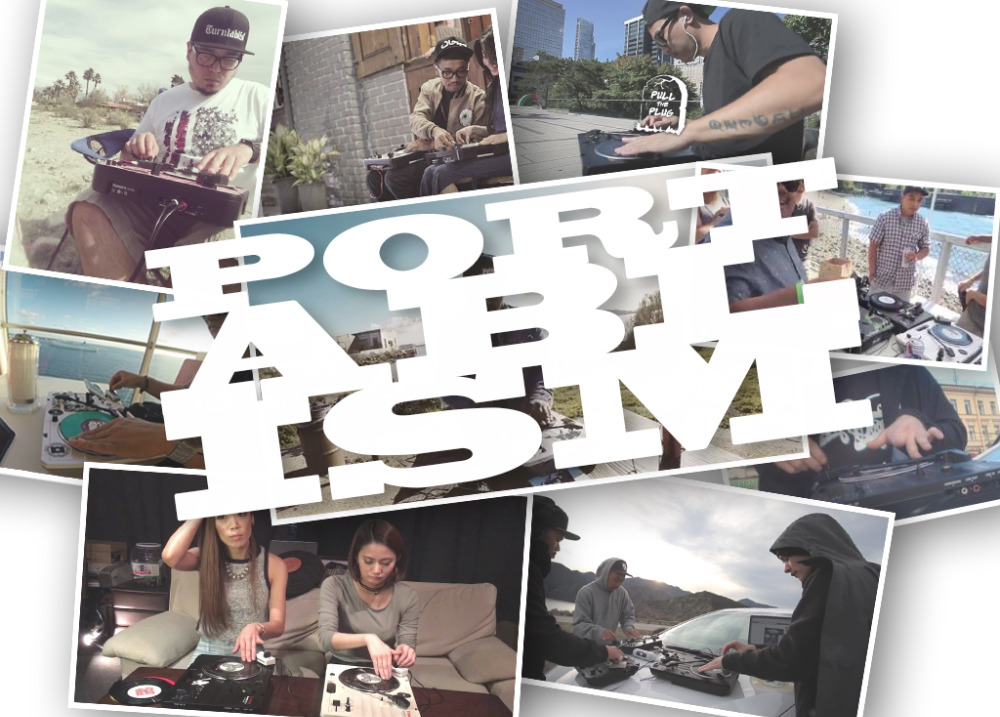 For those of you who don't know what portablism is — imagine being able to be a scratch DJ, but anywhere you like. No big DJ setup but only a small portable setup to carry around in a bag. This has been the dream of the turntablist scene for many years. And a dedicated group of DJs turned to small plastic turntables to help achieve the goal.
These portable turntables were originally designed to allow anyone to play records wherever they liked, and were later picked up on by DJs who wanted to go shopping in dusty record shops aka crate digging. But not content with just playing records, turntablists started to work out ways to use these portable turntables to actually scratch with. Thus portbalism was born.
THE (MY) PROBLEM

The equipment isn't designed for the task, especially with the punishing demands of turntablists. The decks are old or discontinued designs, with stuck-on faders, and a birds nest of wires all connected up to make it scratching on the go a reality. It works, but it could all work much better.
MY IDEA AND ITS SHORT STORY
So I set about creating what I felt would be the ideal portablist turntable, one designed from the ground up for the task at hand, and doing everything and more that portablists need. So in 2015, I turned to Photoshop to start to make sense of the ideas I had swirling around in my head.
I showed my concept to my old partner and friend called DJ Bepass, who loved the idea and it motivated me to turn my Photoshop mockups into a 3D model. Spurred on by feedback from my DJ friends, I took the 3D images to the DMC World battle finals in London to get valuable feedback from likely buyers.
This feedback exceeded all my expectations. In less than 48 hours, the design had spread virally through social media, and was appearing in all the key DJ websites (Shout out to
DJ WORX
). It was clear that I was onto something with this portable turntable design. But it also became clear that while I had a great design with all the right features, the barrage of questions coming my way made it clear that there was a lot of work still to do.
A LOT of things happened in between then and now and you can read more about it on the
7PortableScratcher FB page
…
MY SOLUTION


Since the first designs, there have been dozens different designs. This has included minor tweaks right up to adding whole features. My research in mold designs, manufacturing processes, OEM part sourcing etc, as well as working with electrical and production engineers has got me to a point where I have been able to design and produce prototype parts via 3D printing, as well as test out ideas with off the shelf components. I'm also at this point thanks to the small but important private Facebook group where I shared my ideas with like minded DJs (Thank you guys).
Here is the description of the #7PS:
- Size 260 x 270 x 125mm (10.2" x 10.6" x 4.9")
- Belt driven. Belt easy to change. No screwdriver or other tools required
- Works on battery (I hope to have at least 6/8h of autonomy) and rechargeable by USB
- #7PS Tonearm with magnetic suspension
- Cartridge of your choice (Ortofon OM or Shure M44)
- Platter system that won't sink or be slowed down by contact/friction because of rollers placed underneath.
- Knobs to control :
               - MASTER
               - HIGH
               - LOW
               - Line IN & Vinyl trim
               - Headphone MASTER & CUE
               - Pitch +/- 50%
- X-Case (Crossfader housing) rotating on ~180 degrees for right/left hander with a REAL crossfader built in (Mini or Pro INNOFADER. Other crossfaders should be possible)
- Crossfader features :
               - Cut on LEFT / RIGHT / BOTH SIDE
               - Fader mode - Your crossfader acts like a fader
- SEND/RETURN for DVS purpose (Jacks 3.5)
- IN/OUT for your speakers and smartphone for beats (Jacks 3.5)
- Headphone Input  (Jack 6.35)
- USB for smartphone DVS
- Bluetooth (if not too much latency)
- START/STOP button
- LED indicator
- Handle for transport
- Transparent LID (if possible)
THE CURRENT SITUATION


# All electronics are currently in the testing phase by the electronic engineer who also worked on the fretless fader project.
# All the molded parts (mostly everything) are ready for production. Means that no extra work will be needed if I can go from prototype to production.
# I've developped a special TONEARM for the #7PS (after many tries) with a magnetic suspension to stabilize the diamond so that it will stay on the groove no matter what. This will also prevent damage to the cartridge suspension due to the load. I did a 3D print to test and it works as expected. Still need to be tested on prototype.
# I have to check if the LID can be done within thermoforming. It should be OK but still needs to be confirmed.
# Test everything with the prototype and do adjustments.
# Test the working prototype with some of you around a few beers !
WHY I NEED YOUR HELP
I am still working on the project but keep in mind that I work mostly ALONE, from the conception to engineering, integration, graphic design, communication...  And alongside I have a full time job and a life, which is why it takes some time. But I believe that I am on the right track as every design aspect are in the final stages and once the electronics are done, I was hoping to launch the prototype production of the #7PS.
So far, I have been able to do everything just with some time, hard work and enthusiasm however, it has not been enough to go further. I had hoped to finish everything on my own, but there are some pressing financial issues.
For example, even if I've finally found a reliable electronic engineer who works during his spare time, I'll still have to pay him even if only for the manufacture of printed circuit boards and components purchases.
I'll also need to produce the housing, platter, tonearm… And the CNC machining of one piece is expensive (first choice) as well as the 3D Prints (SLS. last choice). I'll also need tools, supplies and new parts to test and to see which one does the job better and so on.
Do you see the deal ? No money, no Prrrr… 7PS !
HOW COULD YOU HELP
# Please continue to show your interest for Portablism and the
#7PS
online, by word of mouth, at shows, etc. Any sort of buzz from the public is always important to get any product launched.
# If any of you have experience in productions steps.
# If any of you have access to a CNC machine, 3D SLS printer, laser cut or any other kind of tools that could help me built the prototype
# If you are a coder able to make a DVS app (iOS or Android)
# If any of you know some investors or business angels
# And finally, any amount that you can give here would be highly appreciated
Again I never intended to ask anything from you, but after months of thinking, spending money (Cartridges, crossfaders, supplies, tools...) and struggling by myself, I followed a submitted idea and opened this donation fund. It will definitely help me pay for the electronic engineer and other expenses (3D prints or machine tooling, OEM parts, supplies...) and advance quicker but of course there is no obligation.
For those who can contribute here to the project from a way or another, I will open a private FB group just to let you know the progress and everything around the backside of the
#7PS
Project.
For those who participate, please send me your email in private that I can add you to the group.
On a personal note
: I had never dreamed that this simple design I made in my spare time could have gone as far as it has. It has and continues to be a hard and long process, but all your enthusiasm and support has given me an unknown strength to continue.
So thank you all for the experience it has brought me.
Lauris
+ Read More