HELP ME GET TO DECOLONIAL SCHOOL
$2,700
of $4,500 goal
Raised by
75
people in 1 month
HELP MALCOLM ATTEND DECOLONIAL SUMMER SCHOOL IN BARCELONA
I'm raising money to fly to Barcelona and attend a 10-day summer school about decolonization! Participating in the Decolonial Summer School is a dream come true for me because I'll be able to deepen my learning and engage with brilliant writers and organizers.
But I won't get there without your help.
My name is Malcolm; I'm a black, gender non-conforming, anti-imperialist activist, researcher, and healer. I'm also one of the co-creators of the free zine called
"Decolonizing Gender: A Curriculum"
. I've been on a life-long journey to free myself of the physical and spiritual scars of racism and gender oppression. On my journey, I discovered a passion for education and healing and since then I've been trying to change how we learn about gender.
I co-created an educational zine about gender, race, and colonization and have led dozens of workshops in a variety of places like the Creating Change conference, Princeton and Stanford University, and Washington Peace Center.
The goal of every workshop is to help others explore, learn, and heal themselves as well.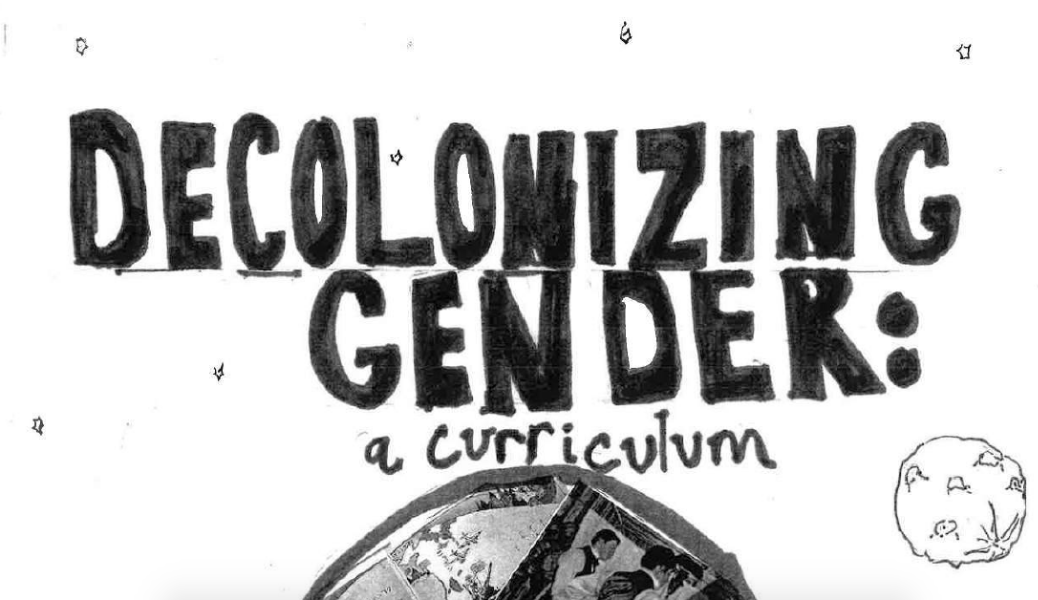 This international summer school will be taught by world-renowned scholars of race and decolonization. The "Decolonizing Knowledge" seminar brings together many thinkers and scholars to explore themes of how we explode limited ideas of what knowledge is (stuff old white rich dudes think) and who creates it (old rich white dudes). I believe it's so important to counteract many of the lies that I and many of us were told about the world, about our communities, and about ourselves.
In Barcelona I'll get focused time to develop and get feedback on my long-term project: creating accessible knowledge about gender identity and race that is by us, for us. The dominant story of gender erases trans and other gender non-binary people from our histories. That's cultural genocide, and it's so important that we create our own histories that center us.
The knowledge we create can help to rebuild a world where everyone is valued simply because they exist, and where Black and Indigenous transgender people are respected, supported, and revered as they should be. An investment in this trip is an investment in that long-term project and vision.
Help me build this knowledge and vision by donating and sharing with your networks!
No donation is too small, and any support is highly appreciated!
Why $4500?
Here's what the funds will cover:
Tuition & Lodging for the program: $1860
Travel : $925
Meals and Accommodations: $1000
Local Transportation: $325
Solidarity funds for local activists: $200
8% GoFundMe Fees: $360
I'm so grateful for your support for this important education and healing work for our movements and our people.
Please donate and share with other people who care about this important work!
+ Read More
Update 1
Posted by Malcolm Shanks
1 month ago
Share
Good morning, beloved community! You'll be hearing from me individually, but I wanted to take this opportunity to thank you all so much for the support I've been shown in the first 24 hours of this fundraiser!

Together you've raised more than 1/3 of the total amount that I need for my trip. This amazing show of generosity and community solidarity is exactly why I'm so excited to do this work: not just because I'm closer to a dream but because I see the commitment that we have to each other's growth and to building community wealth.

Thank you again so much, and I'm looking forward to using your investment to build our community's wealth and health as well.

Peace and love,

Malcolm
+ Read More
Be the first to leave a comment on this campaign.