John Wilcock - Counterculture Icon
$8,787
of $80k goal
Raised by
52
people in 2 months
John Wilcock - Counterculture Icon - 24/7 Care

John Wilcock is an under-recognized but vital part of U.S. history. In the 1960s he helped establish the Underground Press Syndicate, which became the model for alternative media and the New Journalism movement. Among numerous credits to his accomplishments, he was a co-founder of the Village Voice and, with Andy Warhol, he co-created Interview Magazine.

John has always lived a careful and healthy life, but in 2014, he suffered a life-altering stroke, which greatly altered his ability to remain independent. Now at age 90, after only two and a half years, medical care has quickly dissolved most of his life's savings. We are writing to seek help for John, as he may soon have to leave the assisted living center he now pays for himself.

Read about John below and how you can help - Thank you.


John Wilcock when he lived in a cottage in an orange grove in Ojai, CA. just before his stroke in August 2014. Photo Credit: Carmen Smyth/News Press

John Wilcock has been called "the Puppet Master of '60s Underground Newspapers" – indeed, he is a folk hero whose tireless effort helped shaped alternative press as we know it. At 90, he has never had (nor wanted) anything close to retirement. John was a correspondent with Hunter S. Thompson, a good friend to Shel Silverstein, and the author of a series of newsletters that included John Lennon as a subscriber. Leonard Cohen used to read his Village Voice column devotedly. John was also the resident "reporter" at Andy Warhol's Factory.



Andy Warhol and John Wilcock who was among
the first people to recognize him as a pop culture icon.

For many years John enjoyed his status as semi-obscure counterculture icon, producing an average of 250,000 words a year from a pleasant cottage in the scenic Ojai Valley, and globetrotting well into his eighties. (He was a noted travel reporter for decades, both with the New York Times and with Frommer's, writing such seminal books as Mexico on Five Dollars a Day and an entire series on Europe.)

Regrettably, John's strong determination to live a life of adventure, friendship, and good peaceful action has left him in a vulnerable spot. The stroke he suffered in April 2014 left him with visual, cognitive, memory, and mobility issues – and his medical costs have completely dissolved out his life's savings.


John at his home press in Ojai, CA, where he lived for a number of years before his stroke.
Photo Credit: VC Reporter

John is now 90, and as it stands he will have to leave his assisted living facility, the only community he has known for nearly three years. He desperately needs some outside support to keep him housed and healthy.

We are friends of John from around the globe. Some of us met him during his itinerant days as a travel reporter and prolific travel guide author; some of us have worked with him, written about him, and in many cases, been mentored by him. We know that aging and staying healthy in America is an expensive endeavor; such causes as healthcare and security have been causes of John's for his entire 60+ year career.

We ask for your help in this urgent hour of John's vital and pioneering life. Thanks so much for any assistance you can provide. All proceeds will go towards John's care and security.

Peace and Love!

More about John/further reading:

John Wilcock: The Puppet Master of '60s Underground Newspapers (The Atlantic)
http://www.theatlantic.com/entertainment/archive/2012/03/john-wilcock-the-puppet-master-of-60s-underground-newspapers/254564/

Mr. Underground (Ventura County Reporter)
https://www.vcreporter.com/2006/09/07/mr-underground/



You're invited to visit http://www.ojaiorange.com for a snapshot of Wilcock's remarkable life story.




John's life has chronicled some of the most pivotal events that transformed the history of the 20th AND the 21st century, and is now the subject of a biographical comic book based on his years in New York. The story by Ethan Persoff and Scott Marshall is serialized on Boing Boing and at http://www.ep.tc/john-wilcock/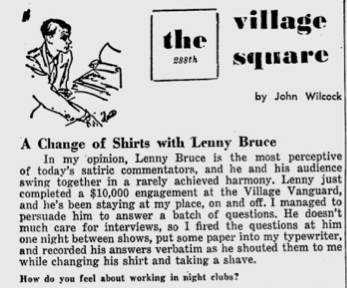 Wilcock's 288th column in The Village Voice, appropriately titled "The Village Square."

Cheers, everyone.
Every little bit makes a huge difference.
Thank you!

**Note: Hi, my name is David Buehrens, and my name is listed at the top as the person who created this campaign. I am the person who is currently managing John's finances and making witdrawls from the campaign into his personal bank account. All of John's friends thank you for your contribution to his continuing care.












+ Read More
Update 1
Posted by David Buehrens
17 days ago
Share
Dear Friends and supporters of John Wilcock,

Thank you all for your kind and generous donations for John's continued care to date. The reality of John's situation since the site began has changed.

John is now faced with needing to leave the assisted living facility he currently lives in next week! Finding suitable housing has proved challenging and to date there are no replacement accommodations in place. We are looking for a bed-and-board type accommodations that would provide at least immediate transitional housing while we continue to search for a long term solution.

Any suggestions about short-term or long-term housing for John would be greatly appreciated, and of course any donations to support this cause would be greatly appreciated. John is in the medical marijuana program here in California and would appreciate a supportive environment in new housing.

Thank you,
Friends of John Wilcock
+ Read More
Be the first to leave a comment on this campaign.