Help expand Women Skate the World
€322
of €1,000 goal
Raised by
3
people in 4 months
Women Skate the World is a girls run organisation  on a mission to empower women and girls around the world through skateboarding. We (Amber and Nanja) started Women Skate the World in 2018, and need your help! All the work we undertake is voluntary and we rely on donations to fund all travel, equipment and time. Support our mission to breakdown gender-barriers and empower communities through skateboarding. Every donation you make helps us to reach more women and girls.

We are working with, and at skateboarding projects around the world, providing them with a 'Women Skateboarding Program' consisting out of skateboard classes, non-skate educational classes and a youth leadership program. As of October 2018 we have partnered up with Free Movement SB to launch our Women's program at their weekly girls' sessions. Meanwhile we are working on a version of the Women's program focussed on minority groups in the Netherlands, to launch in 2019.  We need your help to make this succesful!
We use skateboarding as a tool to build confidence, support communities and break down gender barriers. The work we do is based on engaging, inspiring and empowering young girls and women, creating chances for individuals and the communities they live in.
(text continues below)


Right now we need your help to support Women Skate the World. Donations will be used to cover the expenses of the current projects, and building future projects. A donation gives us the chance to reach more girls and women, and put the money where it's needed most. The projects we run are dependant on having a good amount of skateboards, protection pads, school stationary items and other materials that are needed for providing skateboarding classes and educational lessons. Your support helps us to stay in the field and empower young people through skateboarding. Donate today!


If you want to reach out to us for questions or suggestions, shoot us an e-mail at the adress mentioned below. 

Thank you so much!

Amber Edmondson
Nanja van Rijsse

Founders of WSTW

nanja@womenskatetheworld.com
www.womenskatetheworld.com
www.facebook.com/womenskatetheworld
www.instagram.com/womenskatetheworld 

------------------------------------------------------------------------------------------------------------------------------------------------------------


The crew in Asira, Palestine.


Skate-Yoga in Athens, Greece.


Announcement for the classes in Sulaymaniyah, Kurdistan Iraq.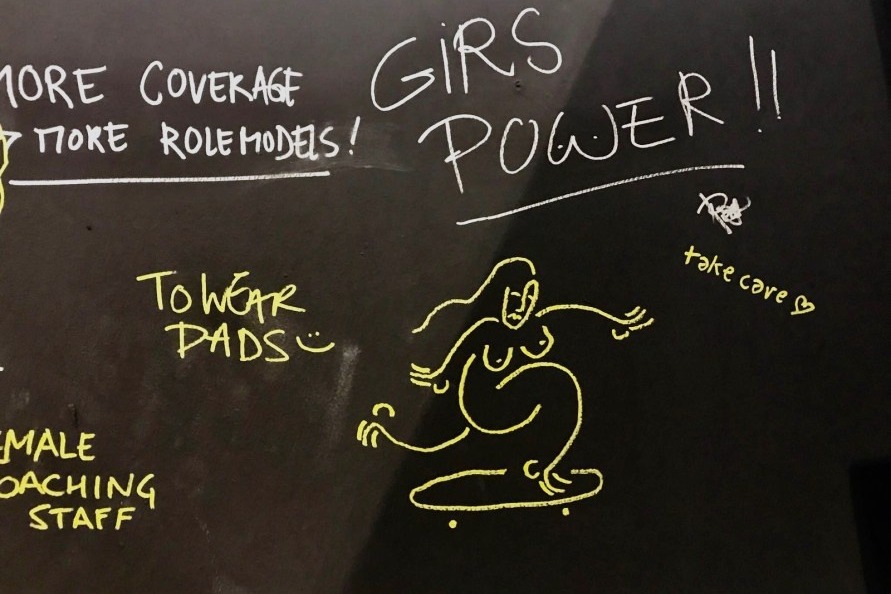 Our wall of inspiration, where people could write a message, at Bright Trade Show, Berlin. 


Interviewing Dutch Girl Skaters for a film showcased at Creating Lines 2018 in Rotterdam, the Netherlands.
+ Read More