Help Deepan recover from his burns,
$7,109
of $6,000 goal
Raised by
145
people in 30 months
Warning: Story contains graphic images of severe burns.
On December 11th I had planned to grab lunch with Deepan and our other friend Stacy. It was supposed to be a regular Sunday for me, when I received a panicked call from Deepan saying he had been severely burnt on his face, right hand, inner thighs and calves while doing car repairs for a friend. The extra panic in Deepan's voice was that he knew that he didn't have the money to go see a doctor and that the hospital would not see him unless it was a life threatening circumstance. In his own self-sufficient and stubborn style, he insisted on avoiding the hospitals as long as he could, but after talking to nurses and doctors that I knew, it was a matter of time before the large swaths of second degree burns he had became life threatening. Eventually he called an ambulance and was rushed into emergency care with advanced dehydration, severe pain, and a steadily worsening health.
A few hours later he would come to realize that he was on a long, painful and costly path to recovery.
His right hand had received the worst burns, 2nd degree, almost 3rd degree burns.
These are some photos he sent me that day: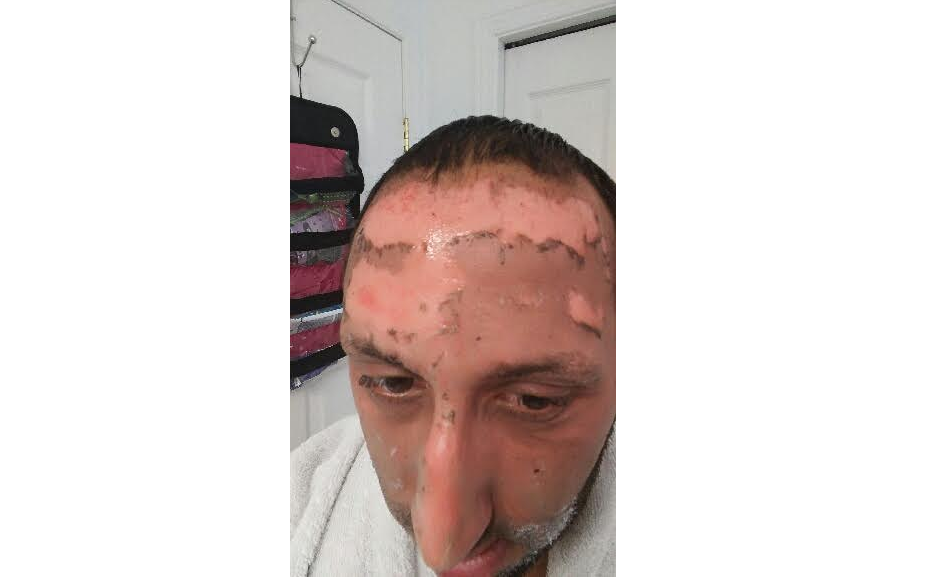 Here is an additional picture of his hand when treatment first started:
Let's rewind a bit, one must be wondering why he was so hesitant to go to the hospital, since Deepan lives in Canada after all, where we take access to healthcare for granted. One important thing you need to know about Deepan is that
he is stateless.
This means that even if he was born in Canada, he currently has no Canadian citizenship, therefore
he has no health card
, and on top of that he has no citizenship for any other country. Because of crimes he committed as a young adult, and because of circumstantial confusion around the employment of his parents at the time of his birth, the Government of Canada decided in 2010 that Deepan had never been a Canadian Citizen despite previously awarding him two separate Canadian passports.
Suffice it to say that he is not covered by any private insurance or public healthcare.
On top of that he has been without a work permit for almost five months, has no source of income and he can't access any sources of government income since he has no official status.
To find out more about how this came to be and his multi-year fight to regain his citizenship, visit
www.justicefordeepan.com
Let's break down an
estimate of the costs
so far in addition to a few key costs during his recovery, and
this is where we need your help
:
1) Ambulance and multiple visits to the hospital burn unit, WeCare and the plastic surgeon: $2500
2) Medication and accessories thus far: Daily changing dressing, antiobiotic ointments, creams, antiobiotics: $900 --- estimated costs over the next few months: $400
3) Visits to the physiotherapist: $600 (and he stopped going after two)
4) Doctor ordered gloves to prevent infection, scarring and to return skin pigmentation for his hand, for 18 months: $1300
5) Other visits to the doctor to check on health complications involving swelling of his feet and kidney problems, and steroid cream for his feet: $50 (so far it is mostly through the Community Health Centre)
6) SPF 90+ sun screen for the next 18 months to protect burnt skin on the face from exposure to sun: $250
Total: $6000
This is a picture of the glove:
This does not include costs of gasoline for getting around, food (that he tries to get via donations and food banks as much as possible), rent, cell phone bills that he is falling behind on, on top of outstanding debt from the past few years. He has a support committee that is helping him provide for most of his rent and some of his bills monthly while he is unable to work, but the costs are proving to be much too high for his circle of supporters to take on by themselves.
While he is physically on the mend, he desperately needs money to help him survive, pay some of these outstanding medical bills, heal properly, and avoid more complications like he has started experiencing from his overall wellbeing, such as swelling and infections.
I thank you in advance for your support, as does Deepan.
Sincerely,
Daniel
+ Read More
Update 2
30 months ago
Share
Quick update before as we close the GoFundMe campaign. A brief thank you message from Deepan:

Hello everyone thank you for your kind and generous donations I greatly and deeply appreciate it. Thank you very much for helping me.

In Solidarity Deepan.
+ Read More
Update 1
30 months ago
Share
Hello and thank you for your generous contribution!
Deepan and the entire Justice for Deepan support committee is in awe of the support and generosity that so many people have demonstrated so far, going a long way to help with our morale and Deepan's ability to pay for his health expenses. In less than 48 hours we surpassed our initial goal of $4000, and 4 days in we're less than 500 away from shattering our second goal of $6000!
This is simply amazing.
Please take the time to share the campaign again to help us reach our goal:
https://www.gofundme.com/help-deepan-get-the-care-he-needs
Deepan also got some media coverage in the local press:
http://ottawacitizen.com/news/local-news/stateless-ottawa-man-turns-to-gofundme-after-serious-burns-land-him-in-hospital
Deepan's struggle now for his health, but ultimately to reclaim his citizenship is along one and your contribution means a lot. Thank you.
Finally, we will start withdrawing some of the money from the GoFundMe campaign to start paying some immediate bills such as the rent he hasn't be able to pay yet for January because of his medical costs and the glove he will need to wear for the next 18 month.
As a member of the Justice for Deepan committee, I will be withdrawing the money myself from the GoFundMe account and transferring the money in periodic installements to Deepan directly via e-transfer so as to pay the bills and expenses as they come in or are needed the most.
Thank you for your ongoing support.
Sincerely,
Daniel
+ Read More
Read a Previous Update
Be the first to leave a comment on this campaign.