59
6
Help Cadet Robotics Attend World Championships
$3,645
of $5,000 goal
Raised by
58
people in 1 month
Frederick High School's first-year Cadet Robotics rookie team won the Rookie All Star Award for the Chesapeake District, earning them a spot to compete in the 2019 FIRST World Championships in Detroit, Michigan on April 24-27, 2019. FIRST Robotics is an international high school robotics competition that gives students real-world engineering experience. Only the top teams in the world qualify to attend World Championships. 

The team is raising $5,000. $4,000 will cover competition entry fees and $1,000 will help offset student travel costs to Detroit.  $Although the team raised approximately $8,000 for the 2019 season, they did not anticipate needing funds to compete at the World Championship their first year.  The team has exhausted all funds for the season, and is hoping community support can help make this dream a reality. Any funds raised in excess of World Championship fees will be put towards the 2020 design and build season.

This Season, the Cadet Robotics Team was: 
 - Awarded Rookie All Star Award at the Chesapeake District Competition at George Mason University, earning them a spot to compete at the FIRST World Championship in Detroit
 - Awarded the Rookie All Star Award at the Owings Mills Event
 - Awarded the Rookie Inspiration Award at the Blacksburg, VA event
 - Ranked 58 out of 127 teams and was invited to compete at District Championships at George Mason University. Unfortunately, the team had to decline due to funding. 

Thank you so much for helping this underdog Rookie team compete among the best of the best in the world and represent Frederick High School and the entire Frederick, Maryland community with gracious professionalism, integrity, cooperation, and teamwork.  

Meet Space Cadet, Frederick High School's Robot

Space Cadet in Action!
Rookie Frederick High School Robotics team, Cadet Robotics, loading their "cargo" (orange balls) into the spaceship through the "sandstorm." Notice the curtains are down-robots are either following pre-programmed instructions or are operated by human drivers via video during this time. The school's first ever robotics team and first FIRST Robotics Competition at Owings Mills, MD on March 16-17, 2019. The team was honored to be awarded the Rookie All Star Award at the event.

Thank You! 
Thank you to this year's sponsors that have helped Cadet Robotics this year:
 - ACDi
 - Southern Research
 - RuRo
 - Wetchco Signs
 - AOPA

About Frederick High School - Frederick High School is a public school in Frederick, Maryland. Cadet Robotics' outstanding 2019 Rookie season is evidence that FHS students have the talent, ingenuity, and leadership to succeed and compete alongside some of the top private school, well-funded, and experienced robotics teams in the region. Because half of FHS's student body qualifies as economically disadvantaged, it is a high priority for Cadet Robotics to raise funds so all students - no matter their economic situation at home - can participate. To grow the team so all can have the opportunity benefit from this innovative STEM experience, it's even more important to remove barriers like club fees, travel expenses, and even transportation to events.

Frederick High School 2018 Demographics:
Total Enrollment: 1,224
Total Minority Enrollment: 70% (Highest in the County)
Total Economically Disadvantaged: 50% (Highest in the County)
Graduation Rate: 79% (Lowest in the County)
Eligible for Title I Funding: Yes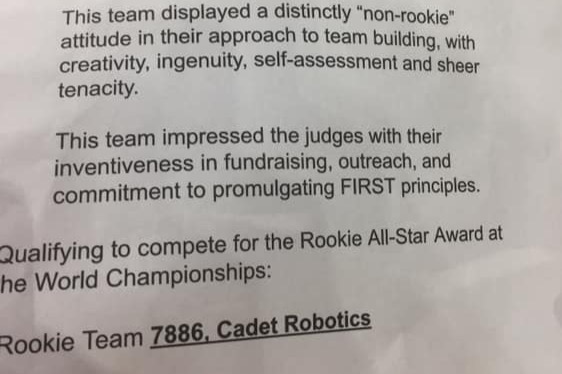 + Read More
Update 2
1 month ago
Share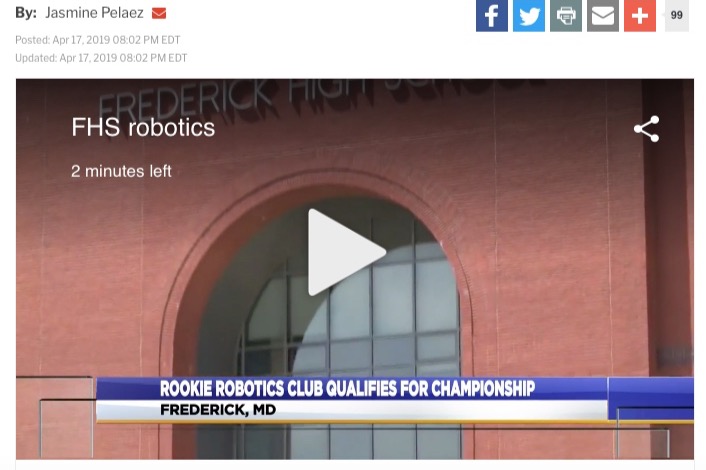 + Read More
Update 1
1 month ago
Share
Good news to share! Thanks to you, the Cadet Robotics team is just over halfway to their total Go Fund Me fundraising goal of $5,000.

Today, the team boxed up their bot, Space Cadet, in preparation for the long journey to Detroit, Michigan to compete in the FIRST Robotics Competition World Championship next week.

We appreciate the outpouring of support from community members, friends, family, and FHS alumni. We truly couldn't do this without you. Thank you.
+ Read More
Read a Previous Update