Fund Indigenous School in Taiwan
$70
of $10,000 goal
Raised by
3
people in 12 months


中文版 (Chinese article) here *


About

Nestled between the ocean and coastal mountains of eastern Taiwan is Tamorak, a non-profit preschool for local Indigenous children.

Tamorak is founded by Nakaw, a local homeschooling mother, alongside the Amei people at Makotaay village in Hualien. As a teacher trained within Taiwan, Nakaw recognized the need for an alternative education program; one specifically geared toward Indigenous children struggling to fit into the current model.

In February 2015 – in the humble basement of her home – Nakaw began teaching Amei children the Waldorf curriculum in their native tongue. Over time, new teachers and interested parents were personally trained by Nakaw and added to the roster of teaching staff at Tamorak.

The days I spent at Tamorak was filled with outdoor adventures, creative activities, and fresh, home-cooked meals. I have never experienced a community where everyone so authentically supports one another. The children I met were lively and in tune with nature, and the school offers an environment that is truly homelike; I felt serene and unhurried. Songs are sung with held hands at mealtimes and the staff eat alongside the children. During recess, children dangle off wooden swings and tree branches. Toddlers join in on outdoor excursions and forage for wild produce with surprising agility. The older children are diligent, well-rounded leaders with great maturity and an acute awareness of the outside world.


"I have never experienced a community where everyone so authentically supports one another."


Nakaw says her goal for Tamorak and for these children is to feel a sense of belonging – to grow up knowing who they are and where they come from. Her greatest wish is to raise these children with necessary core values and for them to become self-sufficient adults.

I left Tamorak understanding that while they may be a community fighting to preserve their culture, they are also a community filled with hope and a great sense of purpose in who they are and what they can contribute.




Founder of Tamorak, Nakaw, teaches Chinese characters to two elementary student using illustrations and body language. 




Students in prayer, giving thanks before their mid-day meal by volunteer staff.




Students climbing trees during recess. School activities are designed to be closely integrated with nature.




Tamorak students on their way to classes in the field. These toddlers show surprising agility climbing hills and trekking down mountains.




Stone Hot Pot — A traditional Amei meal prepared in hollowed bamboo for the spring ceremony. Organic vegetables, beans, and seafood stew are prepared using hot stones from the fire.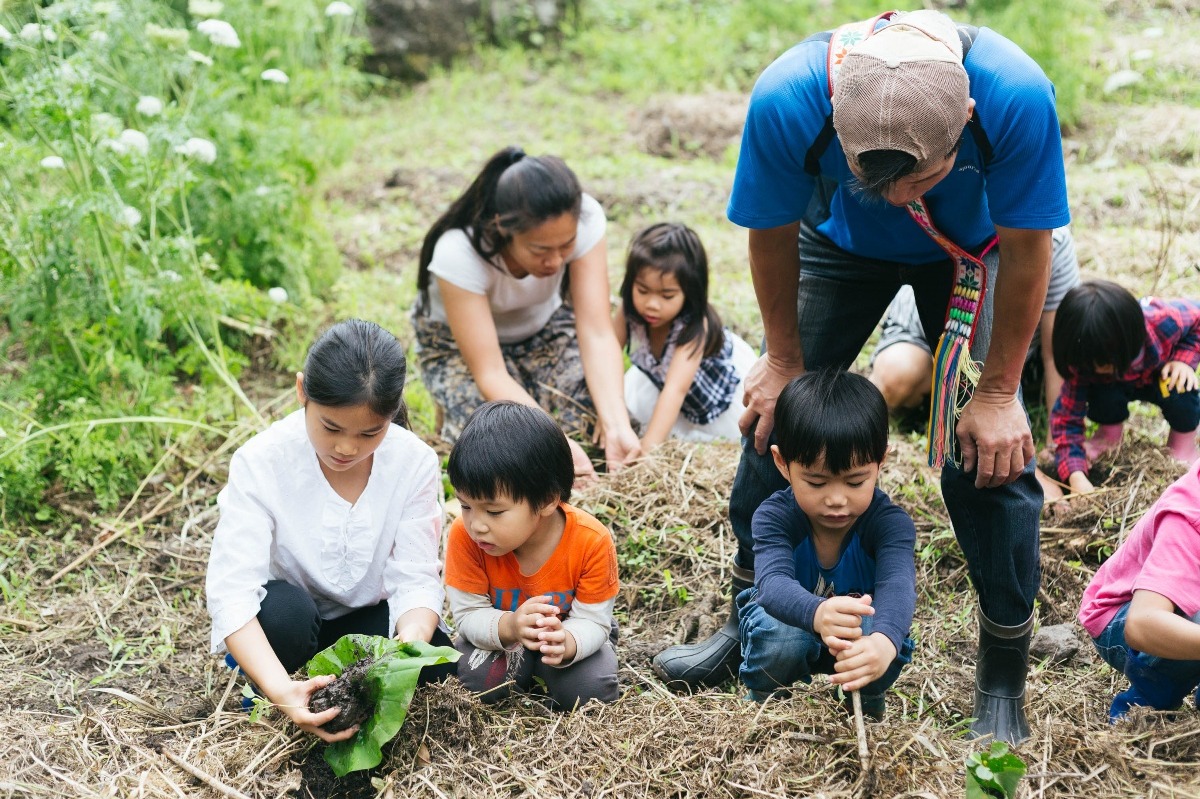 Parents and students plant seedlings for the Spring Ceremony.  Dances and songs are performed before to give thanks to mother earth for provision.


Facts about Tamorak:

• Classes are taught in Amei language using a Waldorf curriculum. Waldorf education is based on the work of Rudolf Steiner and stresses the importance of hands-on activities, creative play, and learning through imitation. Classes are designed with a focus on the connection between the heart, head, and hands. Nakaw believes this system offers a parallel to the Amei culture and values.

"Classes are designed with a focus on the connection between the heart, head, and hands. Nakaw believes this system offers a parallel to Amei culture and values."

• Lunches are parent-supported and made with local organic produce.

• Pottery, painting, cooking, storytelling and outdoor classes are included each day.

• All teaching materials, paints, and props are natural and non-toxic. Use of computers and television are limited and only introduced to children at an older age.

• Tamorak (pronounced Damorak) was named after the late village elder. Tamorak means pumpkin in Amei and represents growth.




First-grade student Paha was originally enrolled in the Taiwanese school system, where she struggled with isolation as a result of language and cultural barriers. Paha's mother, a volunteer teacher at Tamorak, drives two hours every day so Paha can attend the classes. The progress Paha has made since transferring to Tamorak is incredible.




Tamorak students enjoying playtime on the outdoor playground built by elders from the Amei village.



Poror, Arigfowang and Atomo (Nakaw's three children) stand against the stunning landscape of east coast Taiwan located right behind the school.




Children playing with leaves and stones during recess. No plastic or artificial materials are used within the classrooms. As a result, children become very resourceful at making their own toys.


Why

The Amei language has no written characters – all communication passes verbally. Because of this, Amei children face incredible challenges learning and adjusting to the visual elements of Chinese language. Without a method to communicate in school, Amei children often withdraw from social activities or become trouble makers, and many are incorrectly identified as having a learning disability. Correspondingly, children that successfully adapt to the Chinese language have a hard time readjusting to their own language when they return home.


"Without a method to communicate in school, Amei children often withdraw from social activities."


Nakaw believes that the root of the problem lies in language: She believes children must learn the language of the village and be educated in a system that aligns with their values and culture.


Challenges

Tamorak is currently limited to a kindergarten curriculum, but Nakaw has plans to begin developing the elementary curriculum. As the children graduate, additional teaching spaces are needed, alongside more teachers and resources.

All meals, utility bills and teaching supplies are currently being covered by Nakaw and the Makotaay community. Despite government funding, Tamorak is constantly underfunded. For the school to receive sufficient funding from the government, they must first become certified as an official school, and children will need to pass standardized tests as they come of age.


"Tamorak is in need of your support to continue the education of these children and preserve the Indigenous language and culture. "


Goal

• To raise $100,000 USD for the hiring and training of elementary teachers
• To provide higher wages for these teachers
• Seek out and attain quality teaching resources and materials
• Create a holistic teaching space for elementary school children

Tamorak is the first school to fully incorporate the Indigenous language and your support, regardless of the amount, will have a huge impact on these children. 100% of your donation will go directly to the school, and we ensure all donation costs are covered. Your contribution will help pave the way for these children, as well as work to preserve an incredible culture and language for generations to come. Thank you very much!




Connect
Credits

Photography + Story: Sophia Hsin 
Video: Jenny Yen 



+ Read More