Help BAPAC bring TORNKID to life!
$1,400
of $4,000 goal
Raised by
29
people in 1 month
Who we are: 
The
Baltimore Asian Pasifika Arts Collective
(BAPAC) is a new arts organization that was created in 2018 to address the deep need for Asian American and Pacific Indigenous representation and advocacy in the arts communities of Baltimore.  Our goal in establishing BAPAC was to ensure that AAPI art makers would always have a means to advocate for themselves and a platform to share their stories within the Baltimore arts world.  We aim to create original content, commission new work and highlight art that centers on the stories of the AAPI community and our experiences.
Since establishing ourselves in September 2018, we have performed and partnered with organizations such as Charm City Night Market, Baltimore Center Stage, Cohesion Theatre, The Motor House and Towson University's Asian Arts and Culture Center.  Through our arts programs and initiatives, we hope to continue building relationships with neighboring communities and strengthening solidarity with other underrepresented and misrepresented communities in Baltimore. 
[BAPAC members at Towson University following the Asian Arts and Culture Center's presentation of Akiko Kitamura and Kim Hak's Cross Transit.]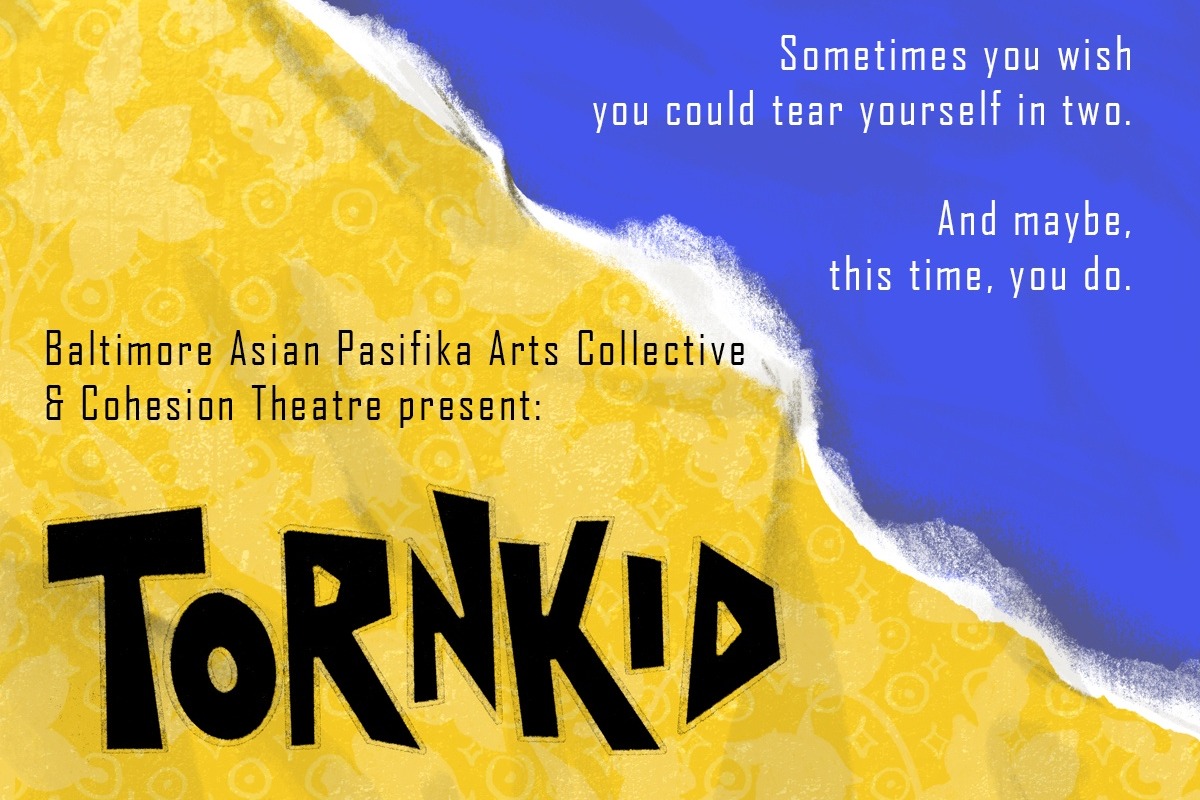 What is Tornkid?
For our inaugural season and show, we are producing an original work alongside Cohesion Theatre Company entitled
Tornkid
.  We began devising and workshopping
Tornkid
with members of Cohesion in November of 2018.  In December 2018, we brought on board Filipino-American playwright Katelynn Kenney to write the original script for this piece. 
Tornkid
draws on the power of indigenous Southeast Asian and Pacific mythology and folklore to tell the story of a young child stuck between worlds and their journey to discovering, accepting and embracing their identity. 
Director: Cara Hinh
Playwright: Katelynn Kenney
Puppet Master: Jessica Rassp
Mask Designer: Tara Cariaso
When: May 23-June 9, 2019
[BAPAC and Cohesion Theatre with Katelynn Kenney during our first devising workshop for TORNKID.]
[Actors at auditions for TORNKID creating puppets.]
What the funds are for:
We need your help to bring this beautiful story to life!
  Thanks to our partners at Cohesion Theatre, we have a space and means to produce
Tornkid
.  As a new arts organization, however, we still need your support to help us achieve our goals.  Our aim is to raise half of our production costs for
Tornkid
through this GoFundMe campaign.  The funds from this campaign will go toward paying our staff and artists, supplies to build our set and design costumes, and also materials to construct the original puppetry and masks for this production. 
Through other initiatives and events, such as our upcoming storytelling event for the Asia North Festival -
AAPI Voices: This Is How We Party!
 - we hope to raise the remaining funds for
Tornkid
.  Should we surpass our GoFundMe goal of $4000, the additional funds could:
- cover the remaining production costs for
Tornkid
; 
- allow New York based playwright Katelynn Kenney premiere
Tornkid
at The Tank in NYC;
- help BAPAC bring
Tornkid
to schools throughout the DMV as an arts integrated assembly program;
- contribute to our upcoming production,
#ModelMinority: A Musical Parody Revue
;
- help BAPAC continue to produce original content created by local AAPI artists in Baltimore and the DMV.
[Images Cohesion Theatre's latest production
Frankenstein
.  Puppet designed by Artistic Director Jessica Rassp.  Images courtesy of Cohesion Theatre and Shealyn Jae Photography.]
How you can help:
Please consider donating to this campaign and sharing it with your friends and family
on Facebook, Twitter, Instagram and via email and text message.  Each share really makes a difference and brings us closer to our goals.
Note: ALL DONATIONS ARE TAX DEDUCTIBLE.
We are exceedingly grateful to those in our community who have supported Baltimore Asian Pasifika Arts throughout its journey thus far.  Thank you for your continued support.
[Images from BAPAC appearance at the Charm City Night Market in 2018.]
[BAPAC Co-Executive Director Cori Dioquino, Managing Director Donna Ibale and Education Director and
Tornkid
director Cara Hinh at Baltimore Center Stage with
King of the Yees
director Desdemona Chiang.]
[Member Elizabeth Ung and BAPAC Directors as guest panelists for Baltimore Center Stage's AfterThoughts following a performance of Lauren Yee's
King of the Yees
.]
[BAPAC with artists Kim Hak, Akiko Kitamura and the performers of
Cross Transit
at Towson University following
Cross Transit
performance and post-show talk back moderated by BAPAC.]
+ Read More