376
3
Help Angel's Family
$36,221
of $40,000 goal
Raised by
380
people in 8 months
ANGEL'S FAMILY IS BEING DEVASTATED 
Angel is a security guard who greets visitors entering the Philadelphia Museum of Art. As people come up the Rocky steps and enter the Museum, the first smiling face they see is Angel's. He's incurably positive and funny, disarming visitors with his warmth and helpful suggestions — just the person you'd want to encounter when entering a foreboding stone edifice. The Museum places Angel at that key spot because he is so accomplished at what he does, and he is highly valued for it. 
But Angel's beaming smile hides just how much trauma he's enduring inside. It turns out his slim build is supporting a Herculean weight, one he often doesn't want to talk about. Angel and his wife Jacqueline have a beautiful family that includes their son Angel Luis, 33, and daughter Nitza Jeannet, 30. Angel Luis is married and has an 8-year-old son, Angel Luis Jr. Nitza has a 11-year-old daughter, Mia Lovey, as you can see from their family photos.
When Angel met Jacqueline, she was a recent widow. Her husband, ironically also named Angel, had died at the age of 33 from a brain tumor. She had two young children, and Angel enveloped his new family with such love, becoming their strength as they started their lives together. Their kids grew up and started families of their own, just as it's supposed to be.
But a few years ago, Nitza began having internal pains, and she didn't know what was causing them. Then she had a car accident. In the hospital, they did an MRI scan of her internal organs to make sure nothing was damaged. That's when they discovered she was full of tumors. The next day they performed emergency surgery on her kidneys, which were being damaged by the growths. Since then she's had a series of additional operations to remove tumors on the back of her eyes, in her head, all over. She now has a tumor that's developed on her pancreas. She can't face having another surgery to remove it, so she's living with the pain for now.
Then Angel Luis, Nitza's brother, also was in a car accident. Like his sister, scans after the accident revealed that he, too, was as full of tumors. The same sequence followed: emergency kidney surgery, operations to remove brain tumors, and so on. Currently, Angel Luis is undergoing daily radiation therapy for some of his tumors, and he dreads going to the hospital each day for it. His doctors just declared him unable to work for the rest of his life.
It turns out Angel Luis and Nitza have a genetic disorder, a rare condition called VHL (Von Hippel-Lindau) disease. The tumors are usually benign, but they can turn cancerous and must be removed before they damage healthy tissue. There is no cure yet for this genetic nightmare that's passed down from generation to generation.
Angel Luis Jr. and Mia Lovey have had CAT scans and MRIs. Sadly, they both carry the gene, but VHL doesn't typically appear until its victims are in their 20's or 30's, just as was the case for Angel Luis and Nitza.
Jacqueline has been so distraught by what is happening to her family that she's having difficulty coping and, for the past few months, has not been able to function at her job. Angel drops his son off at the hospital for his radiation treatment every morning on his way to the Museum, and picks him up afterwards. Angel is the only family member who is able to care for the others, and he's really worried about keeping his job at the Museum with all the responsibilities he has to his family.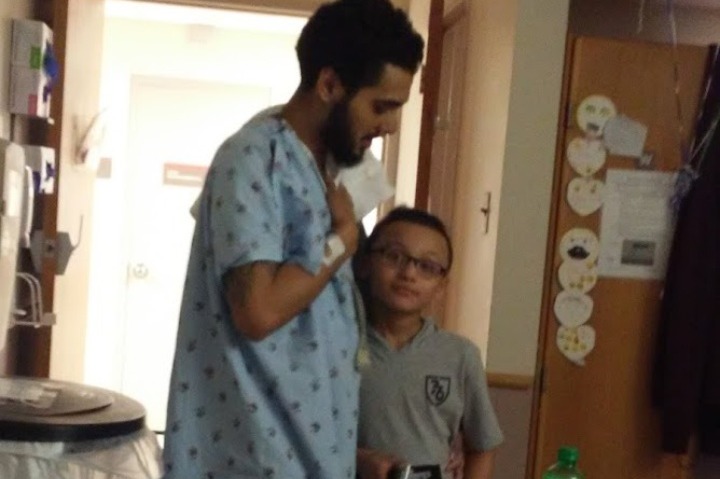 And the bills keep mounting. Nitza and Mia Lovey live at home with Angel and Jacqueline. Angel Luis, along with his wife and son, still live in their own place, but it's questionable how long they can continue to do that. Angel Luis hasn't been able to work since this started, and now he cannot return to his job. 
Angel is in crisis. His family needs help; yet, he feels reticent to ask. So, we, his friends, are asking for him. Please help Angel take care of his family. Please donate whatever amount you can to help him pay the bills. We can only imagine how the medical expenses are piling up — let alone the cost of supporting his whole family while trying to keep his job at the Museum. If there ever has been a case worthy of our help, this is it.
Angel is truly appropriately named; he is a gentle and kind soul who is trying to manage all of this on his own -- without a complaint.  But it's time for the rest of us to step up and help with their expenses. Please give what you can – right now – they desperately need your help. Please share Angel's story with everyone you know, and please ask them to give too. Thank you.
+ Read More
Update 1
7 months ago
Share
Here's a thank you from Angel for everyone's generous donations for his family's medical needs. He is extremely appreciative.
+ Read More