Heidi Kraay's MFA Play Project
$4,115
of $4,000 goal
Raised by
94
people in 40 months
Hi, I'm
Heidi Kraay
. I'm a playwright, writer and theater maker currently living in Boise, Idaho. I've been commuting regularly to San Francisco over the last two years, where I'm an MFA candidate at
California Institute of Integral Studies (CIIS)
. This is my graduating semester.
For my MFA Final Project, I'm bringing a staged reading of my brand new play HOW TO HIDE YOUR MONSTER to San Francisco.  Since I live and work in Boise, and my Creative Inquiry, Interdisciplinary Arts program is low residency, I'm in Idaho more often than in California. I wanted to work with theater makers I know and trust here, to get the most out of our rehearsal and development process.
I have four outstanding artists on my team: Jaime Nebeker, Sasha Allen-Grieve, Jennifer Stockwell Doner and Jodeen Revere. They've been helping me through the development process since last fall, bringing this play and its characters to life.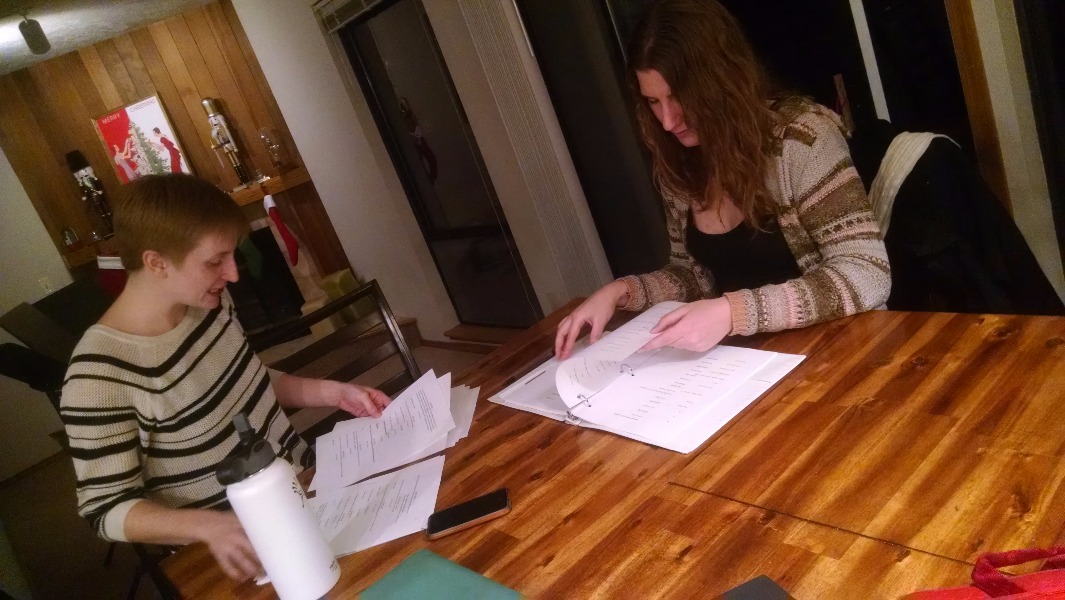 Jaime and Sasha rehearsing for the Fall 2015 HomeGrown Theatre BLiP reading.
They need to get to San Fransisco for our final showing at CIIS. This all costs money. We need to cover transportation, housing, production costs and artist stipends before April arrives.
The trip and MFA Project Spring Festival is coming right up. We head to the Bay Area for our final showing April 8. After the performance, we return to Idaho to fine-tune our rehearsal process based on what we learned at this event and prepare to show the play to Boise audiences. Then HomeGrown Theatre will present a second staged reading this May, as HOW TO HIDE YOUR MONSTER continues its development on its way toward full production.
About the Play
HOW TO HIDE YOUR MONSTER explores love and the side effects of love through three women's parallel lives. It composts anonymous, personal and true stories submitted to 100 Love Memories Play Project, which make up the histories of each character. 
This is a play in love with truth, memory, family, longing and wholeness, dealing with the secrets we keep from the people we love most in order to protect them. I'm exploring how we can connect with each other by becoming more vulnerable, even when it's much easier to hide. 
This play means a lot to me. I've been working on it since 2013, when I asked people to send me their love memories, promising to make a play out of them. These artists traveling with me are some of my favorite people on earth, and they mean a lot to me. I want to make sure they get to San Francisco and back at no cost to them. 
As a school, CIIS means a lot to me. This MFA Program has invited me into a process that shows me what kind of a playwright I am, how I want to work, and what kind of person I want to be. Creating this new play through that holistic process is giving me the tools to build a balanced, sustainable and productive life in the arts.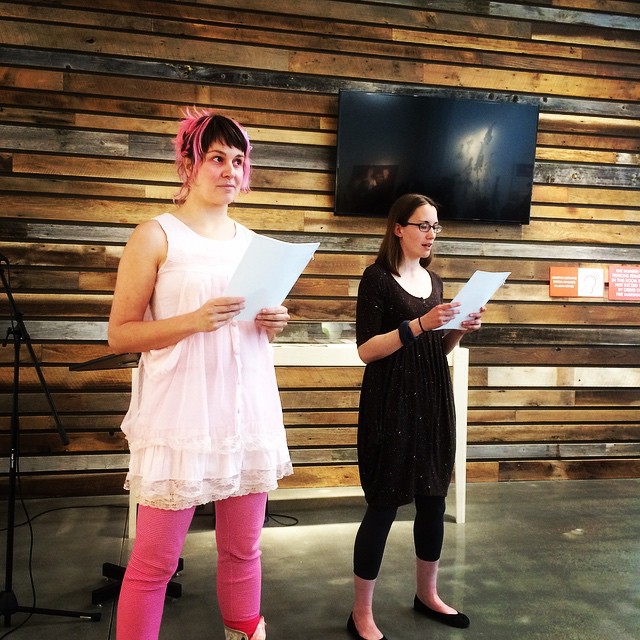 Marie Markovic and I reading from the play at the CIIS MFA Festival in 2015 (Photo Paula H. Junn).Gratitude
Thank you for any amount you are able to give. Your dollars will help this play and these wonderful artists bridge many miles. We will be overwhelmed with gratitude for whatever you can give.
My team and I are already so thrilled about what we've received along the way in this process. The MFA Programs at CIIS ignited our fundraising trek with a seed donation this year. This got us started toward paying these extensive travel costs.
Heartfelt thanks also to HomeGrown Theatre for giving HOW TO HIDE YOUR MONSTER its first public reading in November 2015 as part of their monthly BLiP Play Reading Series, and for showing the final staged reading for this process in May.
Enormous thanks to Boise Contemporary Theater for giving the play its second reading in February 2016 as part of their annual 5X5 Reading Series. 
Big thanks to Charm School's Feast Event for giving me a chance to pitch 100 Love Memories Play Project in spring 2013. This micro-grant fundraising dinner competition started the whole idea of making a play based on people's memories of love.
Finally, an undying gratitude goes to everyone who wrote me their memories of love, from 2013 to 2014. And everyone who has given me thoughts and feedback along the way. I'm so glad to be making a play with you.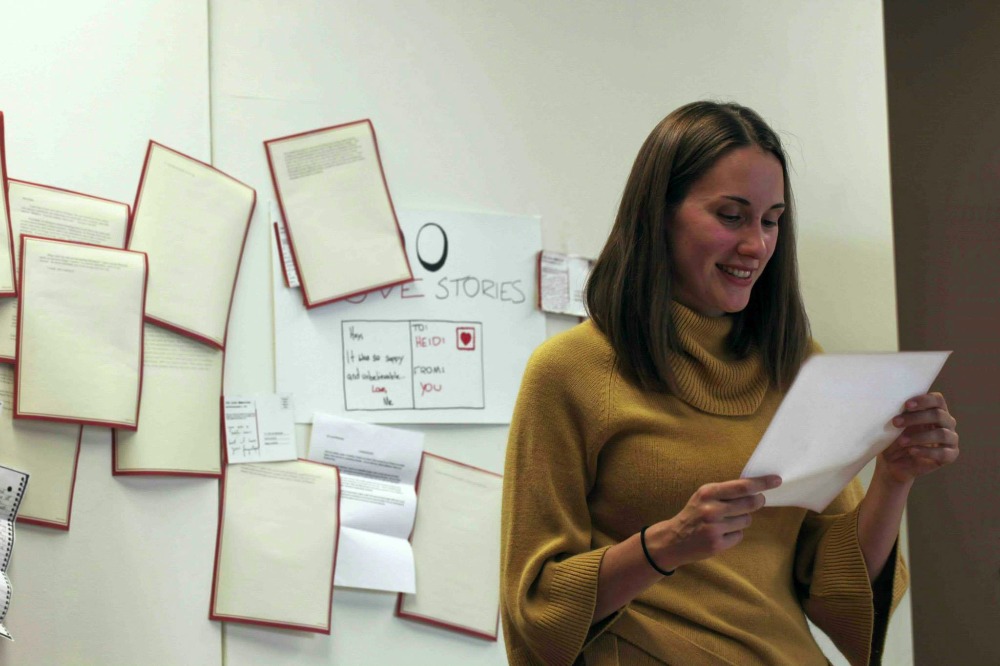 Me reading the love memories, which create the histories of each character (Photo Robert Riddle).
+ Read More
Be the first to leave a comment on this campaign.