We will remember them. Art memorial
£1,853
of £8,000 goal
Raised by
56
people in 46 months
Hello, my name is Heather, thank you for taking the time to look at my go fund me page. Hopefully you can help me continue my dream of making total strangers happy.
I am a portrait artist, I am not rich and successfull as I charge very little for my paintings and often give them away for free as I am a firm believer that real art should be available to everyone of all incomes. 
I am not great with words so I will try and explain what I do and how you can help me achieve my dream
a few years ago I quit my job to become a full time artist. This has been a real struggle as I don't always feel comfortable charging people for paintings I create so often I  give them away for free as it is the best feeling in the world to gift a painting to help ease people's suffering which is why i decided to set up this account.
 I have painted pictures for people that have lost loved ones in tragic circumstances,  often all they have is a couple of out of focus or dog eared photos to remember them by.  I listen to their stories and try to get a feel for the person or animal they have lost and then put my heart into creating a picture they can cherish forever.
This takes time and canvases, paint and packaging supplies cost money but I wouldn't dream of charging someone who has lost so much a single penny, to be honest it is why I am struggling to keep afloat and after seeing so many people willing to help complete strangers on here I am hoping they will help me continue to help others.
. Last year I gave away 40 paintings to good causes, charities and individuals who have been through hard times, I will never be a successful artist  financially and I don't mind that as it doesn't interest me as I lead a simple life but I would love to be successfull at turning tears of sadness into joy.
this is where you lovely people come in.
this year i want to paint for families that have lost loved ones whilst serving our country.  i have already painted nine pictures for families and have so far had requests for 45 more .
None of which i will charge for.  
A small donation will help pay for the supplies i need to keep offering this service.
below is a selection of portraits already completed and gifted to the families.
my military portraits are not the traditional soldiers on parade staunch portraits you would find hanging on a wall in the captains mess.
these portraits are meant for families to look at for many years and take some comfort from the portrait smiling down at them. All of my portraits will be smiling. its the only rule i have.
Warrant first officer class 1 regimental Sergeant Major 1st battalion grenadier guards Darren Chant was one of 5 soldiers murdered in Afghanistan by a rogue policeman. Sheenie was 7 months pregnant at the time of her husbands death. I painted this memorial for her to send her my love and support.
I have never met her, i just wanted her to have a personal memorial for her and her son to look at and smile.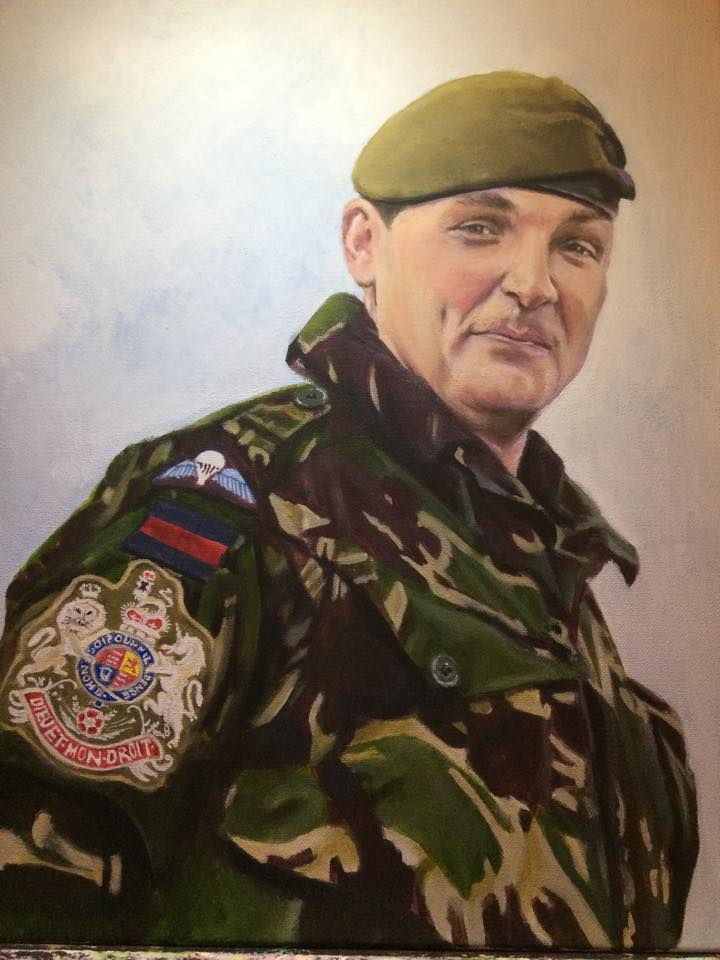 Here is my portrait i gifted to Senior aircraftman Luke Southgates mum.  She wanted a non iniform painting of her son, he was killed shortly before his 21st birthday in Afgahnistan.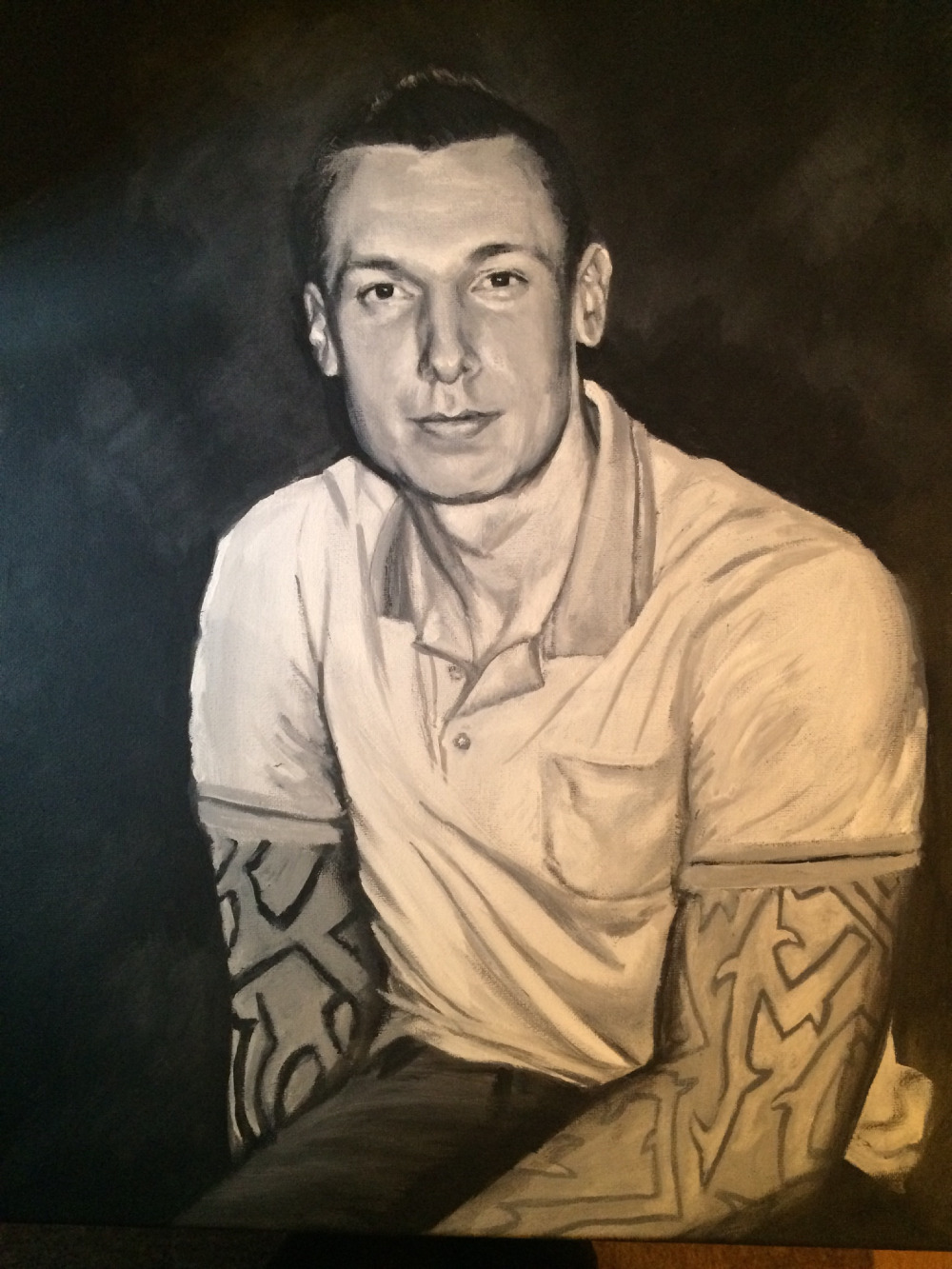 My portrait of Captain Walter Reid Barrie from 1st Battalion The Royal Regiment of Scotland (1 SCOTS) was killed in Afghanistan on Sunday 11 November 2012. Captain Barrie was taking part in a football match between British soldiers and members of the Afghan National Army at Forward Operating Base Shawqat in the Nad 'Ali district of Helmand province when he was shot at close range by a member of the Afghan Army. He was fatally injured in the attack.
Captain Barrie was born on 5 February 1971 in Glasgow. He joined 1st Battalion The Royal Highland Fusiliers on 26 October 1987.
During his 25 years Colour Service he served on operations in Iraq (on both Operation GRANBY and Operation TELIC), Bosnia, Kosovo and Northern Ireland, as well as completing a tour of Afghanistan in 2008.
Wlter was a fun loving Jock and after talking to his sister about him for hours this is the portrait i completed for her.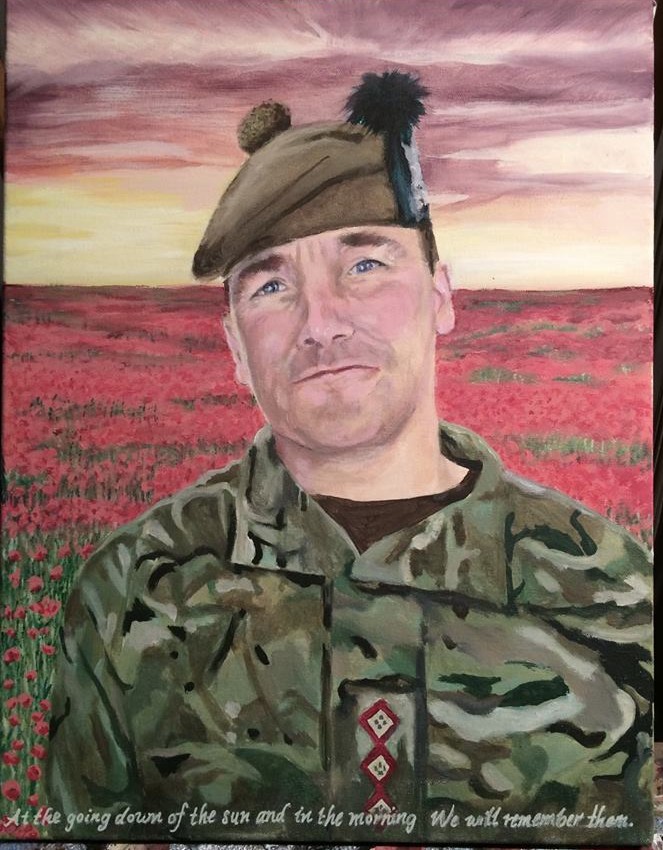 this portrait took me over a month to complete. it is of Sergeant Sean Binnie's family. His mum didn't have any family photos of them all together so she made a special request to have a family portrait made. here is the result.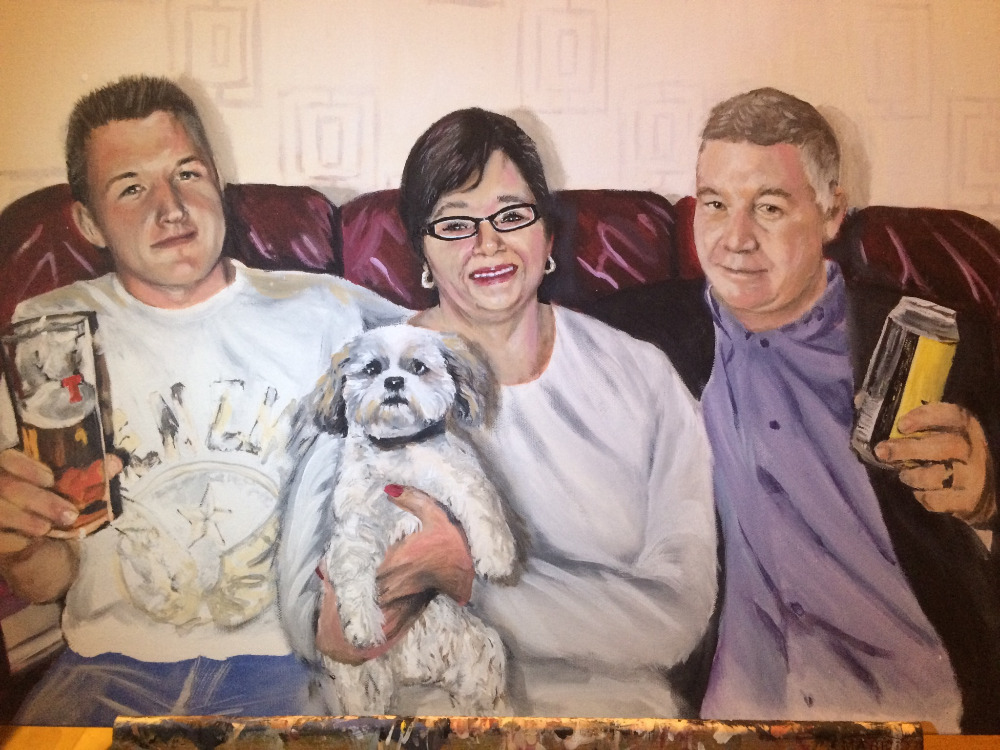 my portrait of Sergeant Simon Valentine for his lovely mum Carol.
Simon was killed while on foot patrol in Helmand province on august 17th 2009
Corporal Dean John, who was born in Neath and lived in Port Talbot, died alongside Cpl Graeme Stiff when their Jackal patrol vehicle was hit by a bomb in Helmand.
Cpl John, 25, of the Royal Electrical and Mechanical Engineers, was serving with the 1st The Queen's Dragoon Guards (QDG), known as the Welsh Cavalry.
Dean served in Northern Ireland, Iraq and was on his second tour of Afghanistan as a vehicle mechanic , he was a father of three and died when his vehicle was hit by an i.e.d .
I painted this portrait as a gift to his mum and also gave her some mounted prints for his dad , brother and sister.
Lance Corporal Muirhead, of 1 Royal Irish Regiment, died from wounds sustained during a Taleban attack on his base at Musa Quala in Helmand Province on Friday 1 September 2006.
I have been chatting to Paul's mum violet over the last few months and and so I really wanted Moonbeams painting to be something very special for a very special lady.
She set me a challenge, I had a group photo with a much younger Paul, but Violet wanted him to look a little older and so gave me a second photo to work from,where he looked like a different person so it certainly was tricky to get the likeness.
I breathed a sigh of relief when she said " that's him". that's all I could ever hope for in a painting, i will be sending her out three prints so his siblings can all have one too.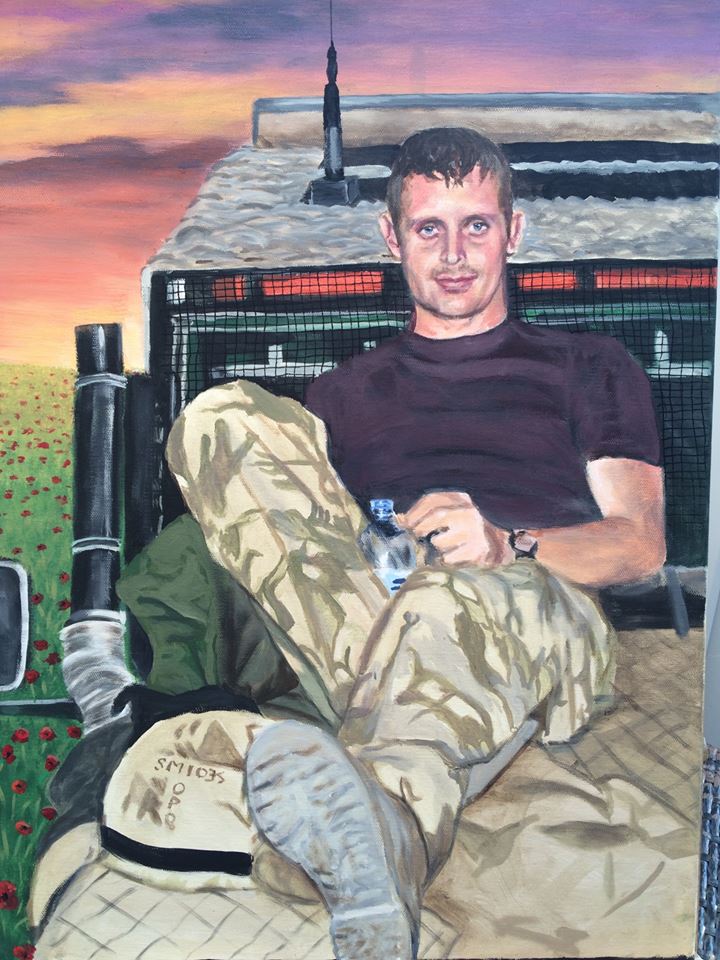 my first tribute of 2016 was one that was requested last august. but i have been so busy its taken too long to paint him. I added his mum to my friends list and everyday i see her posting how much she loves him to the moon and stars. I can only imagine her heartache.
Martin was only 19 when he died. let that sink in for a second. 19.
Martin was killed after making himself a target for Taliban gunmen so his comrades could evacuate a seriously wounded colleague.
Martin selflessly drew fire so members of his patrol could deal with the casualty.
I painted this portrait of Martin for his mum Lisa and prints will be going to his family as well.
Rifleman Martin Kinggett, of A Company, 4th Battalion The Rifles
25 February 2010
to the moon and the stars. x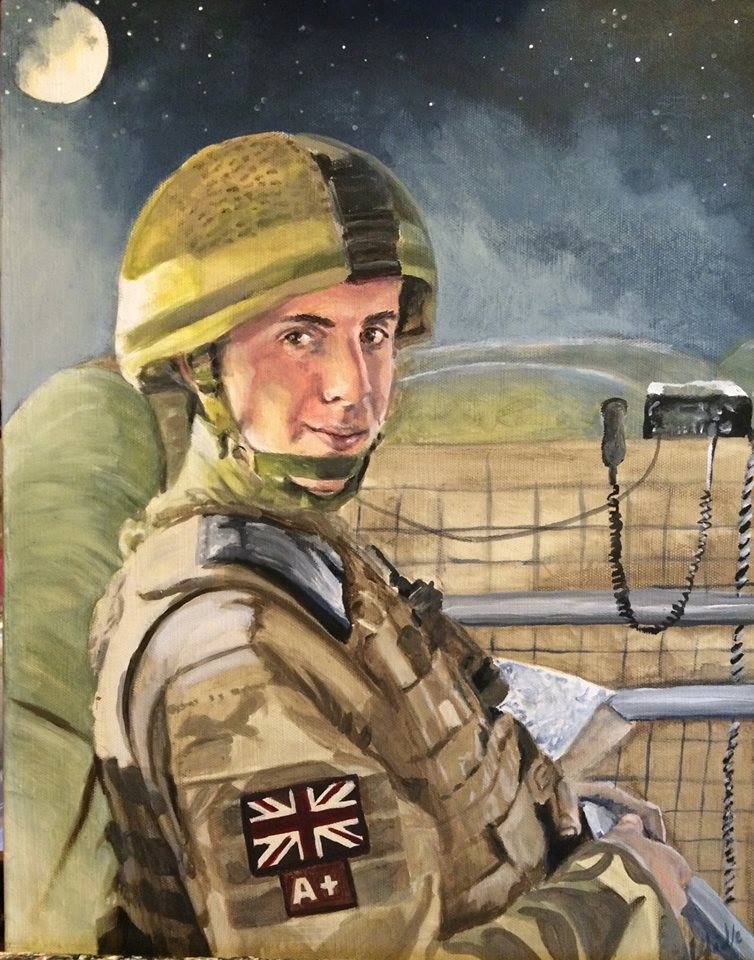 my memorial page for this project is 
www.facebook.com/Heathers.memorials
I could really do with a little bit of help to make my military memorial portraits happen. please put yourself in my shoes, when was the last time you did a weeks work for free just to make another human being feel happy?  i have now worked for 32 weeks, totally free of charge.  while i am painting the memorials I am not painting anything so as a full time artist with no other income its starting getting more difficult but i don' want to stop.
I really hope you can help me give something nice to people that deserve a little kindness.
+ Read More