452
8
~ Healing Rosalina ~
$49,095
of $50,000 goal
Raised by
520
people in 5 months
~ Childhood Cancer Survive and Thrive ~

HELP ROSALINA ACHIEVE
TOTAL AND COMPLETE HEALING!

She needs funds for-

* ongoing naturopathic treatments
* travel expenses / trips to clinics
* sessions with wholistic health professionals
* organic foods, supplements and herbs

Conventional treatments in combination with all of these and more have brought her to a good place, but the hospital has nothing more to offer...

We need to step up other available, non-toxic means to get Rosalina to the rest of her life!

PLEASE HELP US TO SUPPORT HER THROUGH TO FULL RECOVERY

Here is her story...
The story of one unique, amazing girl...


~ Rosalina before full blown illness was made obvious (August 2015)


O
ur sweet Rosalina was diagnosed two and a half years ago with stage IV neuroblastoma, a childhood cancer of the nerve cells. She was five years old at the time. Doctors found a grapefruit sized tumour in her belly and widespread metastatic disease. Our family was utterly shattered. All our hearts were broken completely. It is hard to truly describe the feelings and reality of those terrible dark early days and nights.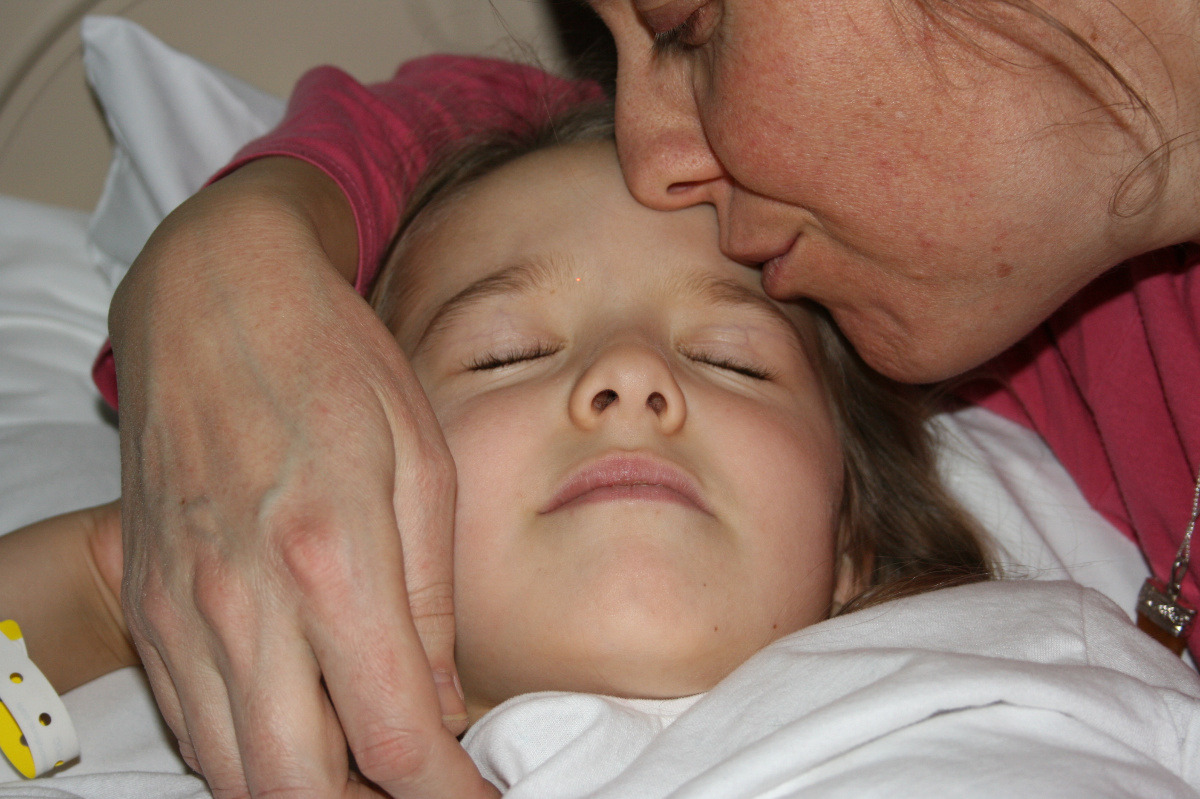 ~Rosalina's first night admitted to hospital
   (February 2016)
Immediately upon diagnosis, the children's hospital here in Ottawa, Canada installed a central line in her chest, and put her on the standard high risk neuroblastoma protocol. Within two weeks of that life shifting ultrasound when the large tumour was found in her abdomen, our little girl was administered the first of many cycles of chemotherapy. The nightmare took on life...
The things one knows intellectually are dwarfed by their actual appearance across the body and face of a dear loved one, especially one's own little child whom you had always protected and cared for, gave the best to, kept harm away from... The heartbreaks ensued, one after another; Rosalina began to be ill, vomiting constantly from the chemotherapy and morphine. She grew thinner, her appetite was sometimes nonexistent. At one point she didn't even want to sip water, and that was the lowest of the lows because total fear then set in. There was a lot of fear.
I remember one morning upon waking I took Rosalina's hand in mine as she still slept, and to my deep horror, her hand was cold and almost lifeless. I could feel the lack of energy circulating within it. I knew it was the chemotherapy that had done this to her. The fear grew.
~ Four months into intense chemotherapy- still beautiful!
    (June 2016)
Rosalina lost her hair (I still have it in a jar). She developed dental problems and had bone health issues in her spine. The neutropenic nights of mystery fevers during recovery periods at home that landed us right back in the hospital for weeks at a time on various drugs and antibiotics were many. The transfusions of platelets and hemoglobin, bone marrow aspirates, MRIs, CTs, MIBG scans and X-rays, the dressing changes, cultures, blood work and urine tests seemed endless. The smell of the hospital was always on our skin, and especially on Rosalina's.
When her baby brother was born two months after Rosalina was diagnosed, he joined her in the hospital during our stays there. We were determined not to break up our little family. It wasn't ideal for him to come into the world like that, but we know her baby brother helped to comfort her in ways still untold. He appeared as a blessing to us all.
~ Rosalina and her two day old brother, Isa
    (April 2016)
Rosalina went through the 6 cycles of the Induction phase of the protocol, but the treatment was not altogether successful. The metastatic disease was quelled, but the primary tumour did not shrink at all. Surgery was deemed too risky because of its size and location, and the fact that it was wrapped around some very vital vessels. We were told that there was too much risk involved in performing resection for too little change to the medical outlook. With that, our least disliked portion of the initial protocol was swept away and again there was fear and uncertainty.
But not everything was grim. Almost immediately after diagnosis, our family made contact with an integrative oncology clinic here in Ottawa. It was early on in the game that Rosalina began to receive twice weekly High Dose Vitamin C infusions and mistletoe injections during her recovery periods between treatment cycles.  Her  naturopathic doctor there recommended various supplements which she still takes to this day and pointed the way to a few dietary additions. These all helped to keep our little girl as physically supported and as detoxified as possible under the circumstances. She also received reflexology treatments once a week and sometimes met with a hypnotherapist at that same clinic. We are full of gratitude for this place, which has been a rock to us since the beginning, supporting Rosalina's overall health and recovery physically, mentally and emotionally. It was our second home in times of crisis.
~ Mudcakes for all
    (July 2016)
~ Enjoying the lakeside, even with a central line in
    (July 2016)
We will always look back and see the positive impacts of combining complementary means of cancer care along with the allopathic model. The proof of the goodness of this way was in front of our eyes: Rosalina looked strong and mostly healthy; she had enough energy to outrun any of us; her beauty and fortitude under the circumstances amazed us all.
We felt and knew that all these efforts were made to offset the damage being done to her by the toxic chemotherapy regimen. It was done to counterbalance the destructiveness of conventional treatment, which, for better and for worse Rosalina had to receive being a child and in the eyes of the law, unable to make her own decisions in the matter of treating her disease.
~ Our Supergirl- strong, resilient, determined and always positive
    (November 2016)
Our initial fundraising campaign allowed us to set up a strong home protocol. We purchased juicers and a near infra red sauna, plus we switched out all plastics to glass; Teflon to stainless steel. Along with daily veggie juicing, an all organic diet was put into place. On top of that, every day Rosalina gulped down medicinal smoothies filled with all kinds of important antioxidant, antinflammatory, supportive supplements. We also persisted through obstacles in acquiring a medical marijuana certificate and then Cannabis appeared like a godsend as a key player on the scene of Rosalina's care team.
When we came to the impasse of surgery, other options were considered. We traveled to Germany with Rosalina for three weeks of hyperthermia treatment, the goal being shrinking the tumour so as to allow a chance for resection. It did not shrink, unfortunately.  In fact, it has never budged, with any treatments. There is the theory that perhaps most of the tumour mass is necrotic, and unable to grow or to respond to treatment because if that is the case, the cells are not alive and are impervious to anything applied to them.
~ Rosalina (and her stickers) receiving local hyperthermia treatment to  her primary tumour in Germany
    (March 2017)
One amazing thing that happened in Germany besides the warm relationships we established and the treatment supports that Rosalina was given was the confirmation from the pediatric and general oncology community there that the protocol Rosalina was on was not suited to her case. Other possible treatments were recommended, and we came back to Canada with these in mind.
Then one of those times transpired when seemingly very bad things happen but then end up serving the overall good... Immediately upon our return Rosalina's tumour markers came back very elevated. Imaging was done and it showed an aggressive return of the metastatic disease. Rosalina's condition was back at square one. The fear came back to grip us.
After emergency considerations and consultations with the children's hospital in Toronto, a proposal was made by Rosalina's head oncologist to start her on an immunotherapy protocol for high risk relapsed neuroblastoma to which we agreed. We were relieved to avoid what the original protocol called for, which was stem cell transplant through high dose chemotherapy followed by radiation and only THEN immunotherapy.
This new, second protocol entailed the use of Dinutuximab, a chimeric monoclonal antibody, along with chemotherapy and a slew of supportive drugs. The antibody treatment would involve a lot of pain, which would have to be tightly controlled with a special pain medication along with around the clock morphine during the infusions. We were very scared for the types of suffering Rosalina would face, but we wanted her to survive. And this is why anybody would do such things.
~ First cycles of immunotherapy protocol
    (May 2017)
Thank goodness the chemotherapy on this regimen was a lot less intense than what she had received the year before, and we offered Rosalina everything we knew that would support her immune system, help her to continue eating, improve her gut health, detoxify her, keep up her vitality and give her strength. All these we found in nutrient dense, fresh organic foods, Cannabis oil, supplements and probiotics, juicing, medicinal smoothies, her sauna, nightly detox baths, twice weekly High Dose Vitamin C and mistletoe infusions, and the reflexology and energy healing sessions Rosalina received throughout this time.
All these did her wonders, but let's not forget the value of other, non-physical elements in the good progress of her healing- having her big family always around her to distract her, make her laugh, spend time with her; the amazing Child Life staff who always brought out her creative spirit; the positive reinforcement she was always given when times were low and darker than usual; the prayers from all around the world; the inspirational quotes always there for her to take in; her school friends to return to and her super strong spirit always vibrating in a good way...
~ Evoking the balance- supplements on left, chemotherapy on right
    (April 2017)
For someone enduring through 17 cycles of this new protocol, one which a lot of kids had to drop out of simply because of bodily intolerance, Rosalina fared very well. The doctors were surprised at just how well. The pain of treatment was well controlled and her allergic reactions died down over time- never completely- but enough to allow her to carry on up to cycle 17 relatively unscathed. The Cannabis oil kept her eating and even gaining weight slowly over time, rather than losing it! It wasn't easy for her; it was a miserable march of ups and downs but she did push through and recover over and over and over again as the cycles were administered from April 2017 to June 2018.
~ In between cycles, a creature of beauty and tenderness
    (June 2017)
~ Always the prolific crafter, even tied up at the hospital
   (June 2017)
~ Rosalina and unexpected guest
    (September 2017)
Physical, psychological and emotional hardships did continue though. Twice more Rosalina lost her hair and regrew it. She missed a lot of school, which she loves so much. She also developed a blood clot as she grew like a good girl of her age and out of that central line that had been sitting in her chest for a year and a half at that point. The catheter was still viable, but lifted out of place, it gave us trouble in doing its job and rubbed and irritated her jugular vein until a clot formed inside it and had to be treated.
She then had another trial to get through on top of all the regular doses of suffering: 6 weeks of twice daily blood thinner injections- and some weeks it was three injections a day, due to the bone marrow stimulating G-CSF shots she had to take for a week following every cycle of treatment. It was a horrible. There was a lot of screaming and tears. Rosalina's arms bruised quickly due to lowered platelet counts and soon there were no more clear spots to inject into. She refused to have it done in her thighs or abdomen. We didn't push her...
Unbelievably, Rosalina was able to make it through grade one (2017-2018) with top grades and a warm place among many friends and adoring teachers and staff at her magnificent school. Although she missed a lot of the academic year, she never really missed a beat. Being extremely bright and so motivated to be like all the other kids, she excelled.
School has been and is Rosalina's true safe refuge from all the formidable challenges and tortures she has had to endure during these past two and a half years. This Fall she rejoined her school community and began grade two- free from her central line, away from hospital treatments and constant medical appointments, loosened from the cyclical nooses of the destruction and recovery of conventional treatment- and she is shining so bright!
~ First day of school, grade two here she comes!
    (September 2018)
So in June of this year, Rosalina's 17th cycle of immunotherapy was completed and that concluded her immunotherapy protocol. Her central line was removed a month later, giving her a chance to finally take showers and fully submerged baths, and to savour half a summer of splashing around gleefully in lakes and pools. But it was a bittersweet moment in time, as the treatments, along with her supportive care and the relationships with kind nurses and doctors and hospital staff were about to end.
As much as one can come to hate hospitals and all the things that happen inside them, there was a type of comfort that had developed over the years; a certain routine, along with the knowledge that something was always being done to forward making that cancer very uncomfortable. Now we would be out in the open ocean on our own, so to speak, looking for other ways to make the cancer not want to live in Rosalina's body anymore. The opportunity stood before us to go out and seek treatments that would take Rosalina to TOTAL AND COMPLETE HEALING as we had always wanted.
That open door represented many things, and it was truly at that moment that I realized just how complicated things can be; the love hate relationship with conventional treatment contains a lot of grey areas. It is impossible to separate which things that were done had the positive effects on healing because so many things had always been done at once... Certainly that immunotherapy treatment did Rosalina so much good. I am grateful to the allopathic system for having been an important part of my little girl's healing. Most of all, I am grateful to all the sweet people within it who took care of our little girl in the worst moments and who gave us such great support.
When June came along with the end of treatment we had another set of scans done. The MRI, CT and MIBG especially showed us things that we wanted to kiss the ground for. We thank the Universal God: Rosalina had no visible signs of disease in her body except for two small spots on the periphery of that stubborn primary abdominal tumour. She was at the best she'd ever been since diagnosis!! We were leaving treatment with our girl being in such a good place. We knew the importance of maintaining this position and then also keeping on to the final goal...
~ Loving life
    (June 2018)
We need to do all that we can to maintain her progress towards TOTAL AND COMPLETE HEALING, and to help her get there. The conventional took us a ways, supported by the complimentary therapies, our home protocol, the mental work we have done, through the calling on the energy of spiritual Good and through Rosalina's sheer will to get better. Now we had to find ways and means to get Rosalina to push through to the ultimate vision.
Since the hospital has no further interventions they can offer, we are left to intensify our home protocol and continue forward with the very crucial non-toxic therapies that we feel can give that extra push and make the needed difference. Some of these are therapies that have already helped to let Rosalina come this far- and some we have never tried yet- but one thing is sure: they are out there and are not covered by health insurance. We need help.
These and Rosalina's obviously rock solid spirit and fierce determination are going to get her all the way to the goal...
Into a life free of cancer.
Into a life of more thriving and shining...
Adventures and accomplishments...
A life of love and development....
... and maybe even babies (this is my new vision I am holding of a future I want for her, if she were to want that too).
Now we are calling upon you to embrace our sweet girl and help us to fund these elements of her healing. With everyone on board and following the beautiful trail that Rosalina and her incredible journey have set us all upon, we know she can do it!SHE'S ALMOST THERE...

PLEASE HELP US TO BRING OUR SWEET ROSALINA TO TOTAL AND COMPLETE HEALING!
With so much gratitude for assistance in the past, present and future, and there has been a bounty of it,
Rosalina's Mama Agata & the whole Bedynski-Belli family
October 14, 2018
~ Rosalina at the 2018 Carleton Butterfly Show
    (October 2018)

CLICK ON THE LINK BELOW FOR A VIDEO THAT TRULY CAPTURES ROSALINA'S SPIRIT AND TENACITY!

https://youtu.be/zcXa1ywFDPQ
+ Read More