Social Impact Project Grants/ Pak.
$5,451
of $25,000 goal
Raised by
10
people in 58 months
Dear Friends, As-salaamu-alaikum / Peace be with you

I would like to invite your kind and generous support for PYCA, a Social Entrepreneurship Project Contest for Pakistani University Students  -- a project that I personally have helped launch, manage and advise this past year.

Below is an explanation of our year-long effort, and also a list of some of the winning projects we hope you will be funding with your donation. These are youth-run positive social impact projects like:
"Anger Management Program for Teenagers" [Sindh];
"Youth Jirga" [Fed. Admin. Tribal Areas/ FATA];
"Peace Blogging Weekend" [Peshawar, KPK];  "Empowering Girls for Peace-building" [Malknd.,KPK]

The project is already a registered charitable NGO in Pakistan -- and we are in the process of receiving 501(c)3 non-profit status of a sister organization in the USA -- exclusively to fund these projects.
We have already raised and deployed over 95%+ of the funding for this program from international institutional grants, but the last 5% of the budget (~$25,000) we have committed to raise from individual donors -- particularly philanthropists within Pakistan, international Pakistani-diaspora professionals, and other friends and supporters of positive change for young people in Pakistan.

So, your donation will be US tax-deductible (to the extent allowable by law) , AND 100% used to directly support programming (i.e. no expenses for overhead, logistics, travel, etc.)

I am asking for your generous support -- whether it be $5000, $500 , or $50  -- to help create some positive energy for positive change among young adults in Pakistan.

Thank you,
Mehmood Kazmi
PYCA Co-founder & Advisor



== DETAILS ABOUT PYCA ... ==  
>> Online at   www.pyca.org.pk  and 
www.facebook.com/pakistanyouthchangeadvocates

>> Curriculum developed and taught to Pakistani advocacy trainers by renowned blogger, media personality and Pakistani-Muslim-American social advocacy expert Haroon Moghul  -- with help from social mobilization guru Uzma Sabir  and me
>> Held over 40 workshops with two-days of Advocacy, Leadership and Peace-building skills and awareness training for Pakistani University students on 20+ campuses of public and private schools in city and rural areas of KPK, Punjab and Sindh -- with localized curriculum and by local talent.

>> Total 800+ male and female young adults, from diverse ethnic and socio-economic groups, trained in non-violent advocacy and peace-building skills this year -- and challenged to develop their own entrepreneurial social programs to reach youth in Pakistan with messages and strategies to combat violence

>> We want to now give the Top 20 team projects from all around the country seed funding from <$500 up to $1500 each --- to help actualize their visions, to exponentially increase the impact of our work through their programs -- and also give them a taste of entrepreneurial management skills young Pakistanis desperately need.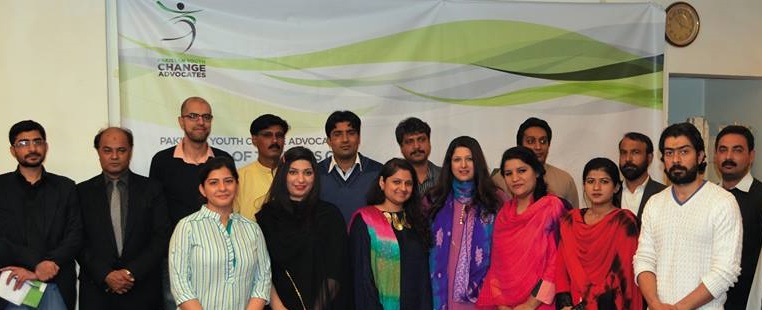 = EXAMPLE OF PROJECTS TO BE FUNDED... =
i. Online Youth Radio: This proposed project foresees the creation of a web-based radio station that focuses on airing programs aimed at peace building and countering hate narratives for young people. From management and marketing to finalizing the content and broadcasting it on air, the effort will be entirely led by the youth for the youth. (Geographical Coverage: Nationwide; Budget: $200)

ii. Anger Management Program for Teenagers: This proposed intervention aims at helping 50 school-going teenagers between the ages of 15 – 17 understand essential life skills such as to assertiveness (rather than violence), basic conflict resolution and mediation. (Geographical Coverage: Karachi, Sindh; Budget:  $600)

iii. Youth Jirga: Under this proposed project, students hailing from the conflict prone tribal areas of Pakistan have proposed to use the age-old collective  decision-making tool, i.e. jirga to reach out to the tribal youth with the message of peace building and countering hate based narratives. (Geographical Coverage:  Federally Administrated Tribal Areas; Budget: $700)

iv. Youth Community Theatre: Under this proposed project, students of social-sciences and fine arts will develop a theatrical play around the theme of radicalization and social violence. These performances will be held at the local community centre for the general public. (Geographical Coverage: Mirpurkhas, Sindh; Budget: $1100)

v. Clean up campaign: Through this project, volunteer students will carry out clean-up campaigns in selected locations such as a public parks and their university campus. During the clean-up campaign participants will install waste bins display peace messages at central locations. Since, interior Sindh has a sizable population of people belonging to the Hindu faith, this activity will allow young people to work as a team irrespective of their religious beliefs. On the other hand, the waste bins with peace messages will continue to reinforce the importance of peace and harmony in the community much after the activity has concluded. (Geographical Coverage: Jamshoro, Sindh; Budget: $700)

vi. Youm-e-Aman (Day of Peace): An electronic media campaign aimed at airing peace-focused television commercials on local cable networks. While the storyboard of the TVCs will be developed by the students, PYCA will technically support them in production, post-production and airing. (Geographical Coverage: Nationwide; Budget: $1000)

vii. Peace Poetry: Renowned local poets and young poets from Sindh will be invited to the first of its kind "Mushaira" where they will express their thoughts on peace through their poetry. (Geographical Coverage: Hyderabad, Sindh; $1000)

viii. Essay Writing and Speech Competition: Students from all across district Chitral will be invited to send in their contributions to take part in an essay writing and speech competition focusing on peace-building and sectarian harmony. The District Coordinating Officer (i.e. head of district administration) and senior faculty members from local universities will take part in the prize distribution ceremony as a sign of their endorsement for the greater cause of peace. The presence of such community gate keepers will go a long way in ensuring that the activity is not limited to a mere competition but the key messages of peace and harmony are widely shared and accepted by local youth. (Geographical Coverage: Chitral, Khyber Pukhtoonkhawa; $1000)

ix. Branding of Local Transport: At least 15 public transport vehicles (e.g. vans, buses) travelling on long routes between the twin cities of Islamabad and Rawalpindi will be branded with peace messages. Through this activity not only will at least a 200,000 people receive messages of peace but continued interaction with branded vehicles will ensure daily reinforcement for thousands each day.  (Geographical Coverage: Islamabad Capital Territory and Rawalpindi, Punjab; Budget: $1000)

x. Posters for Peace: A poster making competition on the theme of peace building will be held at a girls' school. The top 3 posters will later be adopted by PYCA and widely disseminated in at least 50 educational institutions (schools, colleges and universities) across Pakistan. (Geographical Coverage: Sargodha, Punjab;
$500)

xi. Graffiti: A wall inside Superior University Lahore will be painted with peace messages and graffiti promoting harmony. The graffiti will focus on sectarian and intra-faith harmony as well as the importance of a more progressive society. The painted wall will serve to reinforce key messages of peace for the students and
visitors alike for at least 5 – 10 years. (Geographical Coverage: Lahore; $300)

xii. Peace Exhibition: Students will develop and put on display models exhibiting the history of peace building and various initiatives (such as the United Nations) that
have served as milestones for global peace. The 2-day peace exhibition will be hosted at the campus of Superior University and will be open for students from
other institutes across the city. (Geographical Coverage: Lahore; Budget: $700)

xiii. Peace Blogging Weekend: A group of about 15 young people will spend a weekend learning story-telling and blogging skills to propagate peace through the World Wide Web. (Geographical Coverage: Peshawar, Khyber Pukhtoonkhawa; Budget: $1000)

xiv. Empowering Girls for Peace-building: In the remote Pushtun village of Maine in Malakand district, a week-long campaign (including community meetings and door-to-door awareness raising) will be conducted to encourage the local people to send their home-bound girl-children to schools. The project will not merely aim to empower girls through education but acceptance of female education is a step towards a progressive, less extremist society. (Geographical Coverage: Malakand, Khyber Pukhtoonkhawa; Budget: $500)

xv. First Aid Workshop for Survivors of Terrorist Attacks: The province of Khyber Pukhtoonkhawa has been marred with conflict for the last decade and terrorist attacks are a routine happening in most towns. Students of Institute of Management Sciences (IM Sciences) will hold a 3-day workshop to equip members from at least 5 towns across KP province on skills to provide first aid to survivors of a terrorist attack. This activity is not merely important in terms of providing a much needed skill but it will also allow community members (otherwise divided on the basis of religion, caste and creed) to take part in an initiative collectively, thus allowing harmony among their ranks. The workshop will be hosted by the Institute of Management Sciences. (Geographical Coverage: Khyber Pukhtoonkhawa; $1000)

xvi. Re-branding the War Ravaged Federally Administrated Tribal Areas: A photo exhibition capturing the scenic beauty of the otherwise war ravaged FATA region will be held at a local university campus in Peshawar. The exhibition will be widely publicized to ensure that Pakistanis are able to see the FATA region in a new light. (Geographical Coverage: Khyber Pukhtoonkhawa; $1000)
+ Read More
Be the first to leave a comment on this campaign.