Have a heart - help The Boultons xx
£8,810
of £5,000 goal
Raised by
356
people in 22 months
Why we need you:
Scarlett, Gavin, Kyla, Lexus, Ivie and Grace (the twins) have led until this week a relatively ordinary life. If looking after 4 children can ever be considered ordinary. They are a very close and loving family and Grace and Ivie have never been separated until now.
Ivie became very poorly quite suddenly this week and was admitted into the Bristol Children's Hospital. She was sick a few nights ago and by the morning her feet and fingers went blue and Ivie became very drowsy. She was taken to an emergency appointment at her local surgery, who immediately called for an ambulance.
The Doctors saw that she had fluid around her heart caused by an infection and needed to remove it out urgently, but as they tried, her heart failed. She was given CPR and put on a life support machine.
Ivie is still fighting, but her little heart is just not working. 
 
 She needs to be transferred to Great Ormond Street Hospital in London where she will receive a life saving heart transplant. And following that - a very long recovery with the very best doctors and the very best care! No more than she deserves!
Gavin and Scarlett are a wonderful couple who live for their children and their family – The very last thing they need at this incredibly difficult time is the added stress of financial burden.
This is where you come in: 
They are looking at a hospital stay of 6 months plus in London away from family with no resources or income – both of them previously self employed need to be there for Ivie. They have 3 other children who are being cared for by Amie, Scarlett's sister who is giving up her job, and though a single parent to 2 young children, to care for Kyla, Lexus and Grace whilst their parents stay with their desperately ill daughter.
Scarlett and Gavin need to do everything they can to be with their beloved daughter Ivie to ensure she gets the specialised care needed to make Ivie better and back home with her twin sister Grace and her older brother Lex and sister Kyla.
Their whole world has been turned upside down, and now only one thing matters to them is Getting Ivie better - It shouldn't be money, it shouldn't be anything, other than Ivie's precious health.... but anything you give - can help towards making the next few difficult months easier. 

How are you helping:
Your contribtutions will help ease the financial burden that Scarlett and Gavin shouldn't need to face. Your kindness can help Scarlett, Gavin and their family towards living and travel expenses and help make the difference between making what can only be descibed for us as unimaginable - that little bit easier!
 YOU can make a difference!
Show us the size of your heart and share this far and wide - No amount of money you are able to donate is too small - every little helps! Share, share and DONATE and lets get this beautiful girl back where she belongs!  
GET WELL SOON IVIE BOULTON! WE  LOVE YOU!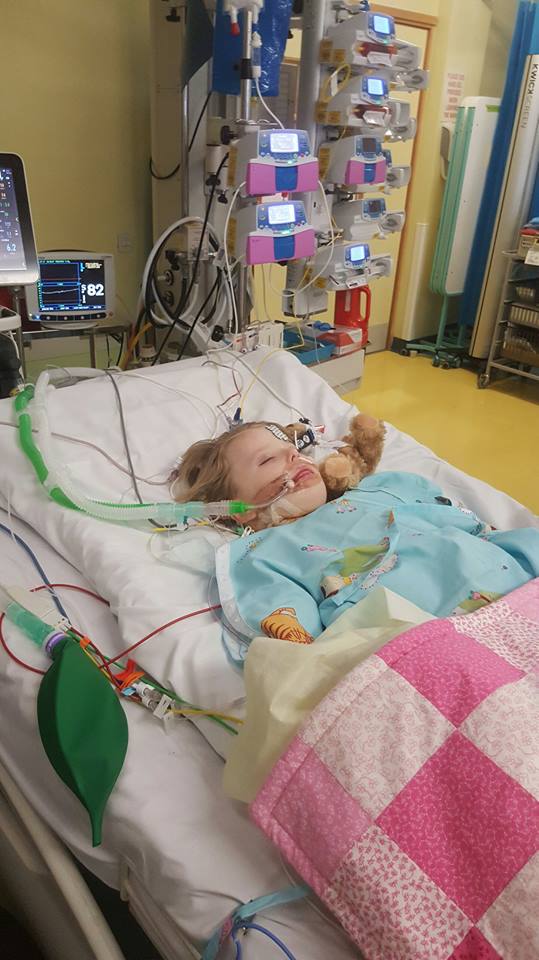 ***update 18/02/17***
Gavin and Scarlett's hopes were dashed when Great Ormond St Hospital decided not to take Ivie as originally planned. Thankfully our prayers were answered when Newcastle hospital accepted Ivie and she and her family made the long journey to Newcastle to receive the specialist treatment she so desperately needs.
Ivie has undergone surgeries and constant CT scans. She is looked after by dedicated nurses doctors and consultants. She is still fighting. Her brain activity and responses are very much demonstrating just how - against all the odds- how unbelievably resilient and strong willed she is.
Her kidneys are being supported through a dialysis machine, her heart isn't recoverable and her lungs have collapsed. She is still fighting an infection. The doctors have given Ivie steroids to allow her lungs to improve. Ivie is too young at only 3 years of age to have a lung transplant.
Her situation is very complicated and rare.
Scarlett and Gavin have not left Ivie's bedside. Scarlett's sister Amie made the journey from Bristol to Newcastle so the children could see their parents and their precious sister.
Your kind and generous donations are helping so much. Although we have exceeded our initial target every penny will be needed so continued donations are very welcome and we thank you all for your continued support and good wishes.
Please keep Ivie Boulton in your prayers. Her family need her, her twin sister Grace, her older brother and sister Lexus and Kyla, her devoted parents, grandparents, aunties, uncles and her cousins.
She is such a bubbly little girl, always so happy, she loves dancing and being silly. What 3 year old doesn't. She has so much to live for. Her family will never give up fighting for her, and nor will we.
Thank you for your support - you are all the stars in all the darkness and your kind words mean so much to Gavin and Scarlett.
+ Read More