Partner Support Harvest Projects
$4,295
of $60,000 goal
Raised by
41
people in 39 months
Enjoy the video of 2013 when I sang the National Anthem at the DAR Hall in Washington DC. Before the severe cancer battle! But Praise God! I made it through! And I am believing God to sing it again all over American for this AWAKENING! Getting better every day as I continue to recover. Praise God for all my partners of prayer and support and a team of incredible doctors!
Thank you JESUS!
Thank you to all who recently helped us gain legal protection services for this ministry as a religious group attacked it to gain it's donor list which they did not succeed and never will. We take that very seriously and protect it and David's minstry legacy and all else we do for the harvest of the souls into the kingdom of Jesus Christ!
The precedence litigated of Copeland vs Grassly is against any 3rd party getting access to the donor lists or activities, which includes the IRS that must follow very rigid guidelines in that sensitive area.
Jesus weop over a harvest field that was white. Why? It was too late because the chaff had popped. A golden filed can still be harvested and we are yearning to do taht evangelisim again! Thank you partners for joining us with that tenacity. Hallelujah!
Still The Same Vision. See the video 
A small ministry doing a BIG JOB.
Thank you for your help as our faithful staff train up interns for the
POST THE BLOOD LINE PROJECT of 2016-17
. We are so proud of them as they venture into broadcasting for CBN and Salem. We love and trust these students.
Harvest Projects Board of Directors & Advisors
PS:
Please continue to pray for our CEO on Medical Sabbatical: Dr S. Manuel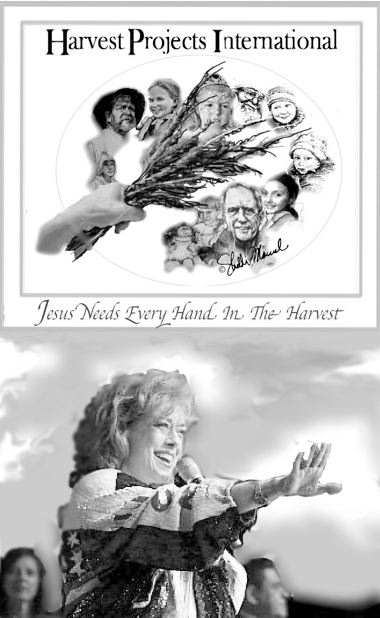 Put your hand to the plow, with Dr. Shelli and her staff. Jesus wept over the fields White for Harvest! Why?
Because a white field is a harvest gone by. It can not be harvested. It is mowed down as waste because the frost or fall rains came too soon and popped the kernals open to white instead of gold. Gold wheat is edible and a cash crop of great value. White wheat kernals are soured.
He prayed for Laborers as he looked upon the devastation and most likely had observed the farmers weeping hopelessly over such fields. The Jews would have been out in the country side working daily in their fields as always, while he passed by talking to his team.
Hook up with Jesus! Hook up with Harvest Projects International Inc.
Ameria needs and Awakening and so does the rest of this world of 7 billion souls, most of which are lost with out a relationship with Jesus.
Donate
or write us today to be a
volunteer
on a crusade with one of our board members or invite us to your local city.
www.resurrectamerica.com
+ Read More
Be the first to leave a comment on this campaign.