13
3
Help Zach Finish School to Become a Therapist
$488
of $5,000 goal
Raised by
13
people in 6 months
Zach is a non-traditional student at the University of Cincinnati working towards bachelor's degrees in both psychology and substance abuse counseling with the intention to work as a clinician and provide clinical services to underrepresented populations, particularly transgender and other LGBQ+ clients.
As a transgender man, himself, Zach knows what it is like to navigate health services that are often not well-informed in how to provide competent and compassionate care to transgender individuals. It was in Zach's own navigation of the healthcare system and his journey to recovery that he discovered a desire and passion for mental health and wellness. He returned to school after a one-year break following five years of study in English Literature to study psychology. After taking a few substance abuse counseling courses, he found a passion in learning about and working with substance use disorders, and decided to add the second major. 
Due to the toll his mental and physical health symptoms took on his body and psychological well-being, Zach struggled as an English major. However, he has since received adequate medical care and support, and is now thriving as a student of psychology and substance abuse counseling. Since returning to school in the fall of 2017, Zach has maintained his status on the Dean's List, receiving primarily As for his schoolwork. 
Zach is committed both to his own recovery and to becoming a more compassionate, empathetic, and informed student and person. He is committed to self-improvement and becoming a better ally to marginalized populations. Zach believes that it is these traits that will allow him to give back to and help his community, and to provide competent, empathetic, compassionate counseling services to those groups that are often ignored or dismissed when seeking mental health care. 
Unfortunately, Zach has run out of federal funding for school. While he is working with an organization to help pay for tuition in the fall and spring semesters, this still leaves living expenses and summer tuition to cover for the remainder of the 3 years he has left before he can graduate with his bachelor's degrees. As a disabled student, Zach is unable to work while taking classes, and needs to graduate in order to be able to both provide for himself and do the important work of providing mental health care to underrepresented groups. 
He is asking for an initial goal of 5000 dollars to help with living expenses over the summer of 2019. Once this initial goal is met, he will begin efforts to raise funds for the next stage of his education, the fall semester. Each semester will have a goal, and we will strive to meet that goal each semester over the remainder of Zach's education. 
By helping Zach, you are helping not just him, but also a community.  You are helping to provide more competent and valuable services to the LGBTQ+ community, and ensuring that there is a trans voice sitting at the table and advocating for the psychological welfare and care of transgender clients. No matter what you are able to offer in helping Zach to achieve this mission and reach his goals, any and all of it is greatly appreciated and will be put to good use. Below, you can see the breakdown by semester/date of Zach's goals. 
You can also help Zach out by visiting his new project on mental health and recovery. Check out "
Tales from the Bathtub: Recovery and Wellness with Zachary Reinstatler
" to see what he's working on and other ways that you can donate or support him. Additionally, if you'd like to be a part of Zach's journey and provide additional support to him, you can join his Facebook group at "
Help and Support Zach in Becoming a Clinician
 "
+ Read More
Update 1
1 month ago
Share
Proof showing my fall semester enrollment and my current program of study. I have not yet declared substance abuse counseling as my second major but will do so once I have gotten approval from the organization I am working with.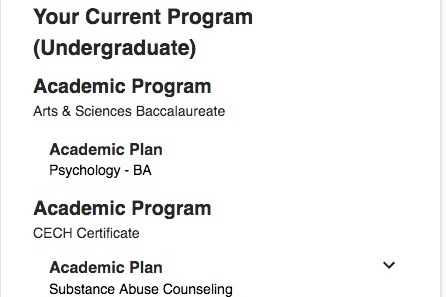 + Read More