Producing Heroes In These Streets
$1,065
of $2,000 goal
Raised by
29
people in 4 months
Created November 12, 2017
H.I.T.S Series Fundraising Campaign
Thank You for Checking Out Our Page.  We're  excited to share our series with you.
The H.I.T.S series is a mystery, action thriller. It's 
Taken
meets 
Set it Off
, meets 
Man on Fire
.  Yes! It's that intense.
The theme:  "Human Trafficking comes to the hood"
Prefer to donate via paypal, click:
paypal.me/HitsStopTrafficking 
H.I.T.S (Heroes in These Streets),  is a gripping series about human traffickers moving in on the inner city. Tracy, is a gold digger who's pressured by friends & family to change her career, when she, her sidekick B-More & The Crew, learn human traffickers invaded the hood & are snatching up young girls.
Ready to war with these traffickers because of things that happened to her as a child, Tracy impresses upon all that traffickers are the new enemy & vigilante justice will do.
***The H.I.T.S series was inspired by all the missing kids in the inner community. May they return home, soon. 
The H.I.T.S Cast - We'll begin filming the pilot Episode January/February 2018 & will continue filming till we complete a total of 8 episodes, which will be submitted to Netflix via a Video on Demand distributor who believes in & supports our project and has consulted us every step of the way.
Funds will be used for:
  Camera crew & Camera equipment, Insurance, Permits, Location fees, Makeup, Props, Special Effects, Editing & more.
The Feds (Task Force) when 5 girls missing in the same 10 block radius means human trafficking in the hood. 
The Crew - when hustling turns into becoming the Street Concierge of the North East.
B-MORE - when the notorius gunman is a young woman, whose father's a preacher & uncle's a fed.
As you can see, there's a lot going on in the  H.I.T.S series and we just got started sharing with you, but you can play a part in helping us make this series happen by donating & sharing this campaign with your friends & family and of course on your social media.
Prefer to donate via paypal, click:
paypal.me/HitsStopTrafficking 
Why Should You Donate?  1) Because we need your help advocating against human trafficking. This issue plagues all of our communities. Join us in our mission to shed light on trafficking in a way that is entertaining and enlightening.  2) because you love to watch a Good binge worthy, thrilling series that keeps your attention & has you on the edge of your seat and 3) "You want to see a diverse cast of great actors pull you into a series where worlds collide, thrilling plot twist run amuck, is action packed  & filled with endless drama."
Prefer to donate via paypal, click:
paypal.me/HitsStopTrafficking
 

Baybruh &  Dre -  When trying to survive the hood is 1st nature.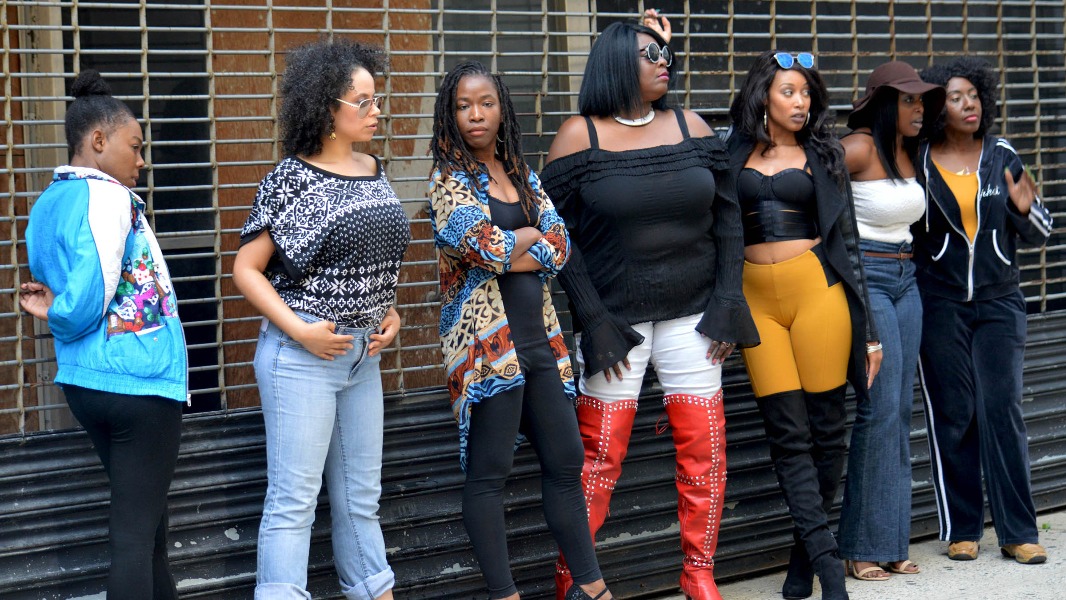 Women in the H.I.T.S series - when the police are on the scene because another girl's been snatched, the women around the way rally. 
Tracy's parents, where it all started:  When one woman's infidelity...let's just say the actions of one affect sooo many.
We are so grateful for your help.  Check out our Cool Perks for helping us achieve our goals. 
Ty, Banita & Khalil
***Another Cool Perk (especially for business owners & tax payers):  People Helping People, Arts & Entertainment, a non-profit organization, is one of the producing production companies & spearheading this fundraising campaign, so your donations are tax deductible. YES! Receive a tax credit by donating to this project today.
Prefer to donate via paypal, click:
paypal.me/HitsStopTrafficking
 

"The pulse is off in these streets lately. Something just don't feel right," - Ms. Jackson 
"My sons in the streets, my daughter m.i.a, I messed up teachin' 'em to hustle. I gotta try to fix this," - Butter
"We're gonna tear these streets apart to find you traffickers! !@#$%&?!" - Blue "
I look good.  I ain't got time for what they talkin' bout," - Lee Lee "
Been living off my hate & I'm not lettin her break me. I  just won't look at 'er," - Ray 
"Hate that I love her. I hate her ass!" - Ray
"I can't stand to be around 'em, seems all them old feelings comes back," - Tina 
"Tired of the BS, tired of bein tired. Just sayin" - Baybruh
"Now he knows I'm cool as hell," - Holly 
"Until you mess with my damn money!" 
"I might like EZ for my daughter, if he wasn't a thug," - TY
"I'm just tryin to help these young girls find self-worth. Who else gonna do it?" - Banita
"Always dreamin bout gettin shot; gotta be something better in the world," - TT
"She entertaining but, girl nuttier than a fruitcake," - TT
"I might as well face it, I ain't ever gettin over him, and we ain't ever gettin back together,"  - Tina Out on the ave 
Omar & Alisa - The Royal Couple of the Streets Buttercup & Alisa, like mother, like daughter-in-law 
Na'jee, E-Money, Shine & EZ 
Holly, Ms. Jackson & Tina 
Baybruh & Dre 
Blue & Khalil
Prefer to donate via paypal, click:
paypal.me/HitsStopTrafficking
More pictures, videos and info. about the series coming every Friday.
+ Read More
Update 1
3 months ago
Share
Thank you to everyone who donated. We ask that those who cannot donate at this time please share this fundraising campaign via social media, email & text and ask your friends and family if they can share it as well.

The funds that we have raised so far will be used toward filming our sizzle reel. With your help and the donations of others, we will continue to get the things we need such as special effects, permits, and other equipment to film the series.

We appreciate you and are hopeful you will assist us in reaching our goal.
+ Read More