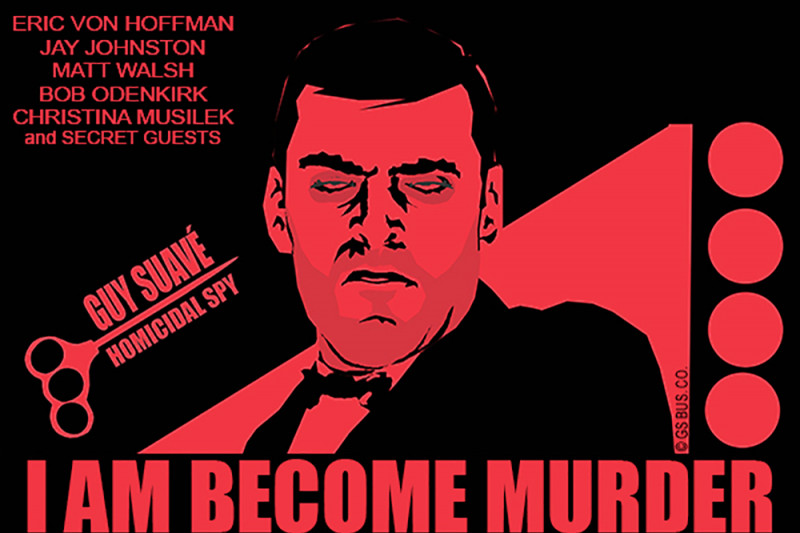 20
32
Guy Suavé graphic novel
$2,265
of $30,000 goal
Raised by
19
people in 8 months
39 plus pages to go! Let's do this.
Stay tuned for more classified information.
Check back soon - there's always new art, interviews, photos, etc.!
A note from Eric:
Hi folks, please keep checking back here for updates, and pass the word around if you're not too damn busy. For now, we leave you with some more insight into our graphic novel, a few rare behind-the-scenes photos from the Adult Swim pilot, and some new artwork. You'll find our normal campaign info just after the interview below. Spy ya later. (sorry about that) 
BTS Guy Suavé pilot: Stunt co-ordinator Monty L. Simons (from AMC's The Walking Dead) with Jay Johnston as Guy Suavé.
SECRET QUESTION: How will your graphic novel, Guy Suavé: Homicidal Spy in "I Am Become Murder," be different from other secret agent stories?
ERIC: We're throwing in everything that we love about this genre. The story spans the history of secret operatives, and pays tribute to the 1960's spy boom, of which we're huge fans.
BTS Guy Suavé pilot: Ian Roberts (UCB) as Boulderinski with director Clay Weiner and Jay Johnston.
BTS Guy Suavé pilot: Rich Fulcher (Snuff Box; The Mighty Boosh) with director Clay Weiner. 
SECRET QUESTION: What's your approach to the artwork?
ERIC: The look is a bit of an homage to the silver age Gold Key comics style, the ones based on popular television series of the day. That stiff, photo-realistic look you'd find in the Wild, Wild West and Danger Man comics. Beyond that, we wanted a very simplistic, quasi-1960s vibe.
Dr. Hammer, based on the character by Matt Walsh (Veep). 
Agent Licky Lick in trouble. 
BTS Guy Suavé pilot: Neil Barton ready for action.
SECRET QUESTION: Who are your influences from the world of comic books/graphic novels?
ERIC: Everybody. Jack Kirby, Dan Clowes, June Tarpe Mills, Alan Moore, Will Eisner, Gail Simone, Steranko, Don Martin.
SECRET QUESTION: What are some of your favorite comics?
ERIC: The League of Extraordinary Gentlemen I can read almost anytime. I loved the 1970's Captain America. Especially when he fought the insane Cap from the 1950s. Anything Gail Simone. Ghost World. And Dan Clowes' Eightball. Jack Cole's Plastic Man. Huge admirer of Will Eisner. Wally Wood. Our friends Brian Posehn and Gerry Duggan are doing great things.
Suavé and Licky: a romance in code.
SECRET QUESTION: When did you become a fan of the secret agent genre?
ERIC: From what I remember, it was probably the first time they showed a James Bond film on ABC. My mom made sure we watched it. It was Goldfinger, so the music and the gadgets hooked me. From there I latched onto The Wild, Wild West series, which for me was the next best thing to Bond. Then The Prisoner, Casino Royale with Peter Sellers, and MAD Magazine's James Bomb parodies. Which led me to create the first iteration of Guy Suavé, except he was called "James Bong." Though curiously no other drug references with that name. I think just saying bong was my idea of a drug joke back then. Perhaps the beginnings of my well-known comedy restraint?
Early Suavé: James Bong, and some rather poor lettering and jokes. 
BTS Guy Suavé pilot: Eric Von Hoffman, Rich Fulcher, Jay Johnston.
SECRET QUESTION: Should readers expect a full-on comedy?
ERIC: There is a lot of funny stuff here, we hope, but there's drama, too. How does one deal with an operative who can no longer be trusted to make a rational decision? Especially one with such deep ties in the industry. And on the other side of it, how does an agent who is cracking-up deal with maintaining that in-control, secret agent lifestyle?
Some folks have asked what the difference is between this and something like the comedy show Archer. And the answer is that Archer is part of a different spy family. The Get Smart style of spy spoof, which we also love. Guy Suavé is not a bumbler. He is probably the greatest secret agent ever. And there's a reason for that. He was created from the DNA of all the legendary spies.
BTS Guy Suavé pilot: Jay Johnston performing a hang-glider stunt. 
SECRET QUESTION: What other characters appear in this book?
ERIC: Well we believe we have some awesome female characters. The genre has always featured strong heroines and villainesses. Our story is also about an agent named Licky Lick. She's at a crossroads in her career and her life. Among her many accomplishments, she's also the first woman to turn down Guy Suavé's advances, and we show what a complete shit someone like Guy Suavé is when faced with rejection. We think elements like that make the story very relevant. Two more characters are Dagger Male, Suavé's best friend, and Christopher Beltsmell, an extremely jealous co-worker. Think Steve Coogan.
The history of Licky Lick: Susan Messing, Lindsey Stoddart, Nicole Steinwedell, today. 
Agent Christopher Beltsmell on assignment. 
SECRET QUESTION: What is the key to a good spy story?
ERIC: Well I know we're fascinated by the idea of "the spy who fails." Some of our favorite espionage stories feature operatives who lose big time. James Bond of course loses his wife and in the books he loses his identity for awhile. The Prisoner TV series was pretty much all about him losing every week. The Spy Who Came In From The Cold. And real life spies, like Mata Hari. Sidney Reilly. A secret agent's life rarely ends glamorously. But hey, cheer up, maybe this one will.
Rich Fulcher as Suavé and Matt Walsh as Dr. Hammer in Fingerball at Chicago's Annoyance Theatre. 
Beth Cahill (SNL) as Head in Fingerball at Chicago's Annoyance Theatre. 
Licky Lick in more trouble. 
Suavé in his element. 
You'll see a lot more behind the scenes photos in the book.  Okay, back to your normal campaign....
                                                              >>>>>>>>>>>>>>>>>>>>-<<<<<<<<<<<<<<<<<<<<
Hear Jay & Eric on Matt Walsh's podcast UCB Sports & Leisure!  Matt and the boys discuss the graphic novel and Chicago comedy history.
https://itunes.apple.com/us/podcast/ucb-sports-leisure/id333142802?mt=2
Guy Suavé: Homicidal Spy in "I Am Become Murder" A unique graphic novel by some of the creative minds behind Mr. Show with Bob and David, UCB, Moral Orel, and Girlfriend's Day.  For Mature Readers.
Executive Produced by Mr. Show's Eric Von Hoffman and Jay Johnston. With contributions by Matt Walsh (Veep), Bob Odenkirk (Better Call Saul), Christina Musilek (Dollface) and more.
Before Archer. Before Austin Powers. But obviously not before Danger Man (1960!). There was... Guy Suavé: Homicidal Spy. In this dark, twisting espionage story, the psychotic secret agent suddenly goes missing, launching a mystery that will rock the spy genre. And it's the story of a disillusioned female agent trying to escape the most dangerous first date ever.  This is a satirical commentary on the world of spies and the world we live in.
This is Book One in a trilogy filled with Jay and Eric's brand of satire, depraved personalities and awkward relationships. An epic tale of comedy, tragedy, action, and yes, Love! And this first chapter kicks it all off with a huge bang.  Featuring the likenesses of Jay Johnston, Matt Walsh, Bill Chott, Christina Musilek, Neil Barton, Bob Odenkirk and more.
Ever since their creation in the 1970s, the deranged Guy Suavé and other characters by Eric and Jay have entertained thousands with their appearances in Adult Swim pilots (see the unofficial trailer
here 
), live shows in Los Angeles, Chicago and New York (HBO Workspace, iO West, Annoyance, UCBTNY), comics, t-shirts and short films. Now Guy Suavé is back where he began, in glorious comic book form, for this definitive, once-in-a-lifetime project.
Book One includes:
-Complete novel-length story with over 200 pages of all-original artwork.
-Mini-comics.
-Mini-posters and games.
-Legendary contributors.
-Behind the scenes features and photos.
-History of this project.
-And much more.
-Hardcover edition.
-Full color.
-6.625 X 10.25 in.
-Publication is set for late 2018.
Donations will go to funding:
1. The completion of writing and artwork for Guy Suavé: I Am Become Murder. We're currently working on page 164 of a 210-page story - it will undoubtedly go longer.
2. Printing a beautiful edition of Guy Suavé: I Am Become Murder: full color; quality paper stock; signed by the authors and other contributors. Most of the funds are for printing and shipping alone because it's a huge book.
3. Publicity and promotion.
All donations will receive a special thank you in Book One up until it goes to press, unless anonymity is requested. Plus: A signed mini-poster, updates, secret codes, etc. Pledges $50 and over will receive a copy of Book One.
Stretch Goals: We'd love to send out extras, which may or may not include buttons and/or stickers.
Thanks everyone. We really appreciate the support. We want this graphic novel to be as amazing as we envisioned it.
About The Authors:
Artist/author Eric Von Hoffman is an award-winning filmmaker, writer, producer and graphic artist. He resides and works in Los Angeles. He is the co-creator of the Netflix original film, Girlfriend's Day, with Bob Odenkirk. Eric was a writer/performer on the influential sketch series Mr. Show on HBO and W/Bob and David on Netflix. Eric is the co-author/cartoonist of the best-selling humor book, Comedy By The Numbers, published by McSweeney's. He was a staff cartoonist for both Barracuda Magazine and Laugh Factory Magazine. Eric has also self-published his own comic book, Spine-biting Mystery Funnies, in Chicago and Los Angeles.
Author Jay Johnston is a writer, actor and producer who currently voices the character Jimmy Pesto on the FOX animated series Bob's Burgers. Jay was a writer/performer/producer on HBO's Mr. Show, where he created the classic sketch The Story of Everest, which is on everyone's "best sketch ever" list. He was a writer/performer on the Netflix sketch series W/Bob and David. He played Officer Jay on Comedy Central's The Sarah Silverman Program. And Jay was a producer, writer and several voices on the Adult Swim series Moral Orel.
+ Read More