GriffeyDreams - PeaceCorps to Pros
$16,320
of $30,000 goal
Raised by
53
people in 29 months
Mission:
To raise $30,000 which will allow me to realize my lifelong dreams of becoming a professional racecar driver

and..
to empower underprivileged youth with the opportunity and real-life skills that they need to succeed

Can you help me to do something great?
#peacecorps2pros
GriffeyDreams.com  


I've always had two dreams - to work in youth development, and to race cars in the Pros
Growing up, I had to hide my passion for the latter because financially and culturally, it just wasn't something I could bring up to my parents

Even so, by 13 I had read every single book on racing that I could get my hands on

At 17, after saving up for months to attend my first class at a proper racing school, I was invited back along with the fastest kids from the year for a potentially career-advancing scholarship schootout
I declined and used that entry free towards a college degree instead
And I haven't been able to sleep right since.




For the next 10 years, I worked in youth development and even spent 2 years living in the jungles of Liberia (West Africa), with no running water or electricity as part of the first group of PeaceCorps volunteers to return since the nation's 14 year-long civil war





And finally 3 years ago, I quit my jobs, gave up everything and went to Canada for a mechanic apprenticeship at a racing academy. After a 10-year driving hiatus and trading labor for seat-time, I finished the season setting laptimes equal to the chief instructor of the school

Back in California, I was able to earn some podium finishes & fastest laps in my first year racing karts, was just offered a professional driving instructor position by the nation's top racing school, and will soon be turning 30 in just a few months



Driving a racecar is unfortunately very expensive. Therefore, I've had to rely heavily on my ability to quickly study and learn to maximize my returns on the rare occasions I get to hop in a racecar. I am a firm believer in that if there is a will, there must certainly be a way. I have to be

In addition, I remain absolutely committed towards ensuring our youth, especially those coming from little opportunity or harder backgrounds have the guidance, self-belief, and skills they need to make it
I have a separate dream - a youth and racing-related nonprofit called DashRight that I have already successfully pitched to San Francisco's top nonprofit lawyers, as well as to numerous professional racing team owners


But first things first - I need to see what I've got behind the wheel of a racecar for an entire season, to earn some personal credibility in the industry for my future nonprofit efforts, and to see how far I can take my driving career based on my talent, work-ethic, and your help-

I need 30,000 dollars to race professionally by the end of this year - can you help me with my dream?

---

Your donation allows me to:
-buy a racecar & trailer = meaning for the very first time in my life, I will have consistent and considerable time in a racecar to practice, eliminate my weaknesses, and to race

I have come this far without ever owning my own racing car or gokart, or even safety equipment such as my own helmet - I have borrowed EVERYTHING till now and to be honest, as an instructor this is a bit embarassing to admit. However, if I can reach this fundraising goal the dividends of having my own racecar will undoubtedly be HUGE

-campaign a full and partial season racing in both SCCA Divisional and Majors Competition (top amateur series in the U.S.) along with additional track-time to train

-shoot for a goal to race at world-renown Indianapolis Motor Speedway for the 2017 SCCA Runoffs (shootout between the top amateur racers in the U.S.) 

-compete in two Pirelli World Challenge (Pro) race weekends at Circuit of the Americas (the new F1 track in Austin, TX) and Mazda Raceway Laguna Seca in Monterey, CA (my home race)

-purchase data, video, & telemetry equipment and software to study my driving and car physics (so not just using a notepad and making guesses anymore)

-pay for licenses, entry fees, tires, transportation, fuel, etc

---

For the longest time I had so much personal self-guilt about choosing to do something so 'selfless' in youth-work, as opposed to doing something so 'selfish' in auto-racing
Going into Africa, I truly believed that after two years, development work was going to be my life. But it was my students that made me think otherwise
If I asked any one of them now, 'If you had the opportunity, would you go after your dream?' I know what they would say -  'Yes, Mr. Fukuda. Go racing'

I want to thank you so much for taking the time to hear about my dreams. I hope that you can assist me in some way, as well as come along with me for the ride into victory lane and eventually the nonprofit world

Lastly, if you know any other fellow auto/moto enthusiasts, advocates of charitable or human causes, and supporters of grassroots efforts and childhood dreams - I implore you, please share my dream with them
Auto-racing is a blast, and you will have a ridiculous amount of fun - you have my word. From the bottom of my heart, thank you.
-Ken 'shoota' Fukuda  /  #24

https://www.linkedin.com/in/fukudaken 
www.griffeydreams.com
#peacecorps2pros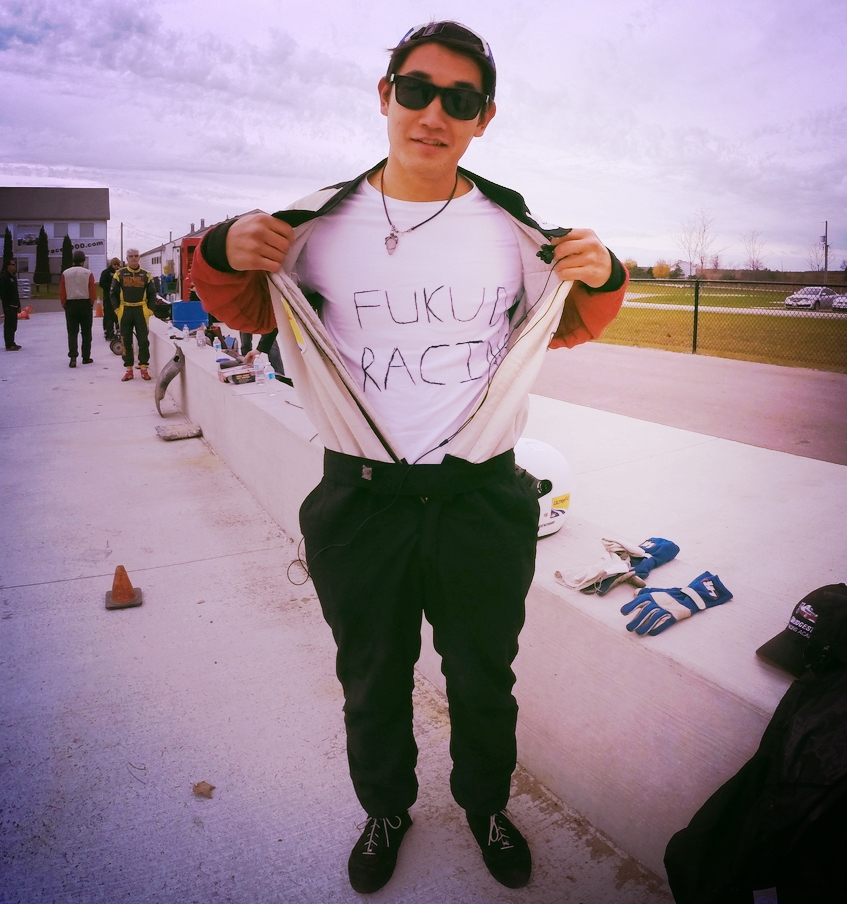 If I can inspire, motivate, or help anyone else that's had their sleep ruined night after night because of their dream, or is perhaps getting older and thinking that there's no way, or maybe you're extremely financially burdened, or otherwise - shoot me a message and I might be able to pass on some useful things that I've absorbed along the way
Best of luck,
Ken
+ Read More
Be the first to leave a comment on this campaign.