1.1k
12
Greg Needs A New Right Foot!
$154,989
of $200,000 goal
Raised by
1,161
people in 6 months
Dear Friends and Family,
As many of you know, Greg Strauss was involved in a horrific accident on April 5th while working abroad following his life-long dream of crewing on a mega yacht. With dedication and hard work, while training in Antigua, Greg landed a full-time, professional crew position on a sailing yacht. Greg's dream became a reality and he was excited to begin his worldwide adventure traveling and working on the vessel.
While anchored off the island of Grenada, Greg was enjoying a relaxing day with his crew at the waterfalls when the accident happened. Severe damage was done to his spine along with fractures of his right foot and ankle. Thanks to a very gifted Cuban trained Neuro surgeon, (Dr. Nillo Alveraz, age 28), Greg's fractured back was fortunately stabilized enough to be quickly airlifted back to the United States. Upon arrival in Florida, Greg's back was permanently repaired and stabilized. Then, efforts turned to multiple surgical attempts to repair the compound fractures and soft tissue damage to his right foot and ankle.
However, to give Greg the best hope to ultimately enjoy a pain free and active life, it was necessary to amputate Greg's right foot below the knee. Greg's dream came to a halt and his future life became altered. But, with Greg's character there is absolutely no doubt hope and courage will prevail. He has always stepped up to any challenge placed in his path.
Greg is now on his new road to recovery assisted with the loving support of his doctors, family and friends.  Insurance will cover many of his medical costs but not all. Most importantly, he will require access to the best available services and prostheses for him to live his life to its full potential.  I'm certain all those who have known, loved and admire Greg will want this for him too.
The cost of prosthetics will be significant and an ongoing financial burden. So please, let us all consider "stepping up" for Greg. Please do donate to Greg's recovery as he deserves the best doctors, therapy services, and most importantly, prostheses out there to achieve a full recovery and regain his healthy, active lifestyle once again.
No donation is too small. Let's work together to make sure Greg is given the means to ensure full recovery.  Our contributions are perhaps "one small step" for us and "one giant leap" forward for Greg. We love you Greg-you got this!
*For those wondering, Greg's father, Ed Strauss is listed as the main beneficiary of this campaign. This means all your donations will go directly to Greg through his parents. We thank you all for your love, support, and donations!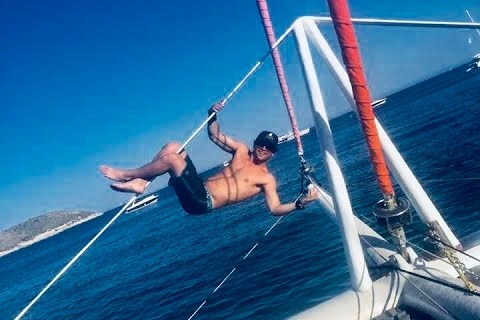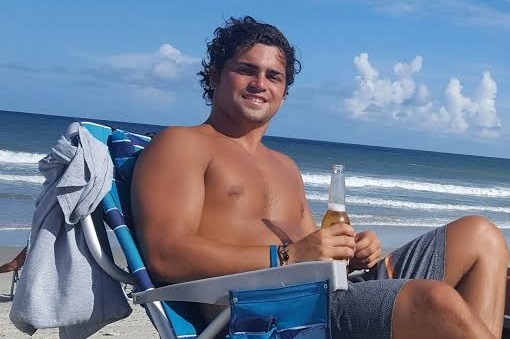 + Read More
Update 2
5 months ago
Share
"After 42 days, I have made it home. With the help of many amazing doctors, nurses, physical therapists, the support of my family, my friends, my captain, my crew, my town, and my own strength, I am able to sleep in my own bed once again. I would especially like to thank one spectacular individual, Dr. Nilo Alvarez; the 28- year- old Cuban neurosurgeon in Grenada who first treated and stabilized me at the time of the accident. His confidence and competence has given me the chance to walk again one day and I am forever grateful. I have no words profound enough to express this thanks but rather have promised Dr. Nilo he and I will meet again one day, walking side by side, and enjoy a beer together.

My gratitude for all of your prayers, love, support, and generosity is endless. Each and every one of your messages of encouragement has inspired me each day to regain strength, keep pushing, and move forward. I don't know if I ever will be able to express how much you all have helped me during one of the most traumatic experiences of my life, but thank you to everyone who has been a part of this process from the bottom of my heart.

I am beyond happy to be home with my family and out of the hospital. However, my journey to full recovery is far from over. I will continue to strive each day to get stronger, move forward, and reach new goals with your continued support, messages of encouragement, and love. As I face the long road ahead, I will be sure to update all of you as I progress. Again, thank you for all you have done so far!"

Much Love,
Greg
+ Read More
Update 1
6 months ago
Share
Greg and his family are absolutely overwhelmed with gratitude and thanks after seeing the outpour of love and donations from friends and family in just 24 hours. Greg's recovery to a fully active and healthy lifestyle along with the lifelong demand of prosthetics, future vigorous physical therapy programs once back in Connecticut, and present medical bill costs presents an inevitable financial burden for Greg and his family. For this reason, we are raising our goal in hopes to give Greg the absolute best prosthetics out there and ensure full recovery one day. We thank you for your astonishing generosity and in advance, thank you for your continued donations, messages of encouragement, love and support.
+ Read More
Read a Previous Update