509
7
Greenfield family loses home in tragic fire
$18,655
of $30,000 goal
Raised by
494
people in 4 months
UPDATE 05/24/19 We are so deeply grateful to you all for your support. We have written an update and thank you message. Please go to the update section to read this message.
A tragic fire destroyed the family home of Cheryl Greenfield and her son, Levi Greenfield, in Ashland, Wisconsin on Friday night, March 1. Thankfully, both Cheryl and Levi are safe! But their beloved cat,  Nyx, is missing.



The fire spread so fast that Cheryl had to flee without her coat or wallet. They've lost nearly everything: Furniture, clothing, housewares, family heirlooms and antiques, computers, books, personal papers, and more. 
Here's the story as covered in the Ashland Daily Gazette.

Their neighbor sheltered Cheryl and Levi on Friday and Saturday night. They're currently looking at temporary housing while they figure out what to do next.  



The garage is still standing, but the house has been destroyed by the flames, smoke, and water damage. The temperature in Ashland is currently below zero, so all the water in the house has turned to ice.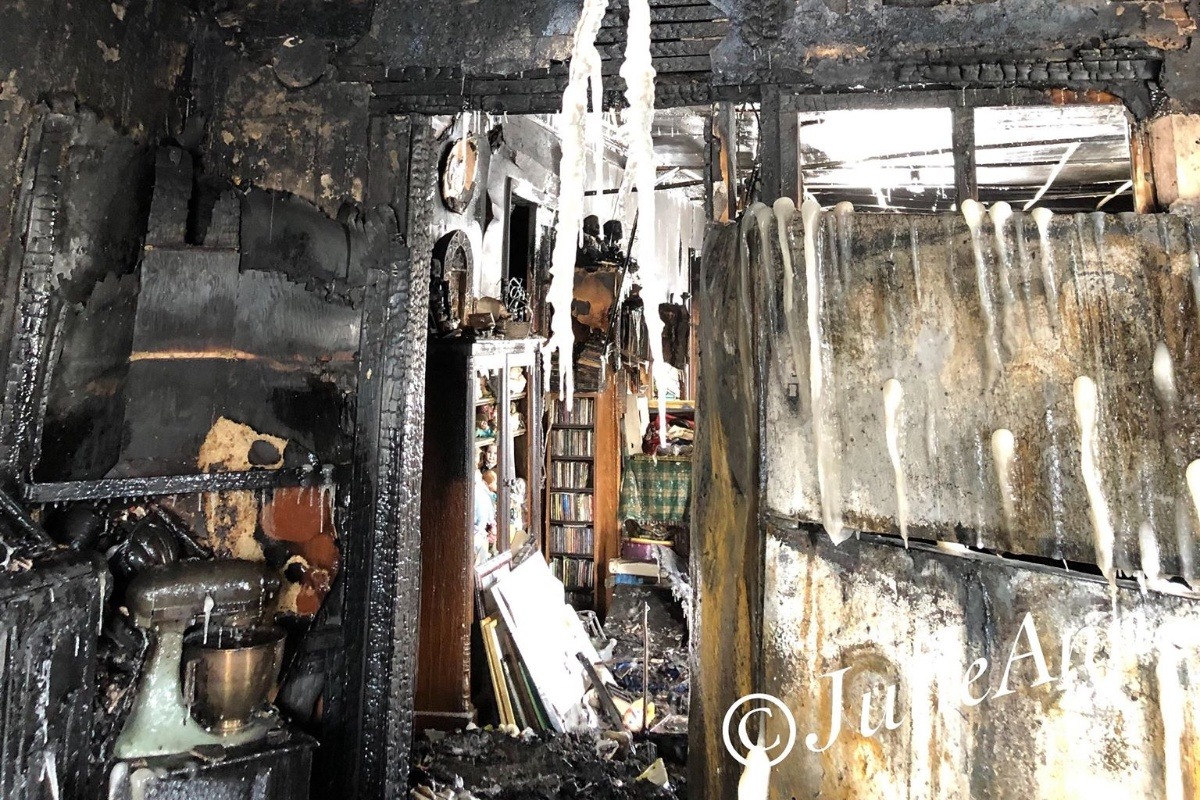 We (Cheryl's sisters, Louise and Myrna, and sister-in-law, Michelle), and Cheryl's children/Levi's siblings (Joe, daughter-in-law Sarah, Rob, and Becky) are devastated.

No other immediate family members live in or near Ashland, so we're doing what we can to help from afar. We're reaching out to you, our friends, colleagues, and communities, to help our family members in need. 

The family is happy to welcome Julie Ann to Team Greenfield. Julie Ann, who lives in nearby Washburn, is Cheryl's friend and colleague. She took several of the photos in this post. Thanks for your help, Julie Ann! 

Cheryl and Levi's friends, neighbors, and co-workers, as well as local businesses and organizations, have been extremely kind in helping them with immediate necessities, so they do have a change of clothes, shelter, and food to eat.

Cheryl has insurance, but insurance rarely covers the total of such a tragedy. It will be a while before we know the full extent of the need, including the immediate need for expenses for temporary housing. We're starting the fund at $30,000 so the family can move forward as quickly as possible.

This photo below is inside the house before the fire. Their sunny, cozy little home has been destroyed.



Thank you for your love, support and donations at this sad time. We will keep this site updated.


Becky, Joe, Sarah, Louise, Michelle, Myrna and Rob
+ Read More
Update 2
1 month ago
Share
05/24/19 A message from the Greenfield Family
We are so grateful to all of you for your support and wish to express our deep gratitude as well as update you.
It has now been close to three months since the fire and Cheryl and Levi have been putting their lives back together. It's been a hard situation to say the least.
Much to our relief, the house was covered by Cheryl's insurance and it was considered a complete loss. A friend provided Cheryl and Levi a home to stay in until they could get a permanent living situation. We are so grateful for this generosity and it made this whole process much more manageable. Cheryl has now purchased a home less than a mile away and they have moved in. This house is much smaller, 2 bedrooms, but it was affordable and hopefully will provide her with all the basic comforts that she needs in the years to come. 
Most of their possessions were lost in the fire, but amazingly, not everything was. It is very difficult to lose the things you have grown to love over four decades. This is one of the hardest parts for her. 
Nyx, the cat, did not make it out of the house. Levi in particular was very fond of the cat. Nyx is still being grieved. Levi has adopted a cat named Miranda from the animal shelter and appreciates her company.
The community really came together to help Cheryl and Levi through this difficult time. Hundreds of you made donations through this gofundme. Many of you sent thoughtful and beautiful care packages to them and some of you paid them a visit in person. We are grateful beyond words for all the good people of Ashland who assisted them and everyone from around the world who helped. The community did everything that our family could have ever dreamed of in a situation like this. 
Many of you donated because you follow Rob online. He has written a thank you to each of you that you can read at
http://www.bit.ly/RGThanks.
Again we are so deeply grateful for your support. In a dark time you brought us light and together as community you helped us overcome what could have taken us down. 
-----
A message from Cheryl:
Before the fire, I had a comfortable life. I felt like I had accomplished a lot of my goals and had a lot of plans and time to carry them out. I had a great set up- compost bin, flower gardens, pantry with wholesome foods and cooking utensils, art supplies and lots of stuff I collected, enjoyed, saved and stored. One of a kind creations of my own and antique finds. Memories of my four children and their school days and travel mementos. Things take on a meaning and value and create a comfort zone in an alien world. I didn't know a dragon was coming.
How do you go on when all of that is suddenly ripped away? Especially the place you sleep and dream every night, and cook and eat? The mind goes into shock. Overwhelming feelings of loss and fear... What is the unknown ahead... and sadly feelings of failure. And questions... Is there anything left? At first, it was difficult to just get about . I could only move physically like an empty shell. Everything was on automatic and it was very difficult to sleep. Right away I began to rethink my life. BUT....Right away people stepped in, I mean RIGHT AWAY. When I was still standing outside my house with the fire trucks arriving, my neighbors took me in. The very next day my sister Myrna started the gofundme and Rob posted it on his Facebook page. Julie came to see me right away and was there to witness the devastation. Rebecca's father and his wife offered us a home to live in. The love and support that flowed in and the ability to read the posts, the contributions and gifts from everyone, gave me a lot to think about instead of the fire. I know it is just stuff but it takes on a meaning. When I saw the fire starting to eat it all up and the faces of deities in the picture frames burning, I heard a voice in my head saying don't look for me here anymore. I am not here. I imagined a phoenix swooping in after the dragon.
So, I am trying to say that you were all here for me. And the support of all the people on the gofundme who added a word of encouragement and a dollar and more made the experience bearable. Coming up on 12 weeks now, there are still painful feeling of loss for my happy life and a home gone. Wondering what happened to Nyx... But on top of that is a feeling of warmth from the people, young and older, known and those who never met me, who cared, who reached out and made a world of difference to a broken heart. In the words of another, "here's to new beginnings and silver linings,"
Eternally grateful,
Cheryl Marsha Greenfield
PS: Don't save it up. Do it now. Use it now. Read it now. Make it now. Enjoy it now. You don't know what's coming next.
–---
Deep gratitude, health and happiness to each of you!
Becky, Joe, Sarah, Louise, Michelle, Myrna and Rob
And special thanks to Julie Ann Flones for joining Team Greenfield and helping out. 
+ Read More
Update 1
4 months ago
Share
Thanks to all of you for your words of encouragement and donations to help Cheryl and Levi Greenfield cope with the loss of their home after last Friday's devastating fire. We've posted a photo taken this morning that shows the house all boarded up.

Cheryl is still waking up in disbelief that her home is gone. She's struggling to get through everything she needs to do to recover from the fire, but she's also overwhelmed with gratitude by your support. She's deeply touched by your kindness at this time of need.

As some of you know, Cheryl went to the School of the Art Institute of Chicago and has continued to create art all of her life, She's lost most of her original work, her art reference materials, and the miscellaneous objects she's collected for years – beads, buttons, bells, etc. – for use in mixed media pieces. We're posting a sample of her art from before the fire.

We do have some good news. A family connection in Ashland has offered Cheryl and Levi a place to stay. It's a relief to know they're safe and sound in a comfortable home as they figure out what's next.

A lot of people have offered to donate housewares and clothing. We appreciate your offers, but Cheryl and Levi may not be in a permanent place to live for a long time, so at this point, the best thing that people you can do is make a financial contribution or share this GoFundMe.

We're already half way to our goal. If you keep sharing, we hope to make it all the way there. A contribution of any size is greatly appreciated.
+ Read More
Read a Previous Update