Go Mo: Mohamed Kargbo education fund
£8,627
of £11,000 goal
Raised by
131
people in 32 months
"I want to get this qualification and learn more, so that I can go back to Sierra Leone and try and help as much as I can to make sure that the children there get the kind of education they deserve. Why? It is simple. I know I can bring changes. I cannot change things for everyone but I can be someone who will one day lay a foundation for children coming up. My aim was always to become a professional sportsman but I also know that more important than that is education. For children in Sierra Leone, they do not get the opportunities to get the kind of education they deserve. I want to make a difference, and I am asking you to help me do that"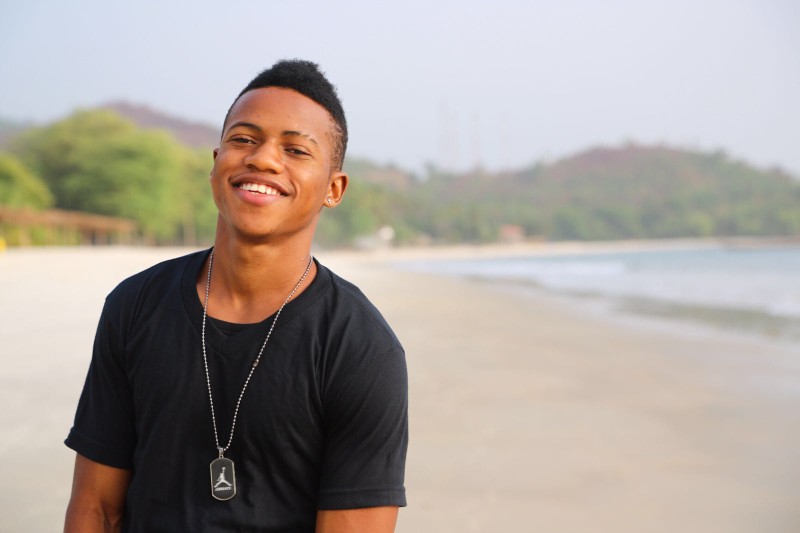 My story
My name is Mohamed Kargbo, I am 20 years old and I am from Sierra Leone. I want to thank you for taking time to read my story. I am writing to you today because I want to ask you to invest in me. This is not easy for me to do. I hate to ask anyone for money but I do not see this as a charity handout. I see this as people investing in me so my potential can be realised and I can help others from similar backgrounds to me with the experience I gain. I am asking you to invest in my college education so that I might aquire the skills I need to help others from my home country reach their potential.
Sierra Leone is country I am proud to be from but my life has not been easy. I grew up in Freetown, the capital city. I have always been rich in love from my family but poor financially. Sometimes we have struggled to even have enough to eat to fill our stomachs. I started playing football when I was a small boy, I quickly picked up the nickname Zidan. I love football but I also love learning. I was falling behind at school though, money was a problem and I would sometimes go out to help my mum by selling in the market.

I was blessed as a young man of 14 to be chosen to play for five years at a professional football academy in Sierra Leone. I was spotted for my talent but it gave me a chance to study again as well. I played football every day and I learnt so much too! .... But then Ebola came, my time at the academy ended and the academy was closed and despite being proud to have gained my IGCSE certificates and a lot of wonderful sports experience I felt like I was back to zero. Unable to afford further education and wanting to do so much more in my life I have spent the last year focused on finding ways to achieve my goals.
I am not someone to quit easily - I gained this strength from my mamma. My mother is an amazing woman. She was pregnant with me during the civil war in my country. She kept me safe as a baby. She has worked hard all her life for me, her and my father. My mother still goes every day to sell fish. She is up at 5am ready to do that for our family. All my life my father has also been there for me... making sure I am up in time for class. Making sure I do not miss a match. I owe a lot to my family.
The area I grew up in has problems. More and more young men my age are going into 'cliques' (gangs)... they are getting caught up in violence and other bad things. I have always stayed away from that life but I understand their frustrations. Poverty can make you do some crazy things. I hate seeing my country having these problems and believe we need to be the ones to make a difference. So now I want to do more with my life. Not just for myself but so I can help others.
My time at the academy and recent experiences have shown me that I have the skills not only to play football but to also coach others. I am good with children and love especially helping other young guys. At home I sometimes stay out and help the young kids in my area with their sport and education skills. I have my FA Level 1 coaching certificate and am also studying English which is an important skill to have. But I want to train to be a professional coach and sports leader, one who can work with children in Africa and change lives through sport. To do this there is no option for study in Sierra Leone. We have no courses for this there. Children in Sierra Leone are passionate about sport and I have seen how well it can work to change lives – it can go hand in hand with education.
I have family friends who live in the UK in Southend-on-Sea who I love and trust. They are able and willing to accommodate me and support my living costs. But they are a young family working hard just to make ends meet for themselves and can't afford tuition fees as well. I would like to study Sports Science and Exercise while continuing to develop my coaching and teaching skills. The plan would then be to start giving back through academies the way I was once helped as a young man. As an African man I would be able to not only offer my technical skills but also my own life experience. There are many foreign coaches who travel to Africa to help young people there but I want to inspire African youth that they can do things for themselves too. I have had a tough life and am well placed to encourage and inspire others who are going through the same problems. But I need a helping hand to enable me reach these goals.
I have been accepted on a two year HE Diploma in Sports and Exercise Science course with Writtle University in Essex, I can then go on to complete a degree if I do well. I have also got an application pending to study at the College of Westminster in London (BTEC Extended Diploma in Sport with additional qualifications in coaching)
I know this is a big ask but my family told me never to give up on my dreams.
So why should you help a young guy from Sierra Leone? There are thousands of other young guys like me right? Maybe that is true... but the difference here is me. I am determined not to waste my life and I know I have a lot to give the world. Help me make that difference. Help me do that today. I want to be someone who makes a real change for my family, for my community and for my continent.
My dream and what do I need?
- Two years of study in Sports and Exercise Science (HE Diploma) at Writtle College in Essex or two years of study at City of Westminster College in London.
The money raised here will go towards my tuition fees, visa, flight costs, UK transport costs and exam fees. My UK friends will support other living costs and I will also work as my visa allows when I am in the UK to support myself.
I am going to initially fundraise towards my first year of costs but would love to raise the whole amount as soon as possible.
Funds needed:
£20,000 - To cover fees and additional costs as outlined above.
My commitment to you
So many people ask for money on these pages and then you never hear from them again. This is not me! I will do regular updates and thank yous because I deeply appreciate everything given.
To everyone who gives: If I do not need the full amount of money raised or if I fail to make enough to cover the full costs of my studies, I will donate what I do not spend to an education charity in Sierra Leone to benefit others.
This means the world to me and while I know I may be shooting for the moon I hope that you can at least help me reach the stars so that one day I can help other young people like me.
+ Read More
Be the first to leave a comment on this campaign.