Reach & Teach - Go & Grow
$800
of $3,000 goal
Raised by
10
people in 20 months
Life often brings unexecpted things - opportunities, hardships, and even blessings.  
Just like getting caught in the rain without an umbrella - when life showers us with the unexpected - we have a choice. We can duck and run.  Or, we can look up, smile, and even let it inspire us to enjoy the moment.  
A couple of weeks ago I was approached UNEXPECTEDLY by my friend, Ana. She asked if I would pray about traveling to Guadalajara to speak to a sweet group of women at the end of July (YES< this month!) Each year, our church sends a missions team to go, serve, and minister to the people of  Calvary Chapel Guadalajara. And, she wanted me to pray about coming to encourage the women during a "Day of Refreshing."
While my first response should have been - look up, smile and pray. It honestly was, "Me? Are you sure?"
As I spoke the words, I was reminded of Moses and how he questioned his calling with his own version of "Me, Lord?"  In response to this question, God firmly pushes Moses out of his comfort zone and into his calling. 
Exodus 4:12 says "Now Go! I will be with you as you speak and I will instruct you what to say." This verse has become my instruction, my motivation, my comfort, and my hope as God calls me to reach women.  I have it written inside every binder I place my speaking notes in. It's on the first page of my ministry journal.  It is underlined and circled and marked in my Bible. "Now go" can be seen boldly through the yellow highlighter that marks it as instruction. And, "I will be with you as you speak," finds itself marked with pink as I cling to this promise from God. "And I will instruct you what to say" is bold with blue to remind me that God is faithful and trustworthy in my life and  in my ministry. 
Because this trip came up UNEXPECTEDLY, there have been a few added expenses. While I wish that I could just easily cover it all, it's just not that simple. 
There WAS a small gap in what we have and what we need to get me to these sweet women.  (The $500 funds needed for this mision trip have been MET thanks to GENEROUS donations.) Will you please partner in prayer with me as I GO!   Ana has told me that the women will be so blessed by someone traveling to their home town to encourage and lift them in the Name of the Lord.  Here is a picture of the precious ladies I would be ministering to.
LIFT women - that is always my desire as I speak.  I want to usher them close to Jesus by teaching them TRUTH from His Word. I want to encourage women by showing them how FULL of grace our God is. I want to help them to lift their hearts into the trustworthy hands of Christ - SO THAT they can experience His redeeming power in their lives.  I want to help them to see that no matter where they are Jesus is what they need.
I would value your prayers as I prepare for this trip.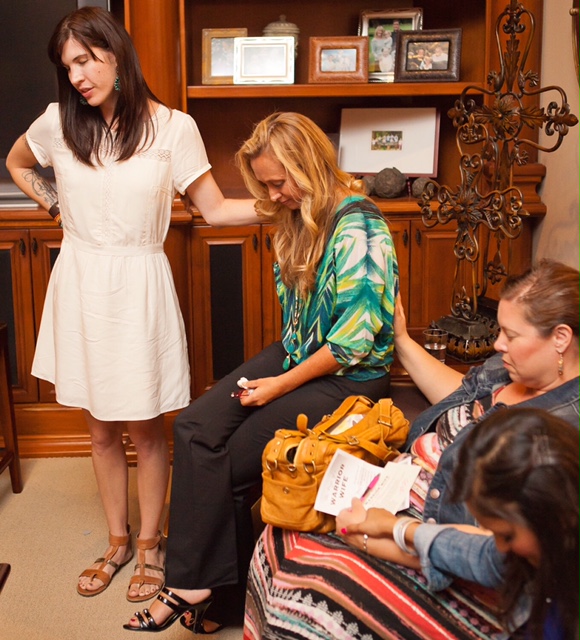 Your prayers will fill me and encourage me as the trip draws near. This trip to Gaudalajara is unexpected. It is new territory.  It is God pushing me to go, and to GO NOW.  I've stepped out in faith - into the unexpected call. I'm trusting that everything I need in order to make this trip possible will happen if it is His will for me to speak into the lives of these precious women. 
In Mark 16:15 Jesus says, "Go into all the nations and preach the Good News."  I've always read this verse and thought - how blessed are those that actually get to travel and do this. I do speak the Good News wherever I go.  It's just that up until now that has been in my own backyard, in my own country. The door to travel hasn't been opened. I've supported and prayed for others as they went, but never had the chance to go myself. So, I am beyond excited to be given this opportunity.
As I teach, I am constantly aware of the need to continue to learn. Therein lies that second layer of this campaign. When I return from teaching in Guadalajara, I will begin to preapre for a learning and studying trip to Israel. I am so blessed to have the opportunity to go and grow in the Holy Land. I can not even begin to imagine how seeing the places that Jesus did His minsitry will impact my heart and soul. I am excited to learn all that I can while I am there. I want to soak in every detail so that I can pour out those details onto the women I minister to when I return. What a joy it will be to add this layer of learning to my studying. I am currently fundraising $2500 through a variety of avenues. If The Lord leads you to contribute, I would be thrilled to have your support. 
And, I encourage you to set your heart to look up to Him when life sends you the unexpected. Look up to Him and look around to those who would stand in the gap with you. 
Standing on the Rock and expecting great things!
Debbi
You can follow my ministries at
www.facebook.com/iamawarriorwife/
www.facebook.com/1stepcloserministries/
And, you can check out my website at 
www.debbigarcia.com
www.1stepcloser.org
+ Read More
Update 1
20 months ago
Share
I'm am so grateful to say that I have reached and exceeded my needs for this trip. Thank you so much for your generous support. You have blessed me so much!

My expedited passport arrived - so, I am now good to go!

I would value your prayers as I travel. I'm traveling alone separate from the team - so, prayers for safety would be great! And, please pray for God to use my words to bless these sweet women. I will be taking to them about being "Secure In Christ." And, I am trusting God to knit our hearts together for His glory!
+ Read More
Be the first to leave a comment on this campaign.