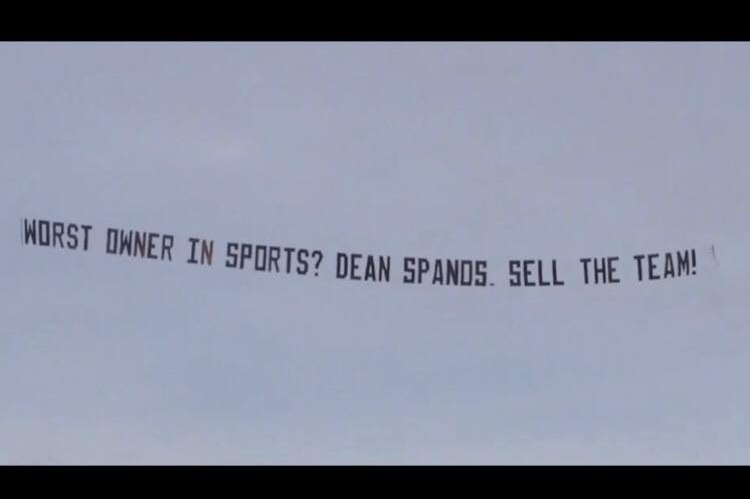 106
12
Baby Dean Spanos
$4,932
of $10,000 goal
Raised by
108
people in 13 months
I just wanted to say thank you to every single person who donated to last years "The Fight for LA billboardsky"GoFundme!
https://www.gofundme.com/7qwt4-the-fight-for-la-billboards
The work we did by generating national media, going viral and making our voices heard was the whole point of this campaign! The Chargers were absolutely slaughtered last year by the national media about the move. Our banners just made it worse for Dean Spanos. Almost every single media outlet went after the Chargers, saying what a terrible decision it was to leave San Diego for another city who doesn't even want them. Even the LA Mayor, Eric Garcetti said "it would have been nice if they could have stayed put where they are because San Diego has a huge fan bases, there's a big tradition"
The best part about last year was finally getting to Dean Spanos after many fly overs. Dean Spanos tried to stop us from flying our banners over the StubHub center last year and it was hilariously pathetic on his part.
https://fox5sandiego.com/2017/09/28/faa-denies-dean-spanos-request-to-stop-banners-from-flying-before-chargers-games/
So what's next? The fly overs will continue, if you donate, you will have a chance to help us what should be on the banner whenever the Chargers have a home game. I'll have more info to announce later but if we hit this goal, we can fly a plane over StubHub every single games home games.
- SD Sign Guy
+ Read More
Update 1
9 months ago
Share
We had Bleacher Report , Sports illustrated, ESPN and Ice Cube all cover or tweet about the flyovers this year, we must not stop. Dean Spanos can't be let off the hook so easy, let's not forget he tired to get the FAA to stop us from flying last year. Learning from people who know Dean Spanos personally, everyone knows that Dean is extremely awkward and hates when people talk about him in any sort of negative way. The flyovers CLEARLY get to him and make him upset, especially John and AG. This is why we must keep flying for that exact reason. The NFL commissioner saw our planes flyover the stadium two weeks ago, he knows that these planes are coming from San Diegans. We must keep San Diego in the minds of the NFL. You all saw the report of the Chargers not being viable in LA, we must keep the pressure on! love you guys!

SD Sign Guy
+ Read More