Girls Skate Day Int. & Papercut Zine Library
$385
of $5,000 goal
Raised by
8
people in 3 months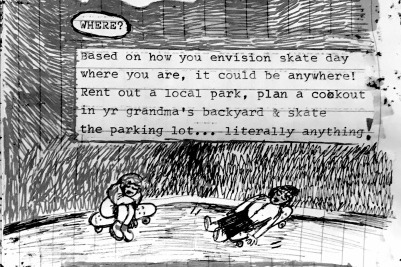 Hello zine-sters & friends!

We are raising money to help keep Papercut Zine Library open to the public for the next few years and to fund projects such as the Girls Skate Day archive.  More about what we are scheming at PZL below


On Sunday, April 21 we will be asking girls/women/non-dudes to skate together in solidarity all around the world. All you have to do is register and skate on 4/21, thats it! Once you register, your name/alias and city will be listed on the GSD google map where Papercut Zine Library will be creating and maintaining an archive of girl/lady/nb skate teams and individuals  from all around the world. You can choose to make your email public so other girls can find folx to skate with in the area. The GSD map could be a valuable resource for finding, teams, sponsors, your new best friend?? Who knows! 

-----------------------------------------------------------------------------------------
If you're in the Boston area, come by our event co-hosted by the Cambridge Science Festival where we will be talking about how skateboarding changes your brain and physiology. We'll also touch on how how for girls it is literally a revolutionary act to skate. How? You'll have to come by to find out! (or check GirlsSkateDay.org a few weeks after the event where we will post he science in a zine).

Here's the fb event: https://www.facebook.com/events/422857128456988/
-----------------------------------------------------------------------------------------


====================================
More about Girls Skate Day (GSD) International
====================================
April 21st, 2019
A day to make space for women/girls to skate in solidarity.
  * To take part simply register
here
and skate on April 21st, that's it!
  * If your skatepark would like to host a GSD event on April 21st or you would like to find others to skate with in your area, simply
register
at the same link but be sure to make your contact info public so others can contact you on the googlemaps page. If you don't, all your info will be hidden by default.
  * To find out more about GSD, go to
papercutzinelibrary.com
or
girlsskateday.org
and in the menu, choose the "girls skate day" tab.
  *
Boston's GSD  event
 will be in collaboration with the
Cambridge Science Festival
and will take place from 12pm - 4:30pm. We will provide free skateboarding lessons from 12pm - 4pm and from 4-4:30pm there will be a short chat on how skateboarding changes your brain and physiology, brought to you by
NeuroBoston
  and PZL's
Science Punx.
====================================
More about Papercut Zine Library
====================================
In case you haven't heard of us...Papercut Zine Library  is a free, volunteer-run
lending library with a collection consisting of 16,000+ zines & independent media.
(Including but not limited to) ... politics, comics, multimedia, DIY guides, queer &
gender politics, feminism, race, class, foreign language, bikes, travel, health/sex, XXX, parenting/education, environment/animals, religion/spirituality, humor, art/film, fiction/poetry, and music.
The zine library is located in Harvard Square in Cambridge at the Democracy Center and is open  to the public every Sunday from 1-5. We operate using a non-hierarchical consensus based model. Papercut works on a variety of community organizing projects from zine workshops with youth to cataloging with Simmons Library / Info Science students.
We are raising funds for an array of projects in the new year & we need your help!
Here are some of the things we have cooking in 2019...  
> International Girls Skate Day
> Creating an archive of girl/lady skaters from around the world  
> Becoming a 501c3
> Collaborating with the Cambridge Science Festival
> Recat project and Alternative Spring Break in collab with Simmons University 
> Harm Reduction Workshops
> A working laptop (physical laptop donations will also be accepted!)
> Zine Workshops @ public schools, universities & Boston Public Library
> And one librarian's dream: having resources for a paid library internship for highschool students
We greatly appreciate any help, no amount is too small! (=
If you have any questions, don't hesitate to reach out or stop by Sunday between 1pm and 5pm! 
<3 <3 <3
+ Read More