GlobalGirl Media CA Training
$2,965
of $10,000 goal
Raised by
16
people in 15 months
GlobalGirl Media promotes the voice and leadership capacity of teenage girls in under-served communities by teaching them digital storytelling to affect social change. Through workshops, mentoring, project-based learning and access to a worldwide network of media partners, we prepare marginalized young women to be competitive in an increasingly tech and media-driven world. By turning up the volume of girl's voices globally, we also challenge existing media structures to better represent girls and women's issues, which sparks advocacy and policy reform in media and society as a whole.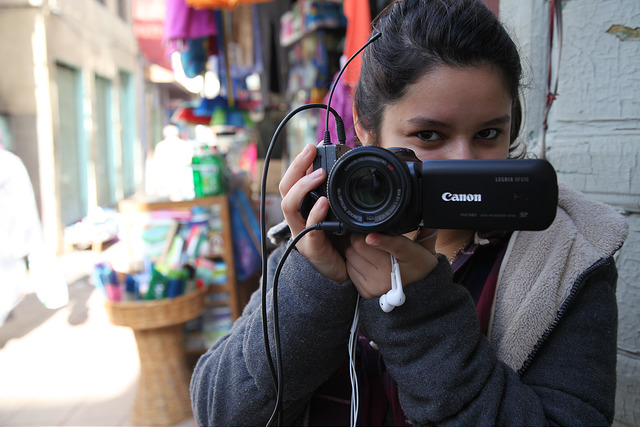 The groundswell of awareness around the overall gender imbalance in media/movies/news and recently in particular the EEOC investigations here in the U.S. as to gender discrimination in Hollywood point to a critical turning point for women's participationin media: we are making progress, but we need to keep at it, and we need to develop pipelines of talent to keep challenging intrenched gender inequity in all media.
GGM believes training young, diverse women in digital media journalism is important to developing strong, healthy communities. GGM programming and distribution is designed to disrupt the current glaring gender imbalance in digital media and bring girl's voices front and center. Our finished videos and blogs report through a gender lens, i.e.: education and careers, poverty and social justice, violence against women and dating violence, sexual and reproductive health, health and wellness, financial literacy, the environment, girls and STEAM, etc. 
Founded in 2010, GGM targets high school age girls from resource-poor communities and has trained 280 young women in four countries (United States, Morocco, South Africa, Kosovo and the U.K); produced over 280 videos and 300 blogs.  We are raising funds here for our Bay Area Chapter, which has been in operation for the past two years in Oakland.
GlobalGirl Media's program is especially relevant in Los Angeles and the San Francisco Bay Area, where media professionals are in abundance and tech companies are thriving, but have yet to seriously include women, and especially women of color, in their workforce. GGM envisions these Digital Media News Bureaus as permanent, safe homes for girls in Oakland and Los Angeles well into the future.
This summer for four weeks in July, we are broadening our training to include young women, ages 16-22 in Los Angeles and the Bay Area. The program is free of charge and open to any young woman who identifies as  a member of a minority,  low-income or under-represented community.
 HOW WE WORK
·       GGM trains high-school girls, ages 16-22 in new media digital journalism to have an impactful voice in their lives and the global media community.
·       GGM hosts a website that leverages connected learning and new technologies to give girls a platform for creating a global community.
·       GGM partners with schools, after-school programs, NGO's and community centers to select girls for training and help sustain their work.
·       GGM partners with journalists, filmmakers and new media mavericks to provide mentorship and opportunities for internships and career development. 
·       GGM has local and global impact: through our broad global network, YouTube Channel and website, our projects reach and connect young women all over the world, encouraging them to become active citizens and participants in media through social media, news bureaus, web portals, media feeds and other unique opportunities, such as producing content at international gatherings and conventions.
By lending your support you would be joining a growing family of suppoters and partners that include: Danny Glover, Eileen Fisher Foundation, SuperBowl50, Silicon Valley Foundation, East Bay Foundation, Worldwidewomen, GirlFest, Girls, Inc., Impact Hub Oakland and Youth Impact Hub, United Roots, East Oakland Youth Development Center (EOYDC), Reel Stories, Youth Uprising,  Center for Investigative Reporting, NAMAC, Media Enterprise Alliance, Hack the Hood, and MISSEY, (Motivating, Inspiring, Supporting and Serving Sexually Exploited Youth).
The one message (which comes in all sorts of ways) from our girl reporters is "don't give up on this program, no matter how hard it is to keep it funded and keep it going…we need this!" I get messages on Facebook, I hear it when during trainings, one time a girl submitted her master's thesis and on that day told me "I could not have gotten this far without GlobalGirl Media, it really turned my life around…" It's moments like this I realize just how powerful and far-reaching our program is.
"GlobalGirl Media is an example of how educating one young woman can transform a community."
- Former First Lady Michelle Obama (blogged after meeting a GGM Reporter in South Africa)
"It's essential to give girls a voice, because you are changing the narrative, and in the world we live in today, with all the issues we are confronted with, we have to find some way in which we alter the narrative"
- Danny Glover / Actor, Activist & GlobalGirl Media spokesperson
 "GlobalGirl Media stands apart as an innovative education and engagement model"
-  Feminist Majority
+ Read More
Be the first to leave a comment on this campaign.