Help Michael to pedal again
£7,985
of £19,500 goal
Raised by
357
people in 49 months
Thank you for visiting this campaign page. This campaign has been set up to help get Michael pedalling again via the purchase of an FES bike, it follows on from a succesful fund raiser which exceded expectations with a number of supporters with events still to do. You can read Michael's story below, but being paralysed from the neck down Michael can no longer ride a bike but with a specialist 
Functional Electric Stimulation
(FES) exercise bike it is possible to get him pedalling again. The FES bike fires electric pulses into Michael's leg muscles and with some clever computerised timing Michael will be able to turn the pedals. Having the FES bike would provide some much needed physiotherapy, the health benefits to tetraplegics are extensivly documented but equally as important are the pyscological benefits of giving Michael the feeling of exercising again. One was used by Christopher Reeve who suffered a similar break to Michael and it's benefits are explained on his SCI foundation
website
. You may ask "why do you need to fund raise shouldn't this be taken care of by the NHS"? Despite repeated requests and examples of other tetraplegics in different areas being provided with FES bikes Michael's local NHS group won't provide one. The only way to get a bike is to find the funds yourself and this is what we are doing. We (the trustees of Michael's Trust Fund) have set ourselves the target of raising the money needed,earlier than anticipated,  and hopefully with your help we'll do so. Our last campaign to raise money for an off road wheelchair went well and we hope to repeat that.
Michael in his
Boma 7
 bought with contributions via Gofundme and Access to Work .
GoFundMe does not accept Paypal as payment. However, we do have a Paypal account set up. If you prefer to use paypal please do! We will transfer your donation to the GoFundme campaign. When we transfer your donation from Paypal to Gofundme we will post a comment saying who the donation is from. So if you want your donation to be confidential, please send  a message asking to keep your donation anonymous. The Paypal address is ride4michael@gmail.comMichael's Story
On March 3rd 2013, while taking part in his local Eden Valley sportive, Michael Bonney fell off his bike, just like we all do. Only this time, instead of jumping up and laughing it off, Michael suffered a life changing injury. Attended to by doctors at the scene of the accident, he was then flown by air ambulance to a specialist unit where he was diagnosed with a complete injury to the spinal cord at the C3 vertebrae. The result is that Michael is now tetraplegic - paralysed from the neck down, requiring a ventilator to breathe.
Those of you who know Michael will be aware that he is a key figure in the UK bicycle industry. He  steered the ship at Orange Mountain Bikes on a day-to-day basis for more than a decade and has championed many causes, people and ideas; both inside and outside of the cycle business. To all who know him personally or professionally, even to those who just know him by reputation, the news of his accident was devastating.
There is however, a glimmer of good news! Michael is a man with more determination and 'gusto' than most. In the weeks following his accident he has progressed considerably faster than any of the medical staff would have predicted. Each goal he achieves is the starting point to his next target. From the bleakest of possible outcomes on day one, Michael  achieved his goal of sitting upright and operating his motorized wheelchair months ahead of predictions.
He's since go on to be weaned off his ventilator for long periods of time (up to 12 hours a day) amazing his consultants in the process.
Michael gave a great interview to Carlton Reid of the UK's Bike Biz magazine. Far from dwelling on his situation and highlighting the risks of cycling, this is what he said:
"I don't want anybody to stop riding bikes because they think they might injure themselves. I want people to get out there and ride bikes. I've spent all of my working life getting people excited about bikes and even though spinal injuries happen to cyclists, and especially to mountain bikers, it's very rare. I was unlucky, shit happens. Get out there and ride, for me."
+ Read More
Update 2
41 months ago
Share
TT legend, Guy Martin, and endurance mountain biker Jason Miles will take on the challenge of riding coast to coast across Scotland, including all of the 7 Stanes red trails, then hopping on a ferry to Northern Ireland and riding coast to coast there too (including the red-grade trail centres over there) in aid of the Ride for Michael trust. Guy will be using it as training for his Tour Divide (
http://tourdivide.org
) an 2745 mile epic solo ride he'll undertake in June.
Along the way Guy and Jason will be joined by friends of Michael, Sam Pantling, Dave Smith, Geoff McComb, Joe Whitaker & Mike Summers, will ride with Guy and Jason as they go from Berwick upon Tweed to Stranraer and then Belfast to Portrush, taking in the mountain bike red routes of the 7 Stanes and Northern Ireland trail centres. Over 400 miles of riding with a lot it off road.
Guy met Michael whilst Michael was at Orange Mountain Bikes and has been a supporter of the Ride for Michael trust set up after Michael had a cycling accident which left him tetraplegic and paralysed from the shoulders down. With this ride he's helping raise funds for the purchase of an FES bike that will allow Michael to pedal again. Any support you can give is appreciated.
Guy and Jason will start the ride on Thursday April 14th and will finish on Sunday 17th April. Each day they will ride approximately 140 miles taking in the red routes of trail centres in Scotland and Northern Ireland.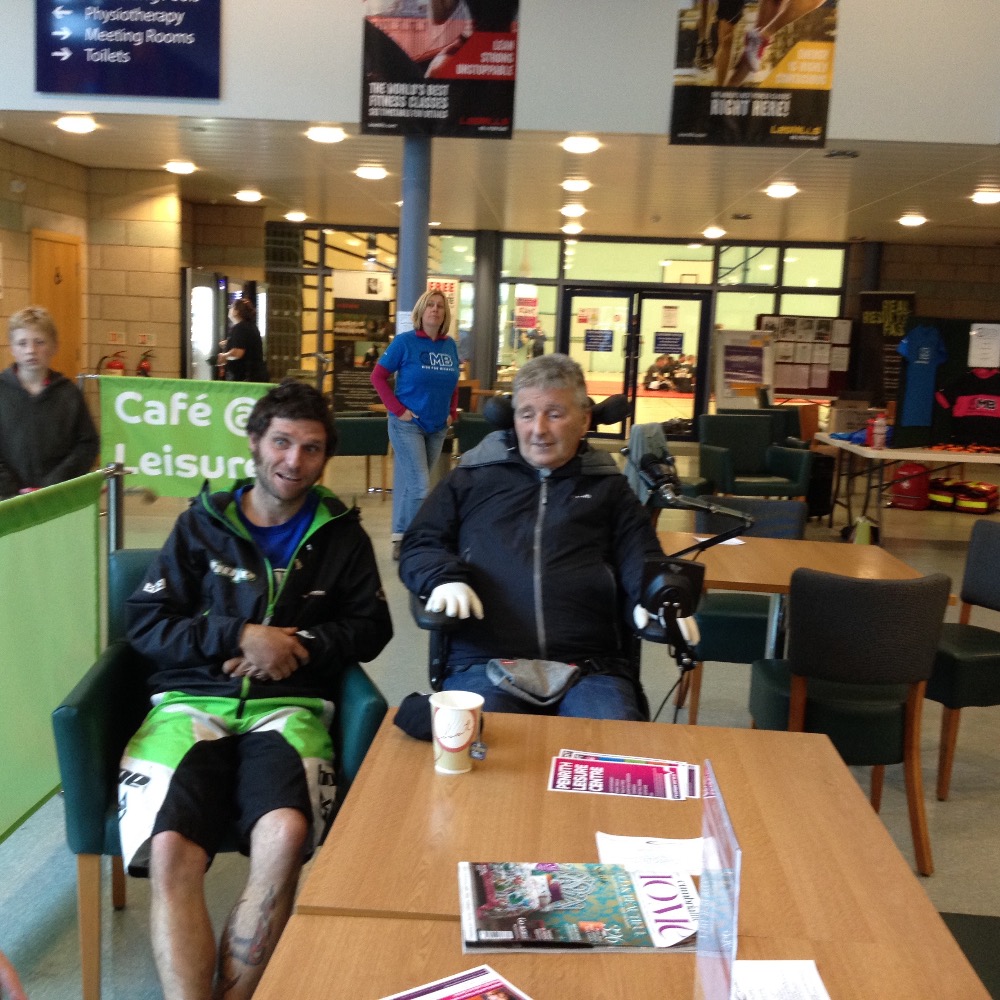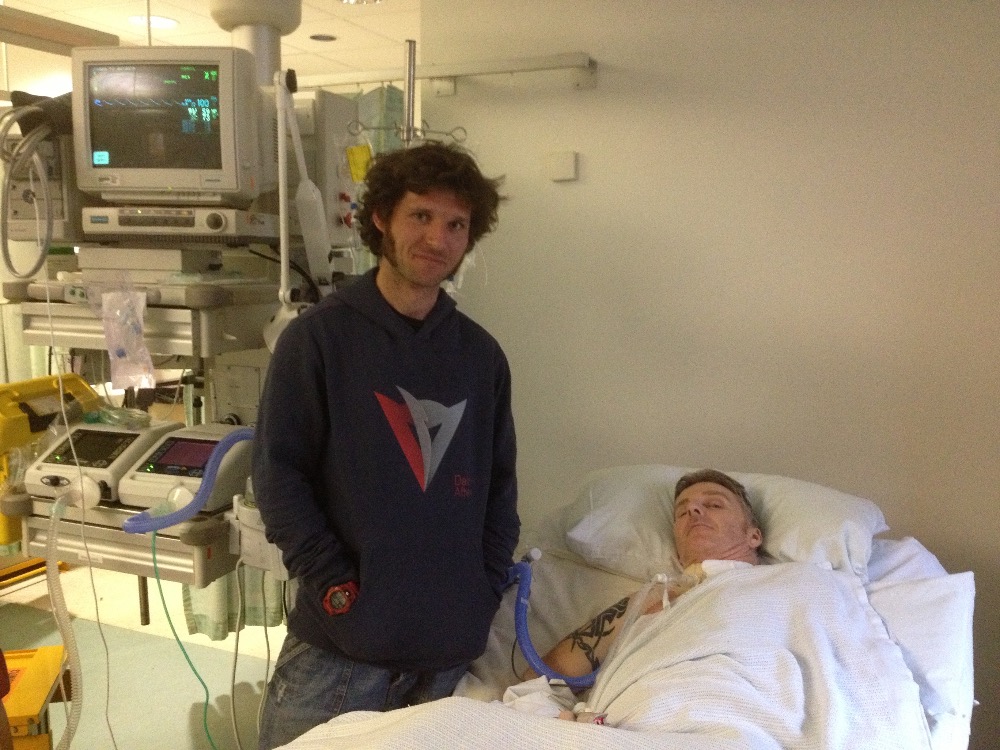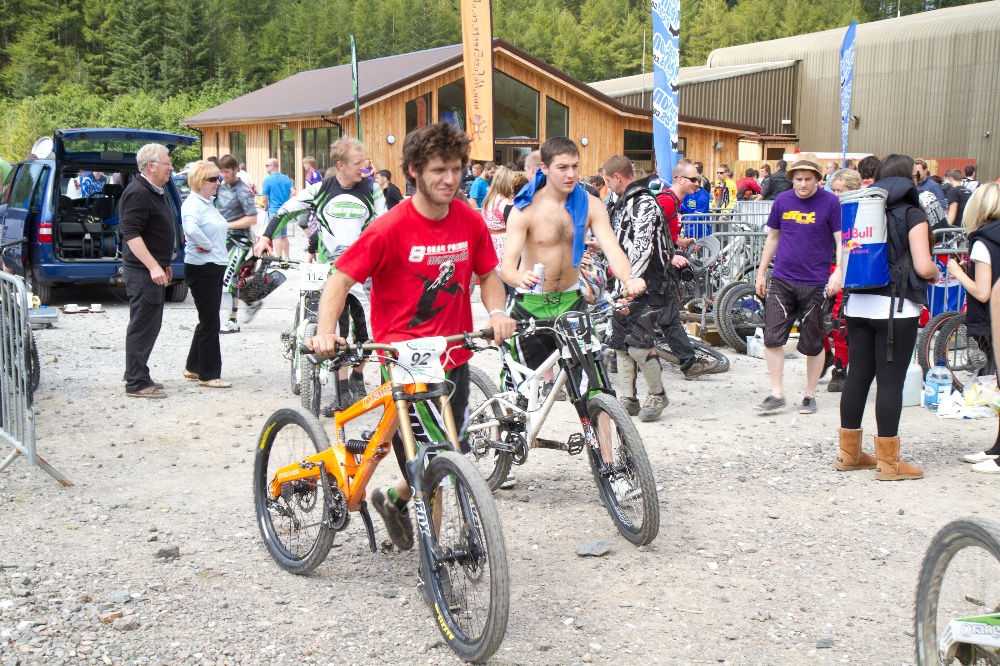 + Read More
Update 1
43 months ago
Share
Cyclone Technologies have kindly provided an RT300 FES bike on a rental basis so that Michael can get moving. We continue with the goal of getting Michael his own bike.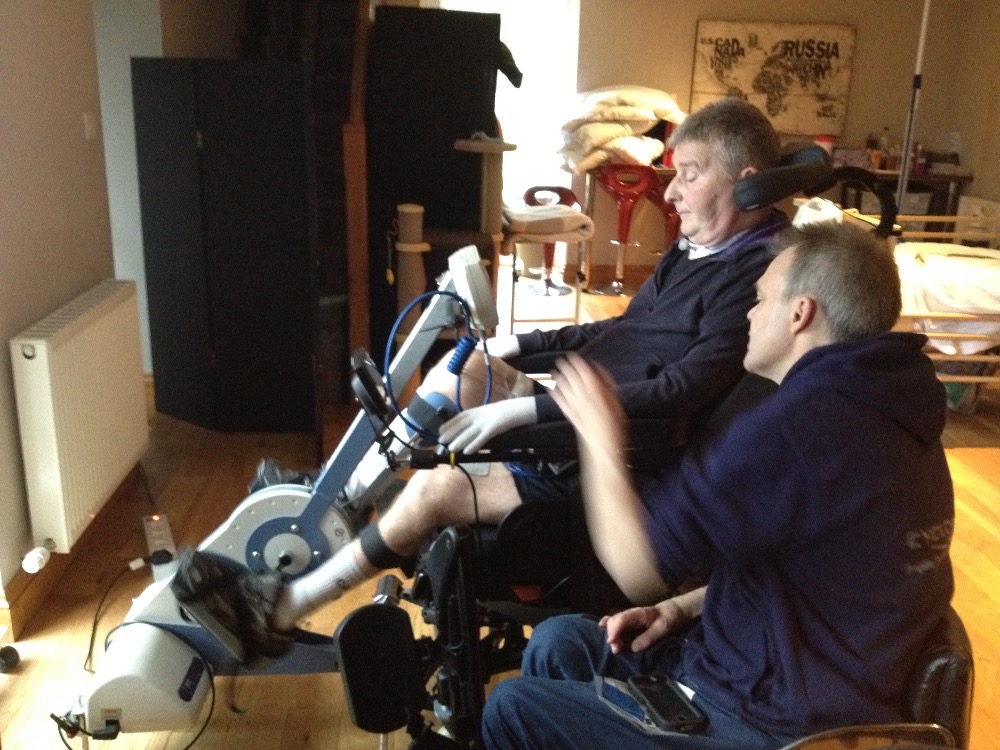 + Read More
Read a Previous Update
Be the first to leave a comment on this campaign.