Help bring Gameseum to Ephrata!
$295
of $6,000 goal
Raised by
14
people in 12 months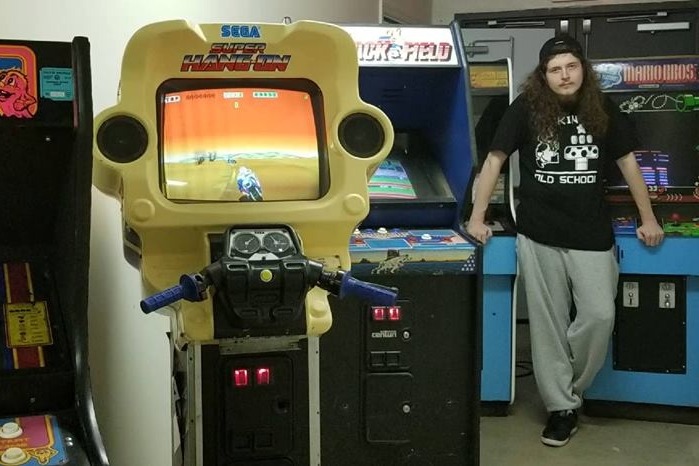 Hi, my name is Steven Van Splinter Jr., and I'm a 20-year-old arcade and pinball machine entrepeneur. Together with my fiancee, using my unique and one-of-a-kind collection (which we've amassed over years and thousands of miles of driving) of over 100 retro and modern arcade machines , pinball machines, and gaming consoles, we're starting up an awesome arcade and museum in Ephrata, Pennsylvania which we've been planning patiently for years. Our museum will function as a fully-functional arcade, so yes, you can TOUCH AND PLAY all of the machines no matter how old they are, they're not behind glass or ropes!

Gameseum will be a 4,000~ square foot facility in Ephrata, Pennsylvania. We've picked a GREAT location that people in the town will surely know, as well as one that is both easy to find and easy to get to for even the most distant out-of-towners.
Even better, our business will be ADMISSION-BASED using an affordable $10/hour rate to play all the 100+ games (which have now been modified/set to start automatically without coins to support this), so there are no quarters, tokens, or game play cards to fuss with - and it also saves you a lot of money and time too!

In addition to featuring our games, we will feature special events like Glow Nights (ever been "Glow Bowling"? Like that, but so much cooler!), Birthday Parties, Vinyl Jukebox Night, and more.

If we are successfully donated we'll be able to bring one of the coolest things in the WORLD right to lil' old Ephrata, and you will be able to stop by any day of the week to play games like:

- Pac-Man
- Ms. Pac-Man
- Donkey Kong
- Excitebike
- Punch-Out!!
- Centipede
- Millipede
- Golden Axe
- Double Dragon II
- 40+ pinball machines

and more!

Gameseum is revolutionizing the arcade. We're striving to be a very comfortable facility, and unlike arcades of the past we will feature a snack bar (complete with cocktail "table" arcade machines to eat on and play!), clean bathroom, adequate seating for resting those legs, competent heating and cooling, and more. We also have our very own birthday party section for adults and kids alike where you can have your birthday right in the middle of the action while still making sure you're the only one eating your cake - hah!

We've ran the numbers over and over and this WILL work, but we do need help starting up, which is a much bigger expense than just running a business. This part hits a little closer to home for me, as I have a condition called severe IBS (lots of stomach pain if not managed EXTREMELY well) as well as after effects of having my gall bladder emergency removed at age 16, which really makes it difficult for me to hold a normal job both mentally and physically. Gameseum is great not only for obvious reasons but also because it will be a place I can accommodate my needs and requirements to remain pretty pain-free while I work to support my family. Unlike a lot of youth of today, we WANT to work and want to make a living and I hope you will support that.

Donations will go towards interior construction changes, town permits, as well as general stability over own first few months of running our own business. We are extremely money conscious and have been planning this down to the nitty gritty for YEARS, and promise that donations will only go to the best expenses. Unlike other attempted arcades in the past, we will not be using donations on purchasing new machines as we already own and have paid off all 100+ of them! Lots of people failed in the past by having no foot in the game and spending all of their money on buying games (and leaving no money for VERY IMPORTANT BUSINESS EXPENSES), but that is not a problem for us whatsoever.

Thank you so much!

Coming late 2018 to Ephrata, Pennsylvania
+ Read More