Gabriel Goes To Boston
$2,053
of $5,000 goal
Raised by
51
people in 7 months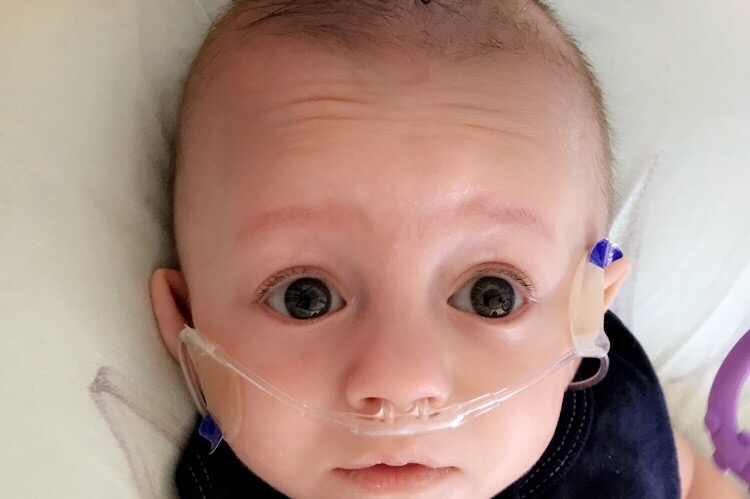 I would like for you to meet my grandson, Gabriel Liam Raley, Gabriel is one of a set of Quadruplets. The Quads were born on November 25, 2017 at West Virginia University Hospital, in Morgantown, West Virginia to my daughter Chelsea and her wife Miranda. 

Tatum, Kamden, Lily, and Gabriel were admitted into the Neonatal Intensive Care Unit immediately following their early birth. Other than the "typical" health scares that occur with premature babies, all four appeared to be healthy. Tatum, Kamden, and Lily were released from the hospital on March 8th, 2018 to finally go home where they continue to thrive.Gabriel became critically ill during his first week of life and on December 28, 2017, he would have his first intestinal surgery, followed by his second on January 1st, 2018 and then his third surgery on February 15, 2018. Although there have been several different diagnosis and a lot of uncertainty, one thing that is known for sure is that Gabriel has Short Bowel Syndrome (SBS). Short Bowel Syndrome means that Gabriel is unable to absorb nutrients with his small intestine that is needed to grow and to nourish him due to having a smaller amount of intestine.   Gabriel lost 75% of his small intestine due to his many surgeries. The small intestine is responsible for 90% of absorption and digestion.  Gabriel is fed and growing via IV nutrition and also a small amount of formula through his stomach and small intestine. He is showing that he is slowly absorbing nutrients from the formula through the intestine.On May 12th, 2018 Gabriel was transferred to Johns Hopkins Children's Center in Baltimore, Maryland, we felt as a family that it was important for him to go to a hospital that may have more knowledge on how to treat Gabriel's condition.
On May 18th, 2018 Gabriel had what we had hoped would be his fourth and final surgery: to reconnect his small intestine to his large intestine, so that he would no longer have an ostomy bag, and we could finally bring him home.  Gabriel's small intestine is in two pieces and they are not yet connected to each other, meaning three different parts will need to be reconnected to form one piece. However, because the surgeries that he received at his previous hospital were not very well documented, his new surgeon didn't have that much information on his anatomy, medical history, or prior complications. The only way to find out what was going on with Gabriel's intestines was to go in and perform exploratory surgery and attempt to reconnect his intestines. This surgery unfortunately failed and was followed by three emergency surgeries on May 21st, May 23rd, and May 28th, 2018 where Gabriel once again became critically ill. It took Gabriel a month to recover and become stable.Because Gabriel's case is so complex and difficult, as stated to us, by his doctors at both hospitals; we as a family have decided to have Gabriel transferred to Boston's Children's Hospital in Boston Massachusetts. Boston's Children's has the top intestinal rehabilitation team and top pediatric surgical team in the country for Gabriel's Condition. Boston's team of doctors and specialists will be following him very closely and they have extensive knowledge, training, and experience with patients with Short Bowel Syndrome. It will take some time for his intestine to be rehabilated in order to adapt and absorb nutrients.Miranda is a stay at home mother caring for Tatum, Kamden, and Lily. Chelsea works full time as a Trooper First Class with the Maryland State Police. Chelsea will be traveling to Boston to be with Gabriel and Miranda will stay at home with the other three babies until arrangements can be made for them all to be together in Boston.  While a majority of the time they will be in Boston with Chelsea and Gabriel;  Tatum, Kamden, and Lily will still have appointments of their own which will require trips back and forth between Massachusetts and Maryland.
Gabriel has been in the hospital for 8 months already and he will require 2-3 more surgeries before he is able to come home. With that being said, Chelsea has used up almost all of her sick, personal, and vacation time since November 2017, mainly due to being with her other babies in the NICU and being by Gabriel's side for all of his 8 surgeries and complications. Chelsea is part of a leave donation program at work, and has had some time donated to her. But due to the uncertainty of how long Gabriel will be in Boston, she may have to use unpaid leave time. Gabriel has a very long road ahead of him and is facing more surgeries before he will finally be able to come home, at last, to join his family. I created this GoFundMe to help with the financial burden that my daughter and her family are facing so that we can get Gabriel the treatment from doctors and specialists who have extensive knowledge in how to treat his condition.  Donations will be used for travel back and forth between Maryland and Boston, lodging accommodations when needed, and possible unpaid leave time from work.

Thank you in advance, your kindness and generosity is appreciated more than you know and will never be forgotten. ❤️
Please keep Gabriel in your prayers.  
+ Read More
Update 1
7 months ago
Share
Thank you to everyone for your donations, we appreciate it more than you know. Gabe was transferred to Boston's Children's Hospital this afternoon and both he and Chelsea are settled in. They are running some tests this evening and Chelsea will meet with the Doctors tomorrow. Miranda, Tatum, Kamden, and Lily will be joining them in Boston shortly. Please continue to keep them in your prayers ❤
+ Read More