Get baby Kaylee home to her Daddy
$23,488
of $30,000 goal
Raised by
890
people in 39 months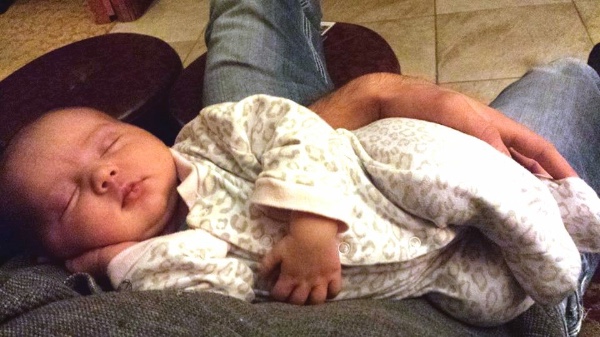 Here is a message from Colby's sister explaining the situation. The family has already put so much money in, and will have more bills to come with hiring a lawyer to bring baby Kaylee home. Anything that can be donated will be extremely appreciated by Colby and his family as they fight for Kaylee's return. Thank you for reading his story, and please share. God bless you all for the help and support you are showing the family during this nightmare.
My little brother's baby was taken away from him last night, 11-18-2015, here in Cache County Utah. I'm writing this for all of my friends, family and community, in hopes that this issue gets out to the public and into the open. It is heart breaking and has apparently already affected a number of families here in Utah, because of a more recently passed Utah law.
A brief summary of the law is that a biological father, even listed as the father on the child's birth certificate, does not have to sign and consent for his child to be adopted out. The mother can sign the child over, completely against the fathers will.
My brother Colby had his little girl taken away because of this law. Colby had been together with his girlfriend for over two years. He was with her all through the pregnancy. She was being pushed very strongly to adopt the baby out because the two were not yet married. Marriage was being discussed but would be further down the road. Colby was in the hospital when she had the baby, he never left her side or the baby's side the entire time. He was a proud new Daddy, showing his new little girl off to all of us (Grandma, Grandpa, Brothers and Sisters.)
His girlfriend's parents (I'm attempting to be respectful of privacy by leaving names out) were still pushing her to adopt the baby out, even threatening her. Her parents had a couple in their hometown (here in the valley) picked out for the baby to go to. They did not plan this to go through a typical adoption agency.
Colby and his girlfriend were being pressured to sign the baby over before leaving the hospital. Colby was completely against the adoption. His girlfriend was back and forth on her thoughts and unsure of the decision. The two talked and agreed to take the baby home. When it was time to leave the hospital, the two took their new little girl, who they named Kaylee Mae, to our parents' home in Lewiston. There was a room already setup for little Kaylee Mae. Everything that was needed for the little one was all there and ready. Colby and his girlfriend had already done a lot of shopping for the baby, as did grandma and grandpa.
After a couple of days, the two decided together, to keep their little girl. The very next day, his girlfriend's parents were upset and demanded that she go to their home and talk with them. Little Kaylee was left at home with Colby. Colby hadn't left Kaylee's side since she was born. He had already spent more time caring for her than her mother had. His girlfriend came back that evening, very upset and emotional, stating that she was going to sign the adoption papers that night.
Colby refused to sign, he was against the adoption. She left and signed the papers, leaving the baby with Colby. Since that night, Colby has had total care of his baby, his girlfriend not coming around at all. Colby planned on keeping custody of his Kaylee and started getting all the legal actions into place.
Colby has total support of his family: mom, dad, all four brothers and me, his only sister. His big brother Tyson and sister in law Kelsie, who have a new little one of their own, were proud to help Colby with some of the first baths, diaper changes and feedings, with me, our brothers and sister in laws, grandma and grandpa there willing to do whatever we could to help.
Grandma and Grandpa were 100% supportive, doing everything they could to help Colby with his new little girl. After the night his girlfriend left, she had never been back and took no more part in caring for the baby. Grandma was there every minute of every day and night to help. Even when it came time for Colby to fight to keep his baby, Grandma and Grandpa were there 100%.
Colby loves his little girl with all his heart. He has gone through absolute hell fighting to keep her and then losing her. He has pleaded with the couple to quit fighting him and just let him keep his baby. My whole family has been so involved and we are heart-broken. It is so hard for me to see my little brother so tore up and devastated.
My mom and dad are heart-broken and struggling to understand how this could've happened. They have invested in attorneys' and spent numerous hours day and night along with Colby, trying to keep Colby's baby, our Little Kaylee.
The final word came in last night, through law enforcement, that Colby had to turn his baby over to the couple that had been fighting to take her away from him. (As a side note: the adoptive couple hired a very expensive attorney- this same attorney has strong ties to this Utah law that was written and passed) According to Colby's attorneys'- this adoption was ran through very secretively and quickly through the system- it was very shady.
Colby is an exceptional young man and an amazing father. He has never drank, smoked, used drugs, he has no criminal history, I don't think he has even had so much as a speeding ticket. Our family is very close and would do anything for one another.
We feel that it is very important for Colby's and Kaylee's story to get out. Hopefully shedding some light on this law will help keep other families from going through this same tragedy that ours has. Maybe getting it out there will help to get it changed. 
Thanks to all who have offered love and support. Our family asks for your thoughts and prayers for Colby, our family and the other families going through similar situations.
Sincere thanks for taking the time to read this
Jamie Nielsen and Family
+ Read More