Rosanne White Retirement Gift
$3,740
of $3,000 goal
Raised by
68
people in 40 months
Please help us raise funds to give Rosanne a retirement gift!  She has played such an important role in the history of Quin-Mo-Lac and we would love to do something special for her.  (When Wendell retired, they used the funds to travel across Canada and visited QML'ers along the way!)
Thank you for contributing to show your thanks to Rosanne!
To learn more about our event to celebrate Rosanne on June 4, go to:
http://quin-mo-lac.org/rosannes-retirement
-
Rosanne White has been with Quin-Mo-Lac for 34 years, making her the longest running employee QML has had in our 66 year history.  But, regardless of the time she has committed to camp, it is nearly impossible to fully describe the impact that she has had on our program and our community.  Rosanne has played a vital role in making Quin-Mo-Lac the incredible place it is today.
Rosanne and Wendell White were hired as a team in 1981, with Wendell as Director and Rosanne as the Registrar.  At this time, all office work and correspondences were hand-written, type-written or communicated by telephone.  As the years progressed and technology changed, Rosanne easily adapted to new computer programs while maintaining and developing her own systems to keep documents in the office organized.  Rosanne has always managed the office duties on her own, an impressive accomplishment given the size of our program.
Very soon (and with a growing new family), Rosanne took on the Kitchen as her responsibility.  Her role expanded to mentoring the Cooks each year and perfecting the menu.  This was an opportunity to be down in camp and out of the office, working with the Staff and developing an understanding of how camp worked.  Rosanne and Wendell then made some changes to the daily operations of camp by developing a new schedule, new camper clan names, and a Counsellor-In-Training (C.I.T.) Program that we still use today. 
Rosanne is a professional 'people person' and the 'personal touch' that so many people appreciate in the lead-up to camp.  She has a warm personality, is incredibly thoughtful and goes the extra mile to help others understand how our program works.  She views Quin-Mo-Lac as an important opportunity for children to learn from great leaders, and where young leaders learn important skills for work and life.  Rosanne is a natural teacher and she has developed important systems to help guide our Staff through their roles.
Quin-Mo-Lac will experience an incredible loss when Rosanne retires this Spring, 2016, but she has been and incredible example for us and we are so inspired by her dedication and love for camp.  She is a 'Camp Mom' to so many and she has always been so proud of our program and how it has helped to shape lives.  Seeing QML'ers grow up to then send their own kids to camp has been an incredibly special experience for her too.
Rosanne has helped camp grow in many ways and has been a source of strength, comfort, knowledge and history.  We appreciate everything Rosanne has done for Quin-Mo-Lac and hope that she enjoys her much deserved retirement!
+ Read More
Update 2
39 months ago
Share
The Rosanne White Retirement Gift has reached 52% of its goal! Thank you so much everyone and please help us spread the word about this campaign!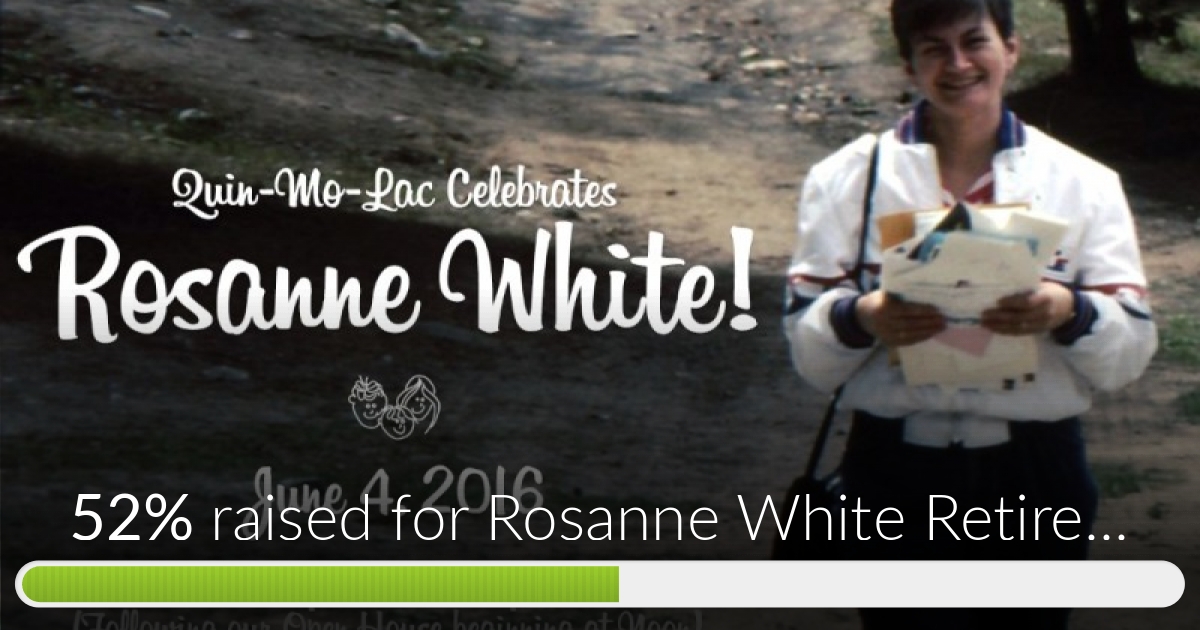 + Read More
Update 1
40 months ago
Share
Hello and thank you for contributing toward a gift for Rosanne! She has given so much to all of us, so let's do something special for her. Every bit helps!
Please also vote for Rosanne to be inducted into the Camp Administrator Hall of Fame!
http://www.campadmin.org/vote/
+ Read More
Read a Previous Update
Be the first to leave a comment on this campaign.