98
2
Free Music/Drama for Nunavut Kids
$10,340
of $10,000 goal
Raised by
97
people in 2 months
Hello! My name is 
Gwenna Fairchild-Taylor
 and I'm an opera singer and arts-educator based in Toronto, Canada. As many of you know, for the last 7 years I've offered free music and drama workshops in communities all over Nunavut. Being able to do this work is a huge privilege, and I'm grateful every day  for the opportunity to offer this- I believe it is so important. 


(Me, in Iqaluit in August 2017, with a stunning melting iceberg)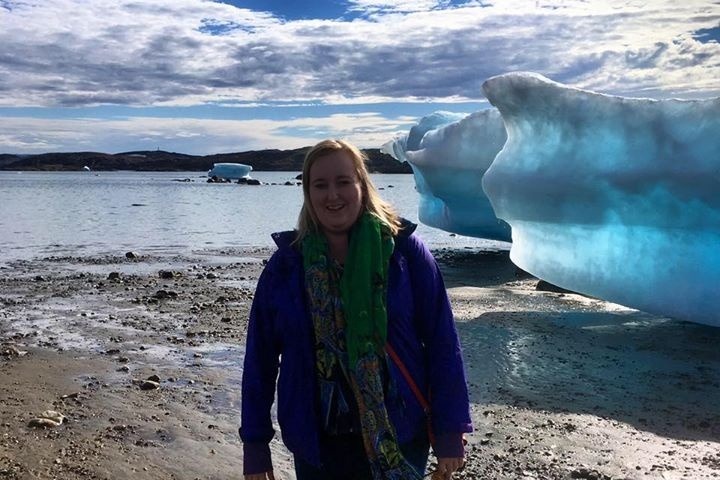 Read more about how I feel about my work and how it's made me a better artist and person 
here
 . 
Last year I was incredibly fortunate to visit kids in
Pangnirtung, Iqaluit, Kugluktuk and Cambridge Bay
. We wrote our own stories together, played games, and sang lots of songs, in English, Inuktitut, and Inuinnaqtun. This whole program is always free of charge for everyone who wants to participate. In the last year alone, it reached over 500 kids of all ages. In Iqaluit, we offered 3 weeks of classes and a final performance for 4 age groups, ranging from babies and toddlers all the way to adults. In Pangnirtung, Kugluktuk and Cambridge bay, I offered programming in schools through classroom visits from kindergarten to grade 12.
I'm so privileged to be able to offer this to these wonderful kids and facilitate creative opportunities to foster positive self esteem and be in the presence of such amazing imaginations and ideas.
Everyone deserves the opportunity to be creative and express their feelings, dreams and wishes, regardless of geographical location and resources. I am doing everything I can to offer that to these kids and I hope you can help!

(Acting out a story in Iqaluit in 2017)

It takes a village to make this happen.
I've built relationships with several amazing community partners and rely on grants, Aeroplan points donations, and in-kind space and accommodation donations to keep this program afloat. Without those, this would be impossible. The budget is extremely tight- I do as much as I can to make things happen with the grants that I'm so fortunate to receive and stretch the resources as far as I possibly can so that I can reach as many kids as I can. 
Read about past workshops and their impact in  this
Nunatsiaq News
  article. 
The Facebook page for this project is 
here
 .
(Kids always love the piano!)
So why am I here? 
I'm extremely fortunate to have received a grant to cover a substantial portion of my 2018-2019 project. However, there were so many wonderful and deserving projects this year that they were only able to offer 60% of what is needed to run the program in all the communities I have built relationships with over the last several years. I'm looking for your help to close the gap and make it possible for me to visit every community. 
(A circle game  song in Inuktitut)
What will I use the money for?
1.
Helping to close the $10,000 gap in this year's budget.
This is the top priority for me. Otherwise, this year the program will have to scale back considerably. That will mean cutting at least one and possibly two communities. I am doing everything I can to avoid this. Consistency and trust is key, and the only way to earn that and foster great relationships is to be consistent in offering quality programming to communities over several years. I told the kids I would be back, and I don't intend to break that promise. In particular, the costs associated with travel and accommodation are very difficult to manage. 
Plane tickets are cost-prohibitive. I get many of them on points, but those tickets are limited and hard to find. To put this in perspective here are some approximate ticket prices - Keeping in mind that I always fly the cheapest I can manage (those are the prices listed below) and book several months in advance if I can't find a points ticket. 
Iqaluit to Pangnirtung
return
(30 minute flight) : approximately $500. 
Iqaluit to Yellowknife
one-way
: approximately $1300-2200 depending on what day of the week you fly
Yellowknife to Cambridge Bay
return
: approximately $1100 
Yellowknife to Kugluktuk
return
: approximately $950
Ottawa to Iqaluit
one-way:
  Approximately $1000
Accommodation: If I don't get this covered, it costs around $250 a night
per bed- 
that's right. There's no guarantee of a room, and the cost is per person. All you're guaranteed for that $250 is a twin bed. If I have a second instructor, that would be $500 a night. Flights and accommodation are a huge hurdle with regards to expenses. 
2. Emergencies and unexpected costs not covered by grants- I like to call this "

The Blizzard

Fund

". 


Remember what I said about booking the cheapest tickets? These are the tickets that have huge penalties when you change them. While usually this wouldn't be a problem, the weather is very unpredictable in Nunavut. One can get stuck in a community due to weather for days, and the odds are high that it will happen at least once per trip. Often its necessary to change tickets to avoid weather so that the I don't miss other flights. The flights are not all booked on the same airline or the same way, which means that nothing is connected and so missed flights aren't automatically rebooked. 
Your donation could be used to 'top up' ticket budgets so that I can purchase the next tier of ticket, so there will be no change fees or penalties
. The tickets booked with Aeroplan points often can't be changed to be earlier- so this would also be used to purchase the occasional ticket when I'm at risk to getting stuck in weather. The points ticket would be rescheduled for later in the year and used  in the future. Being able to do these kinds of things will save money and stress over time, but it's not attainable right now because of careful, tight budgets with little to no wiggle room for travel costs - at the moment I have no option except to buy the cheapest tickets and do as much travel as possible on points. 
As you can imagine, I shoulder pretty significant financial risk to make sure this project happens and as a young artist, this causes me a lot stress. In February of this year I was forced to buy a very expensive plane ticket to insure that I could leave a community on time before a blizzard hit because of a clerical error. The cost of it was over $1000, and that is not something the grant can cover - it went straight on my personal credit card until the issue was solved and the money refunded (months later).
Any money not used for this years programming will be put into savings for emergencies and weather related delays, so that I can focus on providing the best programming possible
instead of the stress associated with covering weather emergencies that I can't afford.
In addition, your help could fund more programming in the future! 
Things I will

not

use your money for: 1. Paying myself.
 Your money will go directly to costs associated with the program, not into my pocket. 
I understand that lots of you aren't able to help financially, and that's completely ok and very understandable. But, if you want to help in other ways, I would love that! 
Ways to help that don't require a monetary donation
- Your time ( Edit grants for me? Help me talk through ideas? Help with writing letters? General administrative things? Connect me to people you know who might be able help? Send me encouraging messages when I'm traveling? ) 
- Supply Donations (Markers, chart paper, notebooks, pencils, pens etc.)
- Portable Musical instrument donations that I can leave in communities (Small rhythm instruments,rhythm sticks, ukuleles, guitars etc. and ways in which I can ship these items)  - Feel free to send me an email if you have something in mind! 
- Help with snacks (granola bars, grocery gift cards etc - I'll donate what I don't use to a soup kitchen or food bank in Nunavut.  
- Maybe you have a different idea- I'd love to hear from you! 
I want to take a moment to offer my most sincere thanks for your help in making this possible. It means so much to me to have your support in this work and I appreciate you taking the time to read my story and consider offering your help.  THANK YOU! 
+ Read More
Update 2
1 month ago
Share
We did it!!!!

Thank you so much for all of your support. I can't believe the goal has been reached in just three weeks! I am so privileged to know you all. Your support in offering these free arts education activities to Nunavut kids is heart-warming and affirming. Your support really will make a difference in the lives of some of the most creative, kind and smart young people I've ever met. My most sincere thanks to you all for making this happen.

Thank you!

Warmly,

Gwenna
+ Read More
Update 1
2 months ago
Share
Wow- I'm absolutely blown away by the support! This project is over 50% funded in just a few short days, thanks to some truly remarkable people- you guys are just the best humans. Thank you for the shares, the lovely messages, and the financial support. I'm feeling really optimistic about hitting the funding goal and would LOVE your help in getting there- do you know someone who might be able to help in any of the ways I've talked about below?
+ Read More
Read a Previous Update